Reps eye surgery
$220
of $5,000 goal
Raised by
8
people in 41 months
Rep is a 9 year old thoroughbred event horse, who is currently being treated for a severe fungal eye infection at the New Bolten Center in Kennett Square, PA. He was admitted on 11/14/14 and has been recieving treatments of antibiotics and antifungals every 2 hours in an effort to kill the fungus and secondary bacterial infection. He has remained comfortable and stable through the weekend, but there has been little change in his disease state.
The opthamologists feel the best course of action to help prevent removing his eye is to preform surgery.  The surgery will include removing  approximately 10 mm of dead tissue that is on his cornea and placing a graft over the area to protect the underlying healthy tissue. The infection is growing under this area of plaque build up and the medications being administered are not able to penetrate the area well enough to resolve the infection. The vets are confident the surgery will cure the infection and the eye will heal with minimal vision loss.
During his recovery time the eye will be sutured shut with a subpalpebral lavage(SPL) system in place to administer medications to his eye. He can return home 24hrs after surgery to heal. Rehab will include medication 6 times a day via the SPL for 2-3 weeks. He will then return to New Bolten for a recheck and removal of the sutures.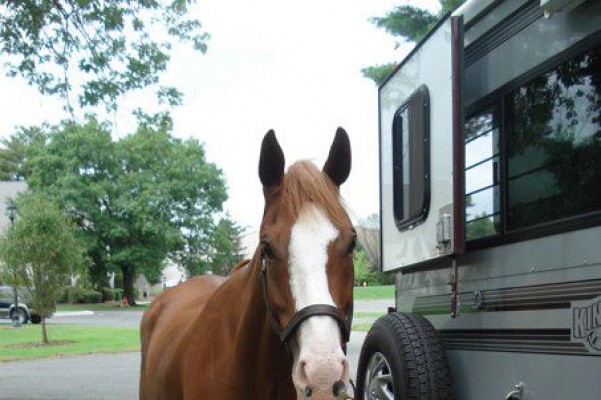 Rep is a very sweet horse with a big personality and a very handsome face. I am determined to do what is in his best interest and give him the best chance possible to keep both of his beautiful eyes. Thank you in advance for helping and keeping Rep in your thoughts.
+ Read More
Update 2
41 months ago
Share
Rep has been outstanding for his treatments every 4 hours. He has been enjoying his hand walking and grazing time, but I can tell will be very excited when he can be in full turnout again. Thankfully his pony has been tolerating staying in to keep him company. She is getting extra hay and treats for her duties so it's a fair trade off. The SPL system has made giving medications very easy and I am now a walking treat dispenser. He is sure to remind me if I forget. After all he has been through he deserves each and every one. Thank you all for the continued support!
+ Read More
Update 1
41 months ago
Share
Rep is out of surgery and comfortable in his stall. The vet said the surgery went well and is very optimistic for a great recovery. I am waiting to hear when he can come home. Thank you all for the continued support!
+ Read More
Read a Previous Update
Be the first to leave a comment on this campaign.