From Festival Structure to School
€13,889
of €15,000 goal
Raised by
61
people in 13 months

Transforming natural building
from festival structures
to indigenous community projects.




                                                                                                                       LAST CALL!


What is Cosmic Social Outreach?

Every new year's Eve, among the volcanoes surrounding Lake Atitlan, Guatemala, Cosmic Convergence  takes place, an international art, music and consciousness festival.


Cosmic Social Outreach is the name that gathers all the projects realized by Cosmic Convergence in partnership with local organizations in order to make a positive impact in the Mayan communities and lands hosting the festival.



What is Cosmic Social Outreach 2019?

This year we are transforming the bamboo structures from festival area into a multi-functional open space donated to the public school of San Pablo la Laguna.

San Pablo la Laguna is the town with the most critical conditions around Lake Atitlan. Two public primary and secondary schools share an overpopulated concrete building with around 1300 students, serious hygiene and safety problems, and no space designated for art, music or students free expression.

With funds raised and bamboo used in Cosmic Convergence Festival, Cosmic Social Outreach is building a big multi-functional space on the third floor of the main building. Local workers and international volunteers will provide the students with a natural, healthy space where they can practice art, music and sport.


We want to give those students an area where nature, art and culture can find a safe space from the concrete jungle they calls development.



____________________________________________________
Which impact do I have with my donation?

We welcomed and bless any contribution and we invite you consider its impact in building a school Guatemala:

15$_You are donating a bamboo column 

50$_You are donating a window 

100$_You are donating  a door 

200$_You are donating a third of the master columns 

300$_You are paying a month salary to a local worker


How money will be spend?
- Bamboo, wood and other materials needed in construction (55%)

- Fair payment to local workers (35%)

- Volunteer programs to support the building (5%)

- Contracts and legal paperwork (5%)


____________________________________________________
Past projects

In 2016, the structure from Tribal Village (the workshops area) was donated to Maya Utz'iil, a community center in San Juan la Laguna hosting the indigenous women textile cooperative, Lemà.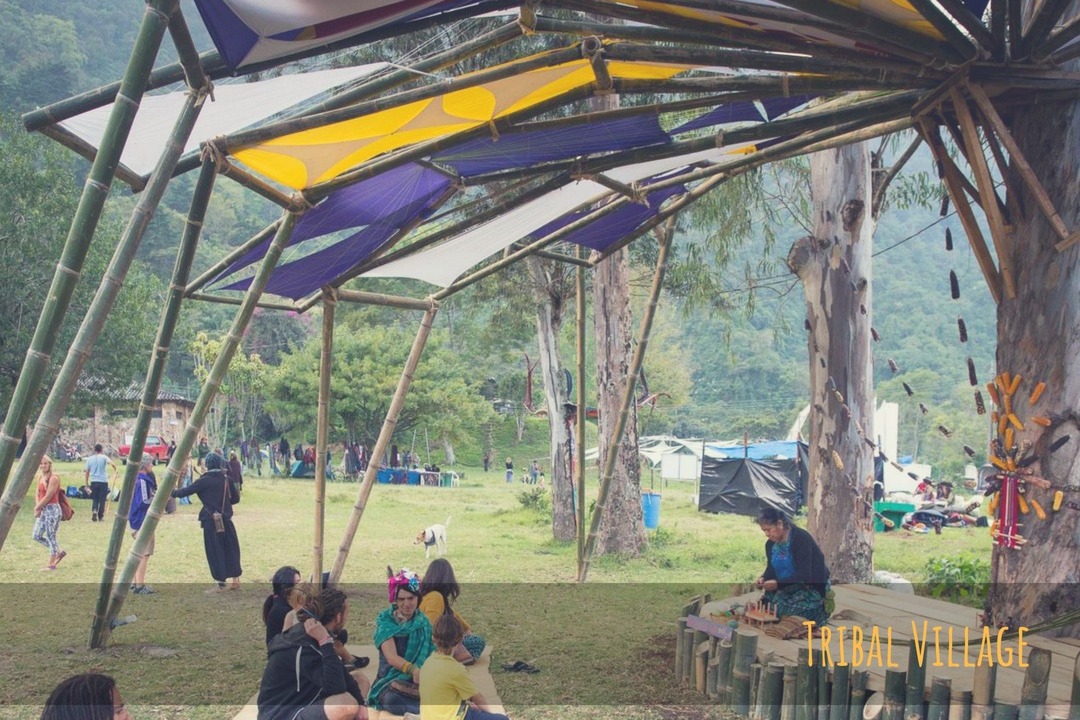 ______________________________________________________________________
In 2017, a yurta structure from the Art Gallery was donated to the children of the school in Chukmuk in Santiago la Laguna.


                                         
___________________________
In 2018, Journey Portal, the conference and activities areas of the festival, was transformed into an eco-house for an economically disadvantaged family in San Pablo la Laguna. Thanks to a successful crowdfunding happening before and during the festival, two more eco-houses were built and donated to as many families in need.





All the projects were realized by local and international workers and  volunteers, using natural material and indigenous building techniques.






This project is being realized by:

Cosmic Convergence Festival
International art, music and consciousness festival.


Synaptica Project (Italia)
Fundraising and services connecting resources and visions.


Ecoescuela Comunidad (Colombia)
Nomadic community focused on supporting the creation of sustainable settlements.


El Arte del Bambu, Guatemala (Guatemala)
Design and realization of bamboo lamps, pergolas, objects.


JAN BALBALIGO 
Architect and Natural Builder (Philippines - UK)


You




WHAT CAN YOU DO TO GET INVOLVED?


1) SUPPORT THE CROWDFUNDING CAMPAIGN!

In order to make this dream reality, we need people that believe in positive change and are willing to support it.

This is a independent solidarity project, we don't receive funds from banks, governments, companies or organizations...your donation will really go far!

2) JOIN THE BIOCONSTRUCTION JOURNEY !

15 days natural building workshop in Lake Atitlan, Guatemala.

You will learn how to build and decorate with natural materials from international, Guatemalan, indigenous and non indigenous teachers.
Food, hospitality and festival tickets included in the price!
Check it out here.

3)  VOLUNTEER!

We always need volunteers. Before, during and after the festival.
Which skills can you offer? Can you host a fundraising event? Are you a construction expert? Are you familiar with video, fotos and other media?

Contact us at 
Mail: cosmicsocialoutreach@gmail.com
Facebook 
+ Read More