#Operation Menstruation
$5,520
of $3,500 goal
Raised by
119
people in 56 months
Hi!Thank you so, so much for taking the time to visit my page. Here you can find all the necessary information about #Operation Menstruation, how your contributions will help and how you can follow me! Much Love, FaustinePurpose:
To raise funds to purchase hygiene kits and reusable menstruation kits for the woman and young girls in the Village of Awake in Otule District in Northern Uganda. They will be taken to the Kristina Health Clinic in the village and from there distributed to the woman and young girls.
Kristina Health Clinic May 2013
Photo Credit: runawake.wordpress.com
Why:
After being invited to Uganda, a conversation was had about what they need and what we could do to help while there. My friend had laid out a few ideas, but the topic of reusable menstruation pads had come up and really stuck. I left our meeting racking my brain with questions like "What DO girls do when they start their period?" "What are the bathroom situations like there?" It was something I had never thought about until brought to my attention. And after reading about it, it became pretty apparent that this was what I wanted to take on.
The young girls in places like the Village of Awake do not have the resources that I do. The most commonly used alternatives are rags, school paper, plants, and dung. Using these raises their risk of infection and leakage. And because of that, often times they miss school for up to a week a month, which forces them to fall behind. Up to 25% of these girls drop out of school. Increasing their odds of getting pregnant at an early age, and HIV exposure. Girls who complete secondary school are less likely to become pregnant when they are young and more likely to have fewer children, earn higher wages and educate their own children.
Solution: Hygiene Kits and Reusable Menstruation Kits
Reusable Menstruation Kits are good for 1 year. They are environmentally friendly, safe + hygienic, comfortable and durable. You can wear up to 3 liners in the snap on pad which snaps on to their underwear. The Kit will include a cloth drawstring backpack, 2 pairs of underwear 1 washcloth, 1/2 bar of soap, 2 straight liners, 3 winged liners and 1 pad.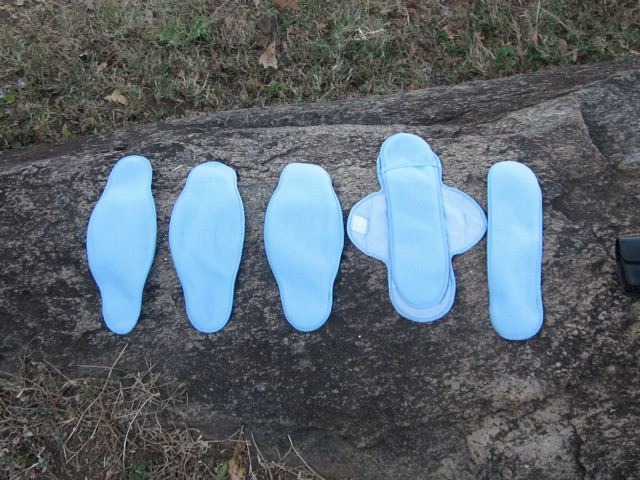 Liners and Pads Included in the kit
There are many companies that address this very issue. And after reading about a few of them, I was really inspired by
Afripads Ltd
. Not only are they located in Uganda, which provides jobs and income to the woman of the region but there manifesto couldn't be more spot on. The AFRIpad Foundation believes that all girls have a right to hygienic solutions for their period. Empowering them with the protection and confidence they need to attend school, no matter what time of the month it is.
                                !!!THANK YOU!!!
Please join me on #OperationMenstruation by finding me in one or all these places.
Facebook
,
Twitter
, or 
Instagram
. And if you have any questions please do not hesitate to contact me directly at faustinehudson@gmail.com
Much Love,
Faustine
Video Credits and a HUGE THANK YOU:
Hair/Make-Up: SWINK Style Bar / Natalie Angelillo
Camera: Sarah Flotard / Rachel Flotard
Editing:  Tiffany Gannon 
Background Music Engineer: Frank Giardina
All Music and Illustrations are copyright of Faustine Hudson
+ Read More
Faustine I think this is great..don't know how I ran across it but you are probably already in Africa now . Good luck please share pictures and stories when you get back and I hope this gets as big as you want it to. I will re post.
+ Read More
Faustine you are wonderful, this is important work. I don't know your spirituality but I hope it's ok if I say God bless you.
+ Read More