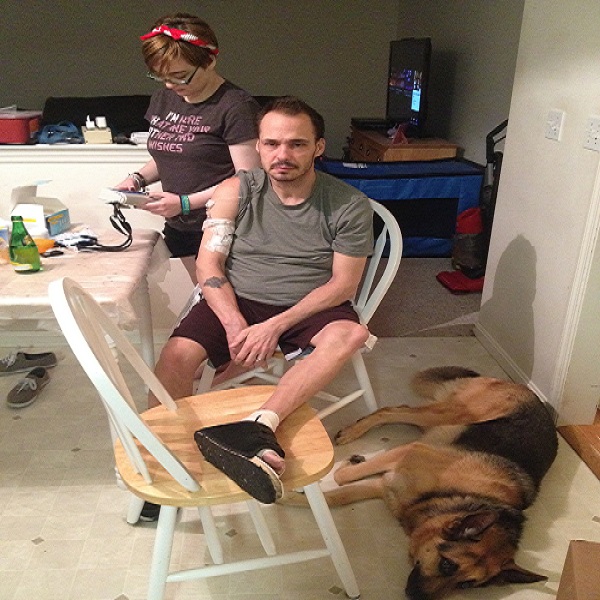 Many of you know my husband, Tony Cannuli and his selfless service to the network marketing profession and community for over 25 years. Tony  is currently  dealing with a serious life and limb threatening health challenge and needs your help.
Out of his love for helping people achieve their dreams in the home based business arena he has been always been there to selflessly give his support, training and help to anyone who asked … without ever asking for anything in return.  As a VP of the MLMIA Tony spent years doing interviews, distributor rights work and training calls.Tony also has served as the Marketing Director for the "Home Business Radio Network" where he has hosted his own radio show "The Slight Edge Zone". While doing work with the MLMIA or "Home Business Radio Network" Tony interviewed hundreds of field and corporate industry leaders.
Now is the time that Tony needs help from all of you, his friends and fellow industry supporters.
For a number of years, in support of the great people and companies within network marketing, Tony has used many of their unique products to help manage his diabetes, but in recent months, an infection in his foot triggered a life and limb threatening cascade of events that has caused a huge stress not only to Tony's body, mind and spirit, but also our family's health and finances.
On July 6th, 2015, Tony was rushed to the hospital in a life threatening diabetic coma with a blood sugar level that had reached 1100 (10x normal) and an infection in his foot so serious that if unresolved could require amputation.
On July 8th, Tony underwent surgery on his foot and as a result of a bone biopsy and an MRI, the doctors determined the infection had gone into the bone (Osteomyelitis). The only option outside of amputation is a long course of incredibly expensive antibiotics so strong that a special IV called a PICC Line had to be inserted in towards his heart to protect the veins from being damaged by the antibiotics.
After spending most of July in the hospital, things seemed to be progressing well so the doctors decided that he could be transferred from the hospital to a Skilled Nursing Facility, however that was not the case.
Tony ended up needing to be readmitted to the hospital because a blood test showed that his hemoglobin was dangerously low. Men usually run around 14 and Tony's was 7.3. They considered giving him a blood transfusion, but instead decided they wanted to try to find the cause of the low hemoglobin, so he was once again subjected to multiple x-rays, MRI's, Barium Swallow, numerous blood tests, plus he had to have his blood drawn every 6 hours to monitor any changes in the hemoglobin.
While the doctors couldn't find the cause of the low hemoglobin, what they did find was that he now had fluid accumulating in his lungs and his body was swelling like a balloon. In fact his legs swelled up so much they like tree stumps. It was absolutely terrifying for me to watch his body filling with fluid and his hemoglobin be so dangerously low.
By God's grace and through our own research we found that the antibiotic they had him on was causing the extreme out of control swelling (25 pounds in 5 days). Tony then deduced that if when you are dehydrated your hemoglobin levels will be higher … why would the reverse not be true? Lots of fluid … lower hemoglobin levels.
Tony managed to convince the doctors that the antibiotic was the probable cause his fluid retention (his skin looked like it was going to split). The antibiotic was changed to a different one that is just a strong, but has to be administered twice a day instead of once and it also takes much longer to infuse.
So now, most of the swelling has gone down, but twice a day he has a 1 ½ hour infusion of antibiotics that are so powerful that it wipes him out for hours after each infusion … and he has still has several more weeks to go. They are monitoring his hemoglobin very carefully and the antibiotic is so strong that blood levels have to be checked every week to make sure he is still tolerating it.
Sadly, we still do not know what the future holds as far as the long term antibiotic treatments are concerned and whether they have rid the bone of the infection.
Needless to say, the costs of all of Tony's treatments are enormous and many will be ongoing, because he still has a long road to a full recovery. However, Tony would never want any of you to know that because he would rather be there for all of you. What he would want is for you all to know is that he is so grateful for all of your love, prayers and healing thoughts.
As you can imagine, this has been very hard on our family, and based on a recommendation from some friends we have set up this GoFundMe account to invite friends and industry supporters to give back to a man and a family that has selflessly given so much to our profession for so many years.
Any donation you can make will help enable Tony to stop worrying about how to take care of his family and give him the peace of mind that he needs for healing and a full recovery … so he can once again get back to doing the selfless work for our profession that he feels so compelled to do.
Thank you for your generous support and donations … and for passing this on to others that also might like to help a dear friend and industry supporter in need.
I will personally make sure to keep everyone updated on his progress.
Joanna Cannuli