Wilmington Film Electric Billboard
NOTE:  Even though the initial goal has been met, it's not too late to help with additional contributions!!!

For every additional $275 (+7.9% for gofundme & bank transfer fees) we will be able to extend this campaign for another week!!!(UPDATE: MONDAY 10/20/2014-WE DID IT AGAIN!!!)As of today, we have enough funds to extend our billboard campaign for an additional 2 weeks...bringing our total exposure to 8 weeks right now!!!  As money continues to be contributed, we will be able to extend again soon!

(UPDATE: MONDAY 10/13/2014 - WE DID IT!!!)
Thank you and congratulations to everyone who has made this happen so quickly!!!  Just moments ago, I signed the contract for our billboards and wrote the first check...

Check #1: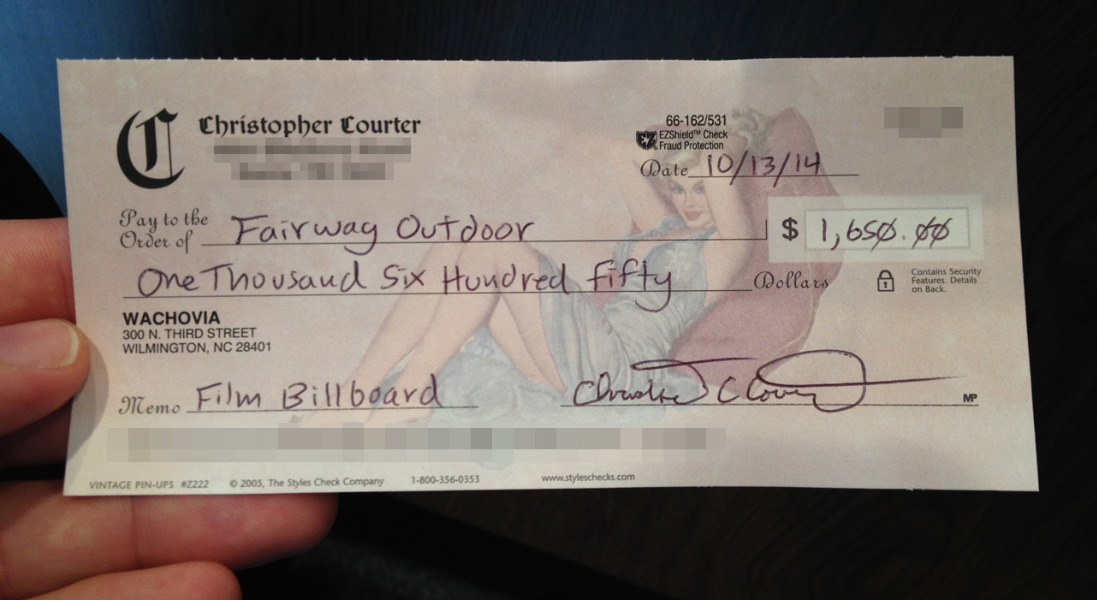 Check #1 was written in the amount of $1,650.00 and covers 6 weeks of billboard display!  I will be deducting $130.35 from the remaining funds for the associated 7.9% fees (gofunme.com + wepay.com).
This now brings the full expenditure of funds for the first 6 weeks of billboard usage to $1,780.35.

Contract: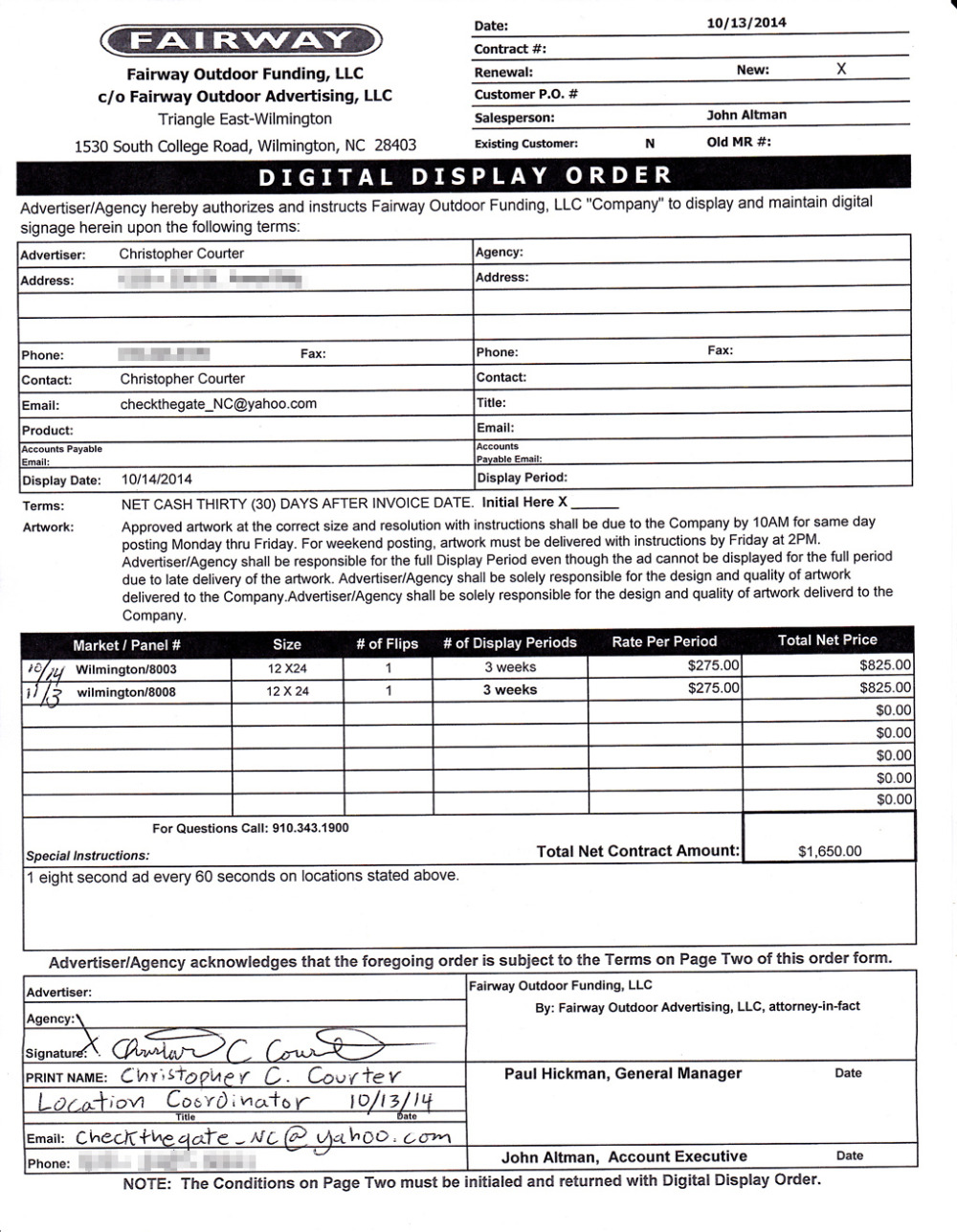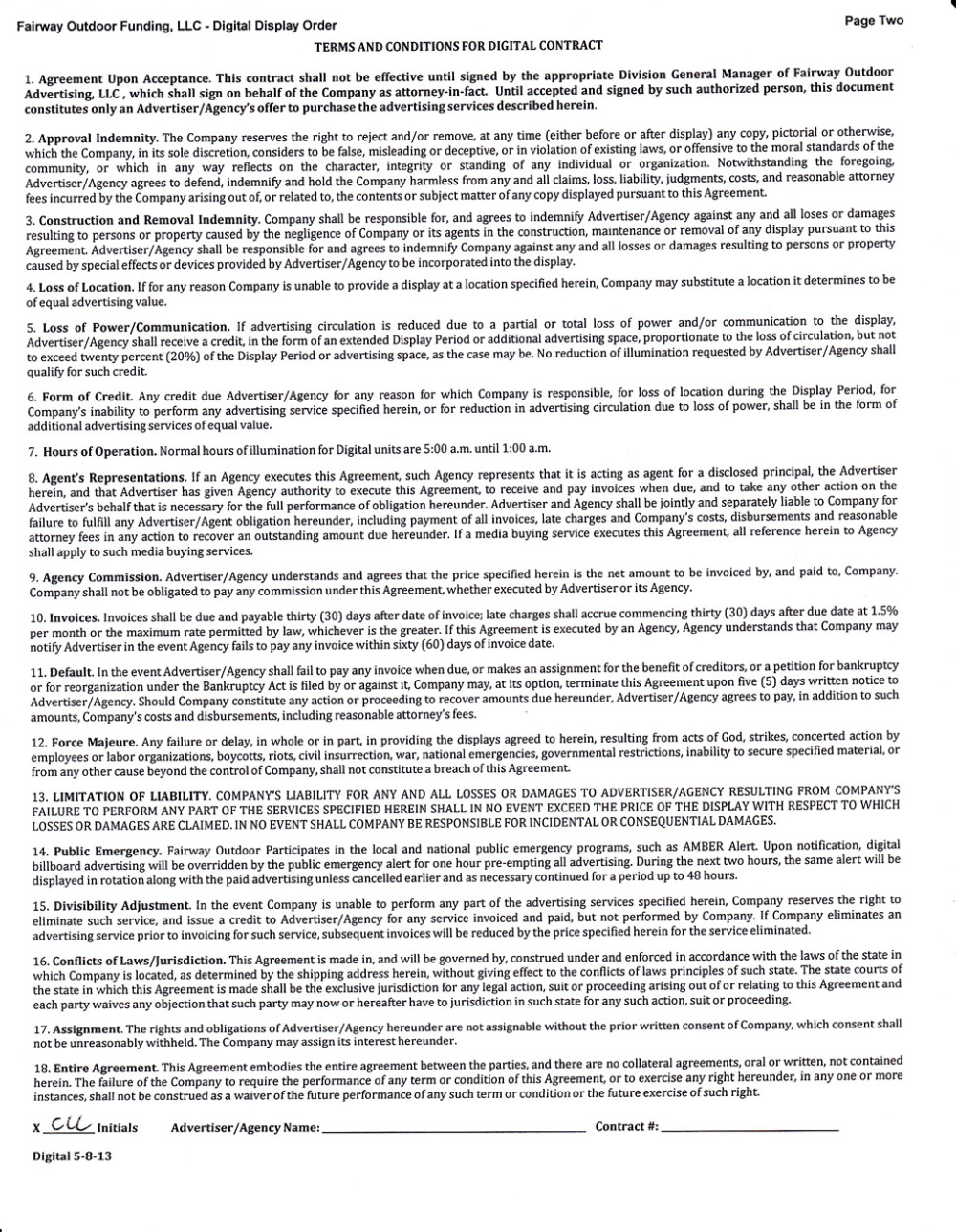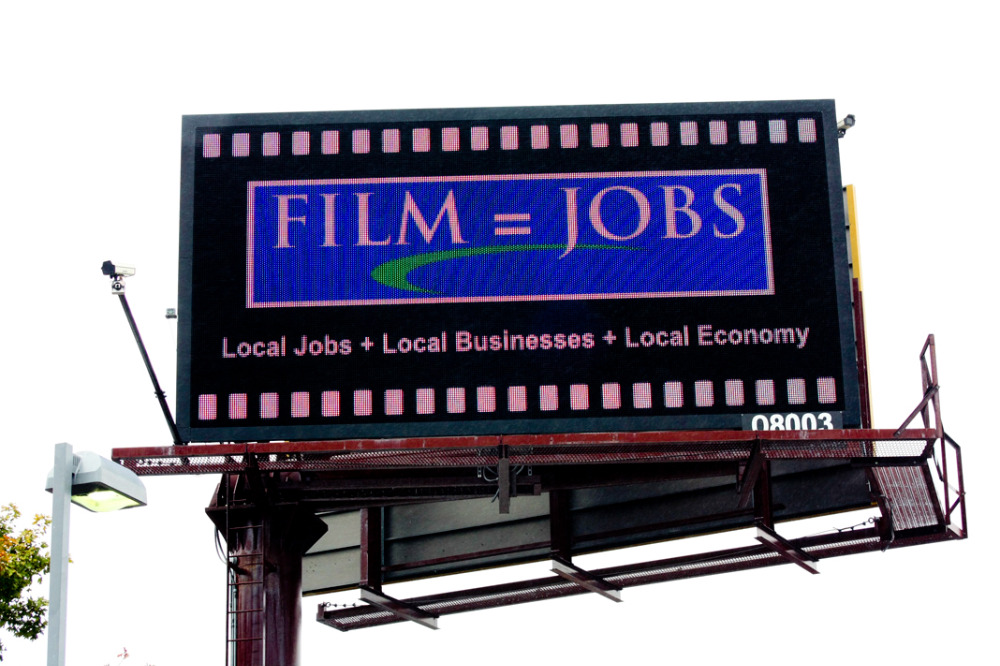 BILLBOARD #1: (10/14/2014 until 11/04/2014)
LOCATION: 4100 Oleander Dr.
(Next to Dragonflies and across from Pizzettas Pizza)
*See red "E" on the map below

- This is a HIGHLY visible location.  While sitting at the traffic light located at 42nd St. and Oleander...heading towards downtown Wilmington, this billboard appears to be DIRECTLY in front of you.  It's impossible to miss!


BILLBOARD #2: (11/03/2014 until 11/24/2014)
LOCATION: 706 S. College Rd.
(Next to McAllister's Deli)
*See red "H" on the map below

- This is a great location near UNCW.  The digital billboard is on the same side of the road asMcAllister's Deli and will have the image facing toward the intersection of Oleander Dr. and College Rd.

SEE MAP FOR LOCATIONS: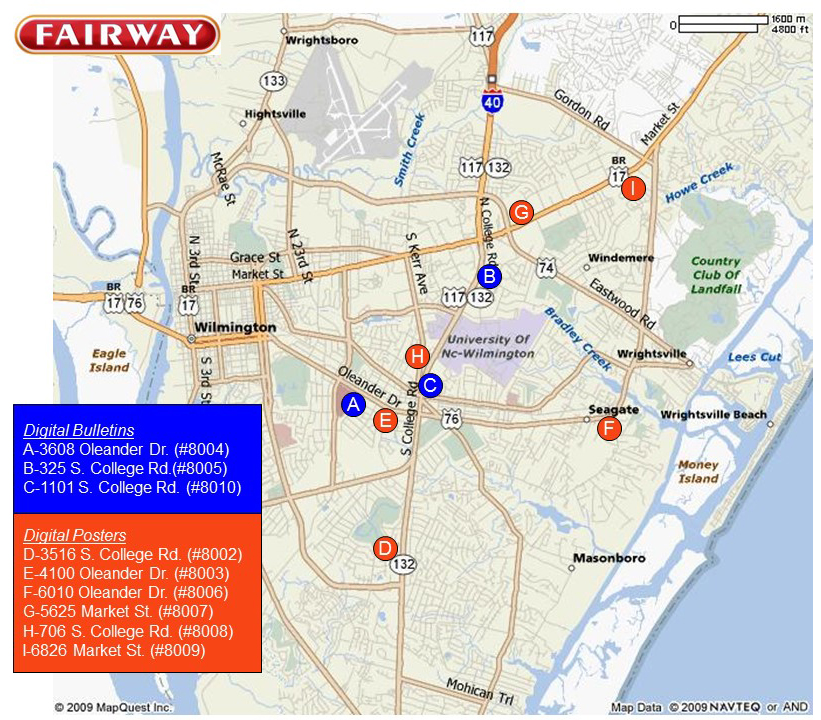 New option! 

We have been given the opportunity for billboard image to alternate!  We will be using the classic "FILM=JOBS" image as the alternating billboard!

A SPECIAL THANKS:

I wish to thank my John Altman of Fairway Outdoor Advertising for his patience and assistance.  Mr. Altman was kind enough to work with us on Under the Dome - Season 2.  He was assisting us with a location that, unfortunately, was cut from the show.  However, he and his staff had already put in a great deal of work to assist us.  It's a shame when people work so hard to help us out and then, without warning, everything changes!

You may contact Mr. Altman with questions you may have in the future at [phone redacted] or via email at [email redacted].


ORIGINAL INFORMATION ABOUT THIS CAMPAIGN:

- Producers & Production Managers
- Crew Members
- Talent
- Extras
- Location Owners
- Screen Gems Staff and Support
- Local Vendors and Businesses
- Educational Institutions
- Film Studies Professors
- Professional Services
- Community Support
    *Police
    *Fire Departments
    *E.M.T.s,  Medics & First Responders
    *Utilities Companies
    *Etc...

- And ALL you family members and friends who love and support our area filmmakers!

As most of you know by now, due to some poor decision making on the behalf of the state, Wilmington (as well as the entire state of North Carolina) is about to lose an industry that has supported over 4,200 careers for over 31 years!  In addition to this immediate loss, revenue streams will instantly dry up.  In 2013 alone, the film industry accounted for over 276 million dollars in revenue at the state level and 133 million dollars at the local Wilmington level.

According to Wilmington Film Office records, the film and television industry in North Carolina has generated (since 1985 to present) just over 8 BILLION dollars!  This money flowed directly in to the local economy.

We have all worked hard to save the film industry in this area.  Surveys, telephone calls, letters to legislators, rallies, picketing, news interviews, etc...  To be honest, many of us are just worn out and worried.

The politicians know well what our viewpoints area...and now it's time to win over the hearts and minds of "the people" of our community as well.

It's time that we tell Wilmington how grateful we have been for the past 31 years...and also remind them that much of what we contribute to our community is more diffucult for them to see than one of our occasional road blocks!

Let's show Wilmington a concrete dollar figure so everyone will know just how much revenue is generated by our industry! 

This fundraiser, in effect, will create a "virtual" rally that we can all take part in.  A rally that even those of us who are currently working...but are worried about the future...can attend in spirit!  This billboard will flash up our message 7 days a week.  With that said, please note that these billboards typically have 4 different advertisers and the images change every 8 seconds.

Please be aware that, unlike certain departments of our government, I believe in full disclosure!  Rest assured that I will post updates as we go along and, once the sign is paid for, receipts as well. 

Thank you,

Christopher C. Courter
(Location Coordinator - Under the Dome Seasons 1 & 2)

P.S.  And for all of you helping us from outside the film community...we heartily thank you!

Organizer