Freedom's path and Village of Love and Resistance
Join Village of Love and Resistance (VOLAR) as we celebrate Juneteeth. We are continuing on the path to freedom by organizing for power, healing, and the liberation of land in low-income Black and Brown communities. We are currently raising money to renovate our first two buildings in East Baltimore.Donate to Our Redevelopment Project


Any donation will make an impact! We are seeking $280,000 to renovate the former church (14,000 sq ft) and the former rectory (3,500 sq ft) into our Community Hub and Affordable Housing Cooperative. More specifically, these funds will go toward the hiring of an architect who will design and update the facilities into our collective liberation zone. The Community Hub will have a daycare center, community meeting spaces, small business incubator, organizing school, mindfulness and wellness center, and community gardens. The Affordable Housing Cooperative will be an intentional living and healing community with 6 micro-units.

  Preliminary Design of Church/Community Hub - 1025 E. Monument Street (above)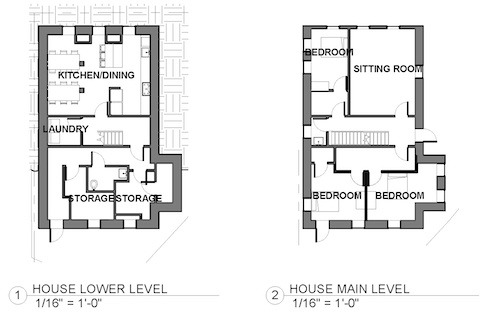 Preliminary Design of Rectory/Cooperative Housing - 1031 E. Monument Street (Four levels) (above)


How Your Donation Will Impact Our Community


Low-income residents in the surrounding zip codes will be able to buy shares in these buildings to become co-owners and decision-makers in how development happens in our communities. We want to ensure the highest possible return to our community investors. This means, every donation matters because the more donations we receive, the less debt we have. Each contribution helps us close the racial wealth and wellness gap that began with the enslavement of Black people. Supporting our Juneteenth fundraising campaign is about realizing the journey toward Black economic freedom that began on June 19th 1865.


Thank You


Thank you in advance for your contribution to changing the history and status quo of inequitable development in this city. We celebrate our powerful and resilient ancestors by assuring that justice and equity shine brightly from the windows of VOLAR, today, and into our future. Help us light the way. All hands and hearts are needed.
About Us
Village of Love and Resistance's mission is to co-create a cooperative community in East Baltimore owned by Black and Brown people. We seek to build this cooperative community through the reclamation of land, healing, reconnecting and building a base of community power. We aim to do this through donations and non-interest loans as seed-capital to redevelop our building as a Hub for equitable, sustainable and healthy economic development projects as well as a community organizing and wellness building initiatives.
VOLAR member Kenneth Harris shares why he joined VOLAR (below).
                                                                                                          To learn more about
Our Work

Organizer
VOLAR Collective
Organizer
Baltimore, MD

Village of Love and Resistance
Registered nonprofit
Donations are typically 100% tax deductible in the US.