Help Lindsay get a new prosthetic
We are raising money to help Lindsay get a new prosthetic eye made. Lindsay's journey has been long and hard and never ending. We are hoping to make this this journey a little easier.
Lindsay's journeys:
Lindsay is a fun loving girl with three sisters. She is a twin. She loves school and is very energetic. Nothing seems to break her spirit. Lindsay was diagnosed in September 2004 with an Orbital Malignant Peripheral Nerve Sheath Tumor.
In July of 2004, we noticed our 8 year old daughter had this bump on her eyelid. Our first doctor said it was a sty and that she had 'pink eye'. Her treatment lasted only a couple of days before we took her to the emergency room. The medicine had started to burn. Second doctor, at the emergency room, said the same thing as the first, then checked to make sure there was nothing in her eye. She was prescribed different medicine.
This bump kept getting bigger and Lindsay was starting to get uncomfortable. The third doctor, was our pediatrician. Lindsay was treated with an antibiotic for a few days and we were told to go to our Eye doctor. Doctor number four, said it was a sty, try this medicine. We went back a week later. The bump was now so big, Lindsay couldn't open her eye. We went to our fifth doctor to have the bump looked at again. We were told he couldn't remove it, because it was a tumor. He sent us to yet another doctor to have it removed.
Finally we saw doctor number six and we were sent to the hospital for an emergency MRI. There, it was found that the tumor could be cancerous. We were sent to doctor number seven to have it looked at and to have surgery scheduled. Finally, on September 9th the tumor was removed. We were told after surgery that it was cancerous. My world felt as though it had ended.
Lindsay spent a week in the hospital, as we waited for Pathology reports to come back. They never came back while she was in the hospital, but we did meet about 5 new doctors involved in her care. About 2 weeks later we finally were told that Lindsay had an extremely rare type of cancer. Only a handful of cases are in the medical books, and of those, there were only a few children. They had no idea how to treat this cancer. So, a few weeks after that and a consult with the Clinics Tumor board, a treatment plan went into affect.
In November and December of 2004 Lindsay had 30 treatments of radiation. We were away from home for 2 months. Lindsay had MRIs and CT scans every 3 months and saw the doctors at least once a month. In Feb. of 2006 we went in for routine scans and an enhancement was found at the sight of surgery. On march 10th, 2006 she went in for another surgery and a biopsy was preformed. You guessed it! The tumor had come back and it was meaner than before. We had to travel to Columbus Children's for second opinions.
Lindsay had her eye removed (exenteration) on April 17th. She did not let it slow her down. She continued to keep up with her classes. A tutor came in 3 times a week. Lindsay went through 6 rounds of chemo and is doing well. She will go back every three months to have scans done.
2007 and beyond:
Lindsay now sees her oncologist once a year and has remained cancer free for 10 years (since her eye was removed). 
Lindsay has been dealing with on going "episodes" that have not been "figured out ". Lindsay also has experienced muscle spasms that are making it difficult for her to be a normal 20 year old. She is unable to work at this time due to muscle weakness.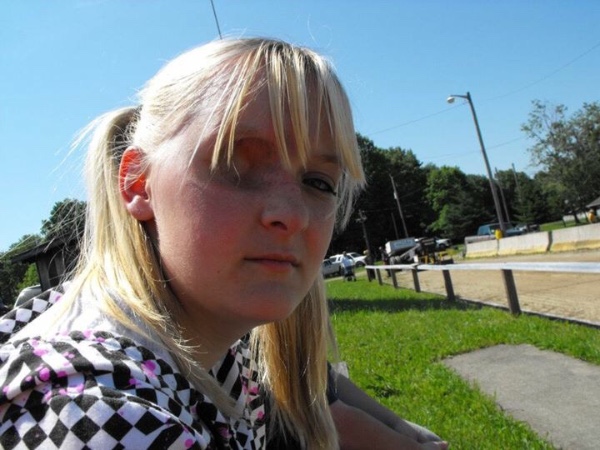 Organizer
Tammy Johnson Holcomb
Organizer
Milton, FL