What is Univers'ELLES?

Univers'ELLES is a project that aims to shine a light on women's life experience from different corners of the earth. Our goal is to give them a platform for sharing their opinion on how they visualize and feel about womanhood in their culture, tradition, and society nowadays.
This project seems crucial at a time when societies tend to turn in upon themselves and at a time when women are too often used to justify acts of discrimination.
Univers'ELLES is about broadcasting interviews of local women speaking up about the situation of gender equality and gender-based discrimination in their community, but also to shine a light on local and international actions that are striving to empower women, enhancing gender equality and tackling gender-based discrimination.
By broadcasting interviews of women we want to invite the reader to reflect on the things that bring us together rather than those that divide us through imaginary lines of inequality.
Some in depth articles will help shed light on some specific topics, addressed by the women in the interviews.
Why this project ?

The fight for gender equality is a global one. Most women, everywhere, face restrictive gender roles and gender based discrimination. Nonetheless, almost no information from the southern hemisphere reaches the northern one, making it seem like gender equality is a northern concern only.
By asking the opinion and perception on gender equality to local women from developing countries, we hope to broaden the scope of actors working together on gender equality in the whole world. The aim of the project is to create bridges between women from different parts of the world and value the importance of working together to address such issues.
 "Sharing women's stories to drive change"
There are many initiative for gender equality in the southern hemisphere, although this is mostly unknown to a western audience. The perception of women from developing countries is filled with stereotypes and assumptions which leads to an incorrect perception of the situation of women and the actions taken by them to tackle gender based discrimination. By sharing the stories of women and their views on this topic, we hope to educate people from the western world to better understand the situation, needs and initiative taken by women in order to reach gender equality. The aim of the project is to provide a clearer and more accurate perception of women in the countries visited, and hopefully lead to a less paternalistic view on southern women.
Objectives ?

In Europe:
– To tackle stereotypes attached to women from certain regions of the world.
– To teach people about gender and the initiatives already taken to tackle gender based discrimination/violence.
– To partner with local organizations to help spread the message to reach maximum impact.
In visited countries:
– To partner with local organizations to help raise the voice of women and raise awareness about gender issues.
– To produce tools for local organizations to use in order to raise awareness.
– To participate to the local effort to raise awareness.
Itinerary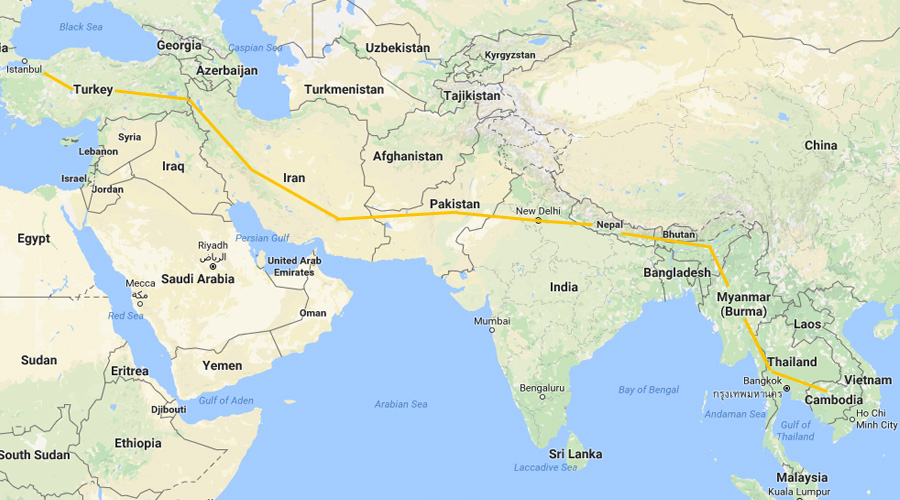 From May to December 2017, the project team will travel to Cambodia, Laos, Thailand, Myanmar, India, Nepal, Pakistan, Iran and Turkey to interview women from these countries and raise their voices! 
How?

Means of communication:
–
Social media:
engage with the public about women's issues. We wish to spread the message to a maximum of people with short posts in order to reach maximum impact and to engage debate/discussion with the audience. Follow us on
Facebook
 and
Twitter
–
Website:
this tool allow us to publish longer articles and in depth interviews/articles so as to give to the reader the most comprehensive picture of the issues women face in their community and to share with them the stories, thoughts and opinions of those women for developing gender equality, tackling gender-based discrimination and empowering women in their own communities. Read the stories
here
. 
–
Youtube:
we produce short videos in which local women can send a specific message. This tool that allow us to put a face on the issues and the initiatives. The interviewees will speak in their native language and English subtitles are added. To watch our videos, click
here. 
We conduct interviews with a set of prepared questions to guide the discussion. The questions can be divided into 3 categories: childhood and perception of womanhood, adulthood and challenges faced as well as solutions or initiatives taken, and perception by foreigners or representation in the media. The questions remain open to allow women to lead the conversation on topics they want to share and to not restrict the topics of conversation, or their voices.
How do we reach people in visited countries?

- By creating partnerships with local NGOs allowing us to reach a population less likely to speak English. The target group for interviews are all women who want to share their story. We are aware that we have an easier access to middle/upper class women because they are more likely to speak English. Partnerships with local NGOs can help us to partially correct this bias by giving us access to women less likely to speak English.
- By meeting a maximum of people interested in those issues so they can help point us in the right direction and teach us about those issues.
- By using our own network to meet the local community.
Project Leaders Background
Noémie Audibert was Project Development Manager for a local NGO in Cambodia that promotes girl's rights and tackles gender discrimination. for the past year and a half. She lived for almost three years in Cambodia working for different local organization that promoted education and girls and women empowerment.
She earned her Master's degree in International Humanitarian Law and her Post Graduate Diploma in Humanitarian Project Management at the Institute of International Humanitarian Studies in Aix-en-Provence, France, before embarking on a four year journey across Europe, the Middle East, and Southeast Asia working in the humanitarian development sectors. 
Camille Monfort was Fundraising Officer for a local organization in Cambodia for a year that focuses on child protection and safe reintegration. She lived in different countries of Southeast Asia for two years.
Holder of a Master's degree in Political Science at the Institute of Political Science in Rennes, and holder of a Maters's degree in Project Management and International Cooperation and at the University of Lilles, France, she studied and worked in South America and Asia for several years. For the past two years, she works in Southeast Asia in the humanitarian development sectors.