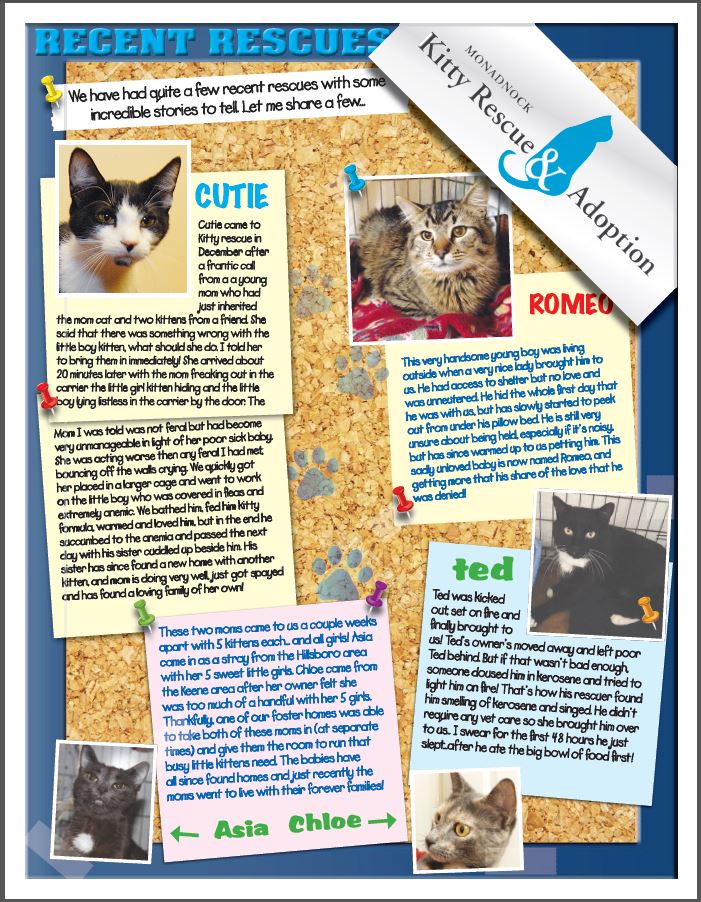 Kitty Rescue and Adoption was told by our landlord, that he would like to reclaim the space that has housed the shelter for the past 13 years. He originally gave us until July of this year. 
Even in the best of circumstances that is a tight time frame to work with. We have since presented him with our business plan which puts the time frame at the end of 2016. Which he has graciously agreed to!  
Now the work begins! 
We have laid out a very aggressive plan to accomplish our goal of relocating by the end of next year.  
The first step was the purchase of land for the new shelter. We have a few lots in mind that would work in our area for that purpose. They are all around $125k for 2+/- acres of commercial/industrial. We have about 90k raised so far, but need to raise approximately 30-35k more, to complete that phase.  
Arlen Construction has drawn up the blueprints for the new shelter, so as soon as the financing is in place, we will be all set to go before the planning board.  
We hope to start building this Spring. Our total project will cost $500,000. The new building will house our current 125 cat/kitten population, most of which are feral, and need a safe place to live as they were on their own and/or being abused where they were caught. 
We are a no-kill shelter that offers a second chance for feral, stray and abandoned cats and kittens. In our care they receive veterinary services, food, shelter and of course lots of love! Those who are not too traumatized by their life on the streets are found loving homes. The truly feral cats will remain with us in a cage-free environment to live out their days. We also participate in Trap-Neuter-Return, if they have a safe place with a caregiver, overseeing the colony. 
Kitty Rescue is run by a group of very dedicated volunteers. There are no paid positions. All of our bills and costs are paid for through adoption fees and kind donations from very generous cat-loving people! 
We have had a banner year for adoptions! At the end of the year, 186 cats had found new homes through Kitty Rescue. Most of them were strays from in and around our area. We were also able to help out a rescue in North Carolina by taking a couple of transports from them. In all, we took in 156 cats all year! 
Some of our rooms also had outside fenced pens added to give our kitties a chance to go out and experience some fresh air and sunshine, which they absolutely love!  
Our FIV+ cats are now available for adoption! In the past if a cat tested positive for FIV the cat was scheduled to live with us forever, as the State of NH does not allow us to adopt them out.  
The law still hasn't been changed, but The State is allowing us to transport the cats over state lines to Massachusetts, where we are working with another rescue to help us place these very sweet, adoptable cats into loving homes. So far 2 have gone home! 
In conclusion, we are busier than ever saving cats and kittens and now trying to secure the funding needed for the new location. We hope to be around for many more years with the help of our supporters.  
Thank you again for taking the time to read this and for considering being a supporter of Monadnock Kitty Rescue and Adoption.  
"We couldn't do what we do without your help!" 
Kitty Rescue is a 501c3 corporation and all money donated is tax deductible! 
To find out more please visit us on facebook at Monadnock Kitty Rescue and adoption or check out our website at www.kittyrescueandadoption.org. 
We are located on 11 Plantation Drive in Jaffrey, NH. Our open hours are Tuesday and Thursday Evening from 6-9 and Saturday Mornings from 9-1