Hello! We are
Reilly & Alyssa Washburn
, a married couple of one year. As some of you know, this year has been extremely difficult for us. It wasn't one incident that brought us down, like a burglary or a fire.  During marriage a number of events compounded, as you will see below, outlined month by month.  
We have been trying to bounce back and move forward on our own, but have been unsuccessful.
We need your help!You can help us
get back on our feet. We are just trying to live a simple life of having a family and serving others. We ask that you assist us, so we can then pay it forward.
Here's the deal
: The rate of homelessness rose last year for the first time since 2010. This is only going to get worse. Our experience on the streets has opened our eyes to the daily struggle of people who cannot afford to pay their rent while working their butts off.  Full-time minimum wage jobs cannot pay enough to rent decent 2-bedroom apartments in any US state.
(
Data provided by the U.S. Department of Housing and Urban Development & a National Low Income Housing Coalition report released June 2018.
)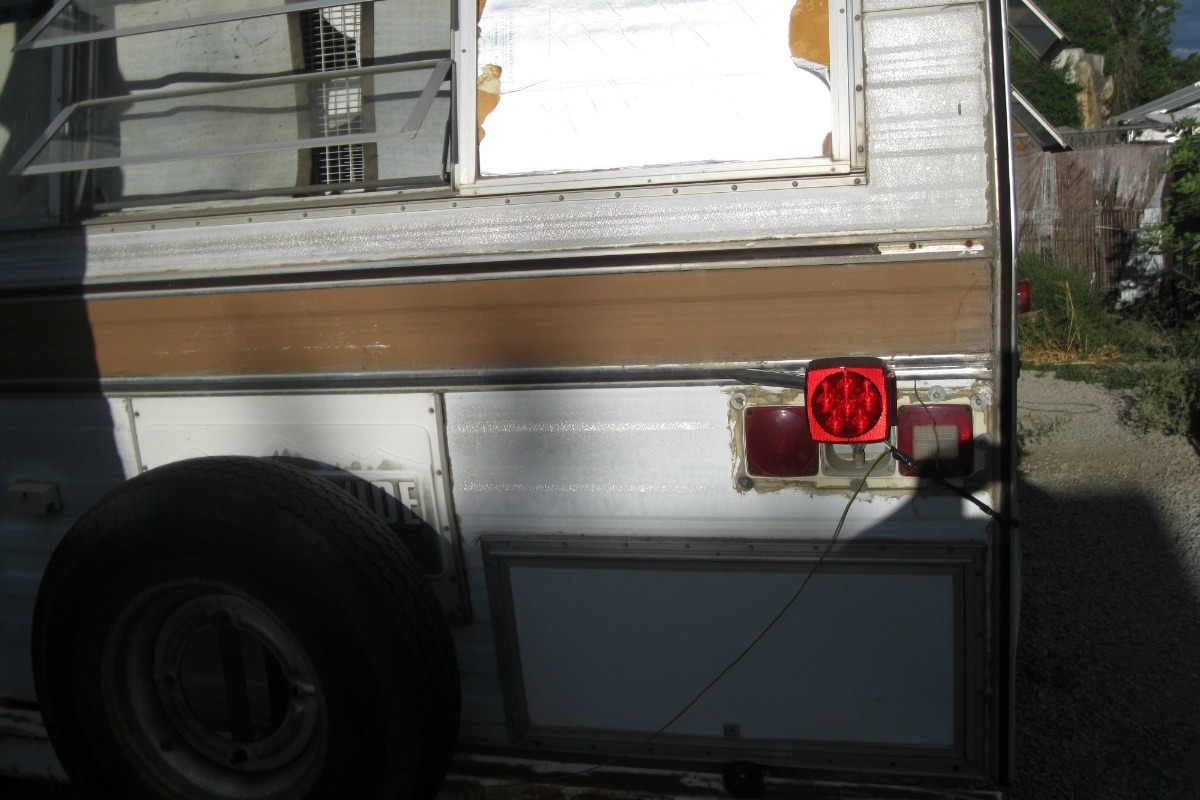 (We were fortunate enough to have
The Eyesore
  over the winter, even though she's falling apart. She's a hot mess, folks.)
We are trying to build a self-sustainable tiny home
, so we don't have to worry so much about where our next meal is going to come from or if we'll have enough money to heat ourselves in the winter. Imagine how much of an impact you can make if you can give that security to multiple families!
(Example of a completed cargo trailer tiny home)
The Goal
:  If 1,000 people give $15 to our cause we will be able to build our home. *Fifteen Dollars.*
Let's say
we recreate this campaign for other families each year
. That would mean in 10 years you could house 10 different families for only $150. Fifteen dollars a year. That's the price of 2 craft beers or 3 Starbucks drinks in exchange for a family's livelihood.
What you can do
:  Give $15 and share this link with your loved ones via social media/email. You can simply say, "I gave $15 to house a family in need. You can help too! Just $15 and/or a share of this link will help this family build their home." gofundme.com/the-bombadil- project 
We understand if you cannot give $15. It's about the quantity of people reached, so sharing the link is just as valuable! Please tag friends if you are comfortable, as it is more effective than simply posting on a page. 
The Mission
:  If we collectively reach our goal, we pledge to assist other needy families in building tiny homes.  We are calling this venture **
The Bombadil Project**
, because like Tom Bombadil of LOTR we strive to dispossess ourselves of the things we do not need and assist others in possessing what they do need. Humans need sturdy, safe, comfortable shelter. So be ready to give homelessness a good kick in the pants! 
(May we take ourselves as lightly as Tom Bombadil!)  
**For those of you who want to know your money/word of mouth are being properly invested, we have outlined what materials we will be using the money for and why it has been so difficult for two hard-working individuals to save the money on their own.**  
Why haven't we saved the money ourselves?


Trick question; We have actually saved money in about $3,000 increments 3x/year, but our savings keep depleting in order to cover little disasters.
TLDR
: It's been a really rough year. We have gone through much of it with
no insulation, no heat, no running water, limited electricity, and no AC
. We have gotten jobs that have hurt our health, because that's what we had to do to survive.
You have the power
to assist us in living a more wholesome existence where we can then help others do the same!
Jan. 2017-Aug. 2018
·         Alyssa's medical expenses -- Chronic illnesses
(Alyssa's face is swollen and yellow during a severe infection.)
Mar. 2017
·         Buy car
July 2017
·         Pay for most of wedding
·         Buy trailer home
(We're saying goodbye to the Nissan. It's only worth its parts now.)
Sept. 2017
·         Buy truck to tow home
Oct. 2017
·         Our dog has a severe UTI
·         Reilly loses his job
           o   This is 48 days after Alyssa leaves her assistant teacher job to                        focus on health
·         Reilly does a bush removal; the client never pays
·         Electric brakes on trailer do not work
(Our dog Finny when she was sick)
Nov. 2017
·         Trailer heater breaks
·         We are denied SNAP benefits due to a clerical error
·         Generator stops working in freezing cold; no heat in home
 Dec. 2017
·         Reilly settles in court for auto accident
           o   He & his motorcycle were the only parties injured/damaged
           o   Motorcycle was totaled back in Sept.
·         Buy space heater
Jan. 2018
·         Reilly out of work for 2 weeks with the flu
·         Alyssa out of work 3 weeks from tonsillectomy recovery, throat        infection, & flu
·         Kicked out of Aurora; no power, no heat
·         Tire blowout
(We came home from work to these words written on all our windows.)
Feb. 2018
·         Buy new tire/rim
·         Replace dead car battery
·         Home door frozen shut with no heat
           o   Buy tools to fix door after we bust it open to get to work
·         Buy propane heater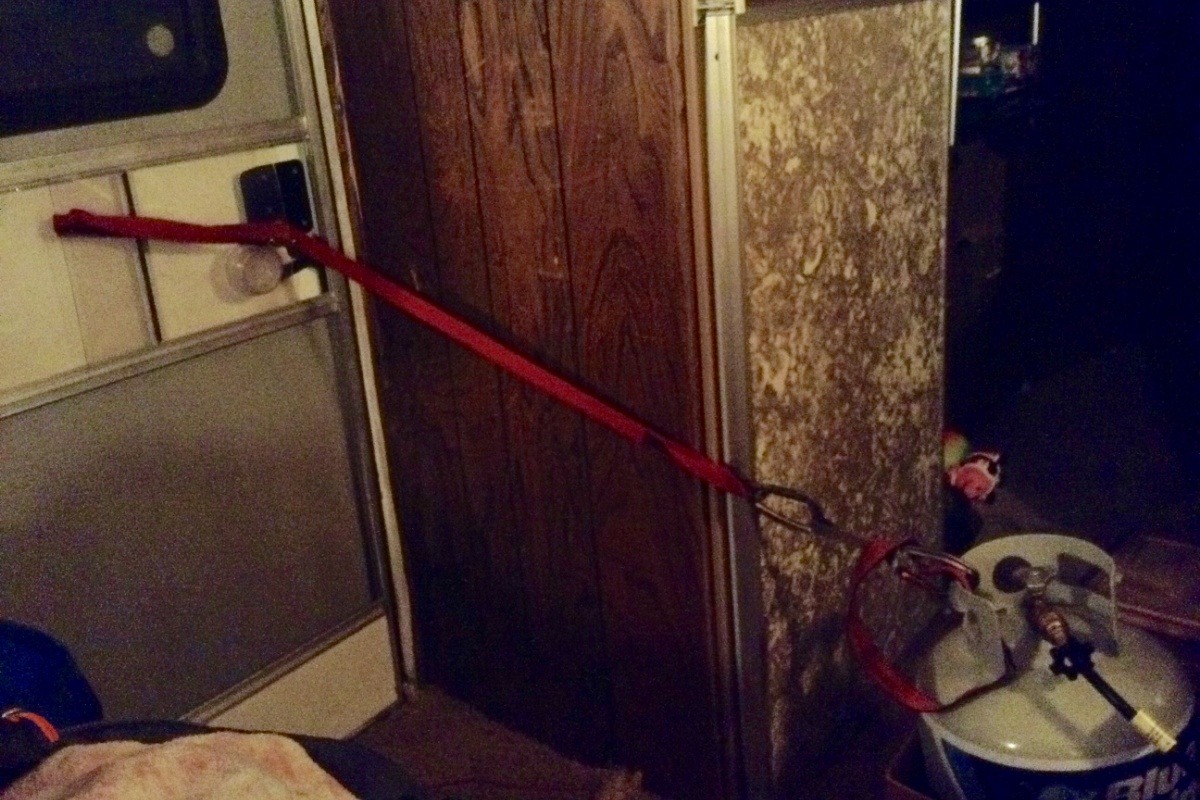 (The frozen/broken door was rigged so that it would stay shut while tools were retrieved from the store. Behind you can see the fridge which stopped working.)
March 2018
·         Latest heater stops working
·         The door freezes…again
·         Buy new heater
June 2018
·         Buy mini fridge
           o   We didn't have a working one over the winter, and the mini          fridge someone lent to us stopped working.
(Reilly is doing well as a tree climber. The equipment is expensive and the upkeep frequent, but once our home life is more stable, he can become a certified arborist, and we will be able to complete more bids on trims/removals.)
July 2018
·         One of our crew accidentally spilled paint on a brand new patio.
           o   We're still waiting for the homeowners to send us the 2nd bill for the  damages.
·         Alyssa's car needs $3,200 in parts replacements; it's a safety issue.
           o   We're saying goodbye to the vehicle and to Alyssa's part-time  jobs as a caretaker/commercial painter (These jobs are actually                  good for her health; they're just too far away to take public                            transportation.)
(Paint splatters on the umbrella we replaced for the $17,000 patio.)
Aug. 2018
·         Reilly is out of work for a week with a nasty virus
·         A chunk of our dog's paw is torn out by a neighbor dog
·         Alyssa's phone stops working
(Finny's such a good sport with her Ecollar on.)
What do we need the money for?
We plan to build up a (functioning!) trailer home that we can start our ministry in. We will still be working for income, Reilly with his tree removal/trimming services and Alyssa as a freelance artist, doing scenic painting, face painting, balloon twisting, murals, etc.
Here's a play-by-play of what we need in order to make our sustainable tiny home:
1)      Trailer with added $600 window modification
o   Ours has been falling apart since Oct. 2017
2)        Solar panel setup
o   Going without electricity is tough when you're trying to stay in contact with clients!
x2=$618
$25 ea. x2=$50
1x$35.99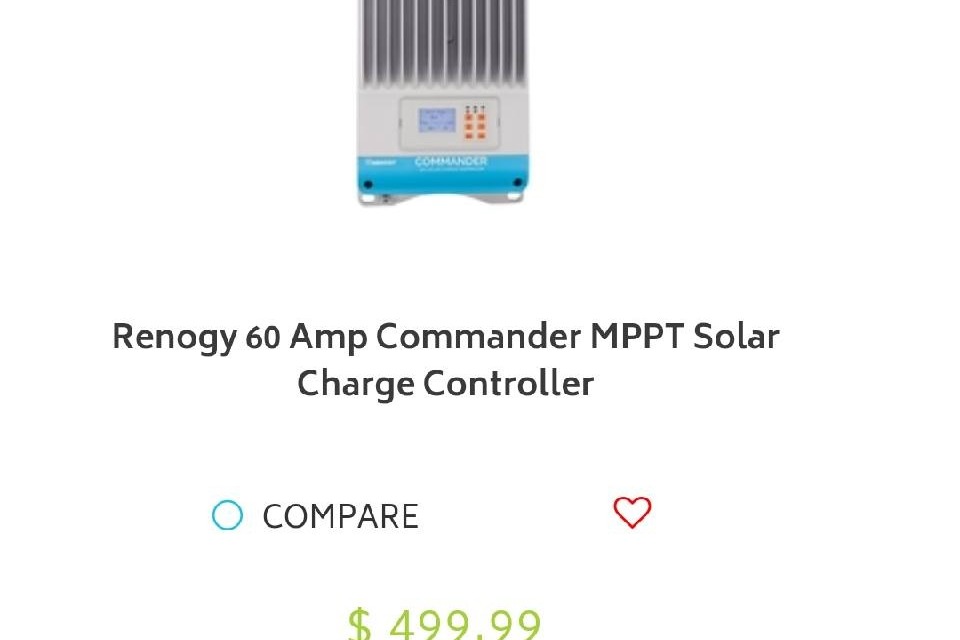 x2=$860
1x$60
3)        Insulation
o   Last winter was cooooold!
o   $318.56 for 22 bags greenfiber – walls & floor
o   $343.40 plus shipping for 8 rolls wool --ceiling
4)         Freezer & Ice Box
o   Sick of melted cooler ice sogging up our leftovers!
5)         Plumbing setup
Thank you for your time and generosity!!
**If you've made it this far, congratulations! You have a longer attention span than most people.**
...We have nothing left for you. You may go back to your regularly scheduled programming.