Stained Glass Secret Garden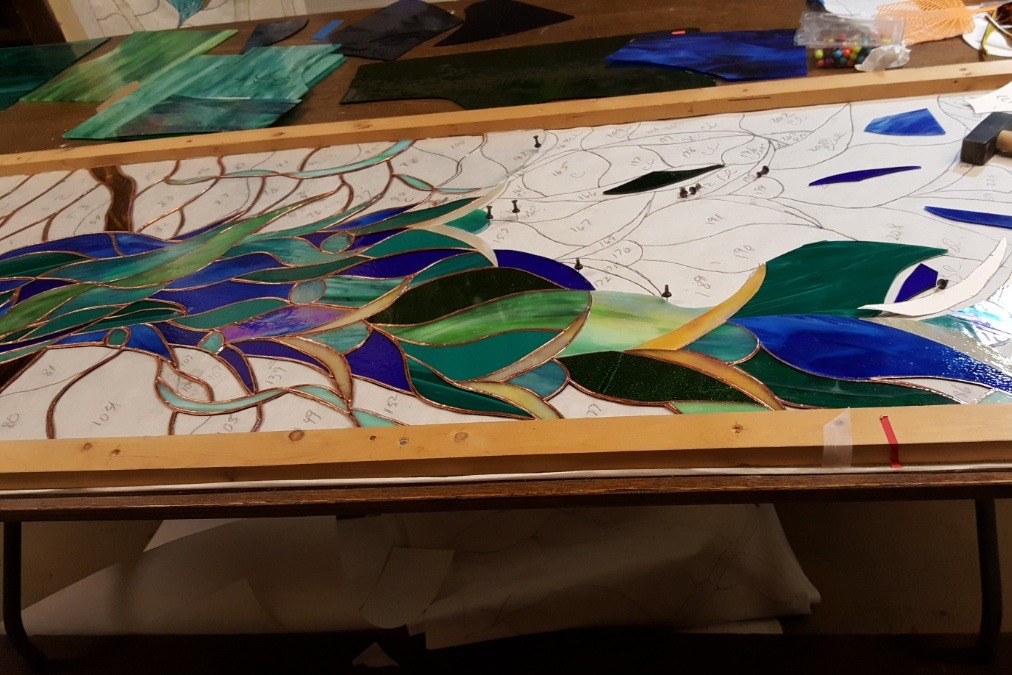 The
'Stained Glass Secret Garden'
will be a gift to the Shriners Hospital for Children, Sacramento, CA  for their children's garden.   An  8ft x 8 ft x 10 ft pergola will frame the 14 panels. The money raised is for glass and each panel being sealed in tempered glass (protect from weather and safe for children).   My time, 80 hrs. per panel, is donated .  
14 stained glass panels each 2 ft x 6 ft approx $600 each
Seal each panel with tempered glass: 14 panels, $500 each 
Total cost $15,400
The project has started and I am grateful for your donation of any amount.
For donations of $500 - name/company name engraved on a bell to hang from the pergola rafters
For donations of $1,500  - name/company name engraved on a brass plate and placed at the bottom of a panel.
For donations of  $5,000 - name/company name engraved on a large brass plate over the entrance 
Giving children a special place within the hospital to engage their imagination and be a child, the delightful glass garden walls within a pergola frame includes flowers, ferns, mushrooms, birds, ladybugs and butterflies surrounding an owl, bunny, skunk, chipmunks, and a magnificent 6 foot peacock. With a secret door in an old tree, a river with baby ducks, and a fox hiding in the tall grass, this sanctuary reignites a child's creative joy when they see hot air balloons floating away in the background sky. The entrance (wheelchair accessible) has a panel on each side of a stained glass picket fence with climbing roses,  a cat and two chickens that invite children and adults to enter a space separate from their current circumstances. 
Adding to the aura of the Secret Garden , the  pergola will be 10 feet high having butterflies suspended from the rafters and a curving sidewalk leading up to the entrance.  The 3 walls each have four panels with the entrance having one panel on each side for a total of 14 panels.  To ensure safety and longevity, each panel will be sealed with tempered glass.  The Secret Garden will have approximately 4,000 pieces of glass.
The Secret Garden will also be a quiet respite for family, caregivers and staff.  The rich colors of the glass brings reassurance and the beauty of art  brings hope. 
Facebook Page
As an artist and author, it is my pleasure to bring encouragement to our world … especially for children.  Previous glass work has included large panels for a church, yoga studio and two eight foot mermaids .  The books I have written are 3 biographies: Eleanor Roosevelt ~ Unleashed, Golda Meir ~ True Grit, and Marie Curie ~ A Nobel Life.
Thank you for joining me in making this gift to children possible.
Organizer
Ann Atkins
Organizer
Placerville, CA