Show Solidarity with Erika and Jesus
Español abajo // Spanish version below
This past July, two migrant farm workers from Mexico who helped keep Canadian agriculture alive during the pandemic were fired and repatriated simply because they received a delivery of work clothes and culturally appropriate food. 
Erika Zavala, 35, and Jesus Molina, 36, are devastated after losing their income for the season. They had been counting on working in Canada until October to support their children and elderly parents. The shutdown of the Mexican economy due to COVID-19 has severely reduced opportunities for jobs back home, and there is no government support. 
We are urging you to show solidarity by pitching in whatever you can to help them cover their lost income. Donations in any amount are greatly appreciated. All funds donated will be given directly to Erika and Jesus and their families.
Background Story:
Earlier this season, Erika and Jesus travelled to Canada to work on a farm in Summerland, BC. In late May, they transferred to Bylands Nursery in West Kelowna. Bylands Nursery had previously experienced an outbreak in March, but by 11 May the outbreak had been officially declared over, and Interior Health had lifted official requirements for workers to self-isolate. However, the employer told Erika and Jesus that his farm had its own policy to prevent the spread of COVID-19: migrant farm workers were not allowed to leave the farm or receive visitors. This policy did not apply to Canadian employees.
RAMA Okanagan
  and other migrant justice groups have asserted that such discriminatory restrictions constitute a severe misinterpretation of provincial guidelines, violate workers' basic rights, and pose a serious concern for workers' health and that of local communities. 
Erika Zavala and Amy Cohen in 2017. Zavala asked Amy and another local migrant advocate to bring work clothes and culturally appropriate food to the farm where she was working, and was subsequently fired and repatriated.
/ / Erika y Amy Cohen en 2017. Erika pidió que Amy y otra defensora le llevara ropa y comida a la granja donde estaba trabajando. Por recibir visitantes, Erika fue despedida.
On 28 June, Zavala and Molina invited two local friends and advocates to their on-site housing at Bylands Nursery. Because they were not allowed to leave the property to get groceries, the couple asked if they could bring work clothing and culturally appropriate food that their boss had not provided. When the advocates arrived to drop off the items, another worker took a photo and sent it to their employer. 
Shortly after, their manager summoned them to his office. He showed them the picture, asked them to sign a letter affirming they had broken the farm's rule, and fired them. Although they asked if they could have a second chance, he declined. On 3 July they were repatriated to Mexico. You can read more about the story as covered by
The Guardian.
RAMA Okanagan is engaging in advocacy to try to seek justice for Erika and Jesus, but they are still in a dire financial situation. Your donation would make a huge difference to the families of two essential workers who helped ensure the viability of Canadian agriculture and food security during the pandemic.
Jesus and his children// Jesus con sus hijos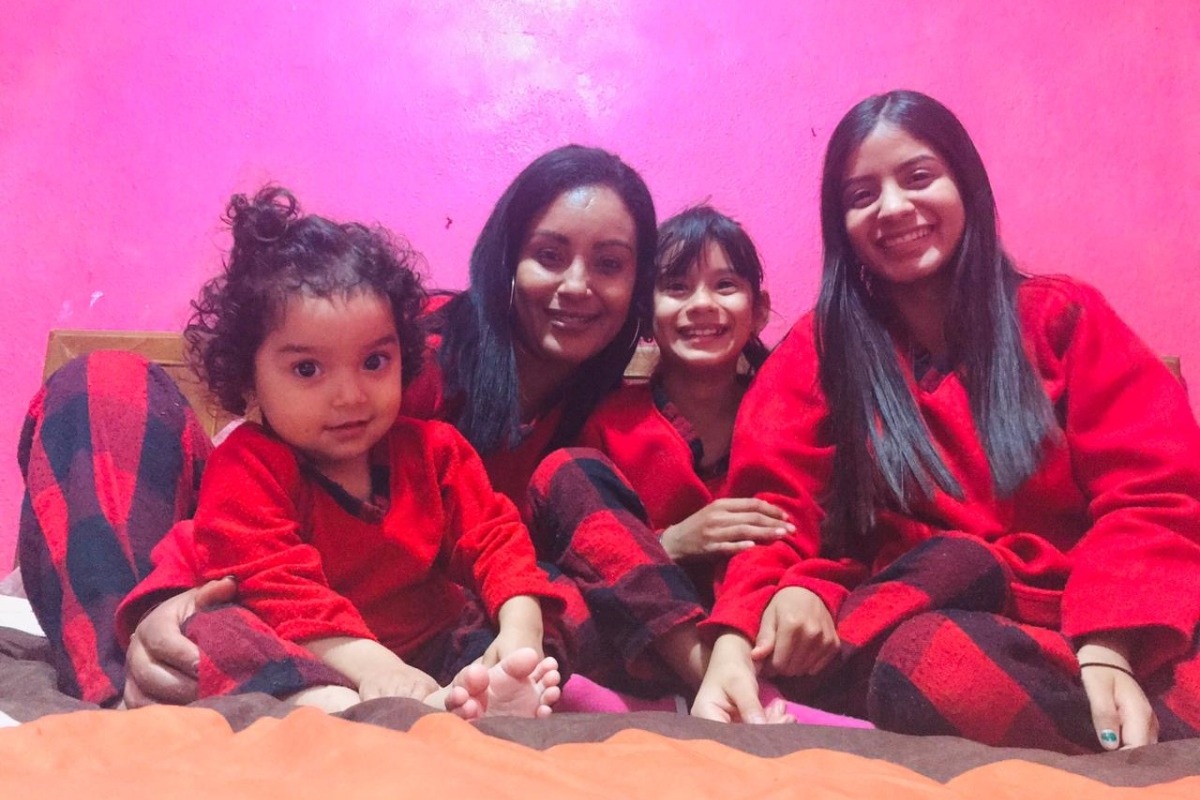 Erika and her three daughters //  Erika y sus tres hijas
Version Española // Spanish Version
El Julio pasado, dos trabajadores migrantes de México, fueron despedidos de la granja donde estaban empleados y repatriados, simplemente porque recibieron ropa de trabajo y comida de acuerdo a su cultura. 
Erica Zavala de 35 y Jesus Molina de 36 años son devastados después de perder sus ingresos para esta temporada. Ellos venían contando con su trabajo en Canadá hasta octubre, para apoyar a sus hijos y sus padres. La paralización de la economía  Mexicana debido al COVID-19 ha reducido severamente sus oportunidades para trabajar en su país de origen, donde no hay apoyos del gobierno.
Pedimos sus muestras de solidaridad para ayudarlos a fin de cubrir sus ingresos perdidos, las donaciones en cualquier cantidad son enormemente apreciadas. 
Antecedentes:
Al principio de esta temporada, Erika y Jesus viajaron a Canadá para trabajar en una granja en Langley, BC. A  finales de mayo, fueron transferidos al vivero de Bylands en West Kelowna. Esta finca había experimentado previamente un brote de coronavirus en marzo, pero para el 11 de mayo éste se declaró oficialmente terminado  Interior Health (autoridades de salud) levantaron las medidas a los trabajadores para aislarse. Sin embargo, el empleador les dijo a Erika y Jesus que su granja tenía sus propias políticas para prevenir la propagación del COVID-19: que a los trabajadores migrantes no les permitía salir de la granja o recibir visitas. Esta política no aplicó a los empleados canadienses.
RAMA Okanagan y otros grupos de justicia migrante han afirmado que estas restricciones discriminatorias constituyen una interpretación severamente errónea de las pautas provinciales, violan los derechos básicos de los trabajadores e implica una gran preocupación por la salud de los trabajadores y de las comunidades locales.
El 28 de Junio Zavala y Molina invitaron a dos amigas y defensoras sociales, a sus viviendas en el vivero de Bylands. Precisamente porque no les era permitido dejar la propiedad para obtener sus despensas, la pareja les preguntó si les podían conseguir ropa de trabajo y comida culturalmente apropiada que su jefe no les había proporcionado. Cuando las defensoras llegaron para entregar los artículos otro trabajador tomó una foto y se la envió al empleador. 
Poco tiempo después, su manager los mandó llamar a su oficina. Él les mostró la foto y les pidió que firmaran una carta afirmando que ellos habían roto las reglas de la granja y los despidió. Aunque ellos le preguntaron si les podía dar una segunda oportunidad él no aceptó. El 3 de Julio Erika y Jesus fueron repatriados a México. Usted puede leer más de esta historia cubierta por The Guardian. Previamente Erika ha compartido valientemente su historia con el New York Times para sacar a la luz las injusticias estructurales en el Programa Temporal de Trabajadores de la Agricultura en Canadá. 
RAMA Okanagan está abogando sin descanso para tratar de buscar  justicia para Erika y Jesus, pero ellos están aún en una situación financiera grave. Su donación podría hacer una gran diferencia a la familia de estos dos trabajadores esenciales quienes ayudaron a garantizar la viabilidad de la agricultura canadiense y la seguridad alimentaria durante la pandemia.
Organizer and beneficiary
Lauren Cohen
Organizer
Armstrong, BC
Ericka Guadalupe Zavala Ojeda
Beneficiary