Help TNR NJ Feral Cat Colonies
After!!!


SUPER NEW UPDATE! As of 1:30 pm today August 1st 2019...Ok — Three (3) of the 5 kittens have been trapped & transported to a rescue partner who will hold them until the other 2 can be trapped early tomorrow (I'm confident she will catch them), and they will be reunited at the Vet where they will receive all the necessary care before they are delivered to thier FOSTER together to be cared for, socialized & fixed and crossef fingers eventually ADOPTED OUT! Fantastic 5 Sibs — wont live a feral life! Yahoo!!!!! 

Before

Trapper extraordinare Taryn has been busy assisting all the folks who are reaching out as we near the end of the big kitten season. She was just contacted by an Essex County employee who fed a pregnant cat & then her litter of 5 gor sometime. Taryn trapped the mom several days ago & she is recovering from surgery.
Taryn has networked, as she does so well & found a foster in Summit willing to care for & socialize all 5! Yipee.  The dilemma was the mom is set to be released today, Aug. 1st, and the trapping for the 5 kittens set for later tonight or tomorrow so pray the mamma doesn't move those babies. 
Donations of wet KITTEN food, litter, cleaning supplies, cat hygiene products (shampoos etc), and Wee Wee pads ALWAYS welcome too!






Newest Update - AS OF May 2019
TRAPPED just about 100 Feral Kittens born in Northern NJ communites to date. 
Sad part is it doesnt always have a good beginning or even a happy ending...but we keep on trying to make a difference.
Follow Taryn one of the "Girl Trappers" on Instagram @NJ FERAL CATS

Costs to trap/catch, care for til they are old enough to neuter, medically treat for sickness or injury & feeding ALL continue to rise. But they have NO ONE ELSE except the feeder & the trappers who "save" them.
Please help these amazing "Girl Trappers," Taryn & Amber, to continue this humane activity - Trapping to TNR & stop the madness of feral cat reproduction.
Thanks so much, Joanne




N
**UPDATE
7/25/18: We have TNVRd 52 cats (@ $55 =$2,860), & there are 7 left in the colony. We have also pitched in and lent our traps out to 
friends
 to help other community cats. WE ARE STILL RAISING FUNDS..You can now follow on Instagram: @NJFeralCats
Over the course of three years, a community has been caring for a feral cat colony. With time, the colony grew: from three to five, five to eight, and so on. From what we can estimate, there are 40 feral cats living within a few miles of one another. We have helped find homes for 23 kittens from their many litters, which was a costly, time-consuming task. In effort to further help these helpless animals, we have routinely fed them and recently built two outdoor shelters for them to stay safe in during the colder winter months.
Researching how to best care for the colony has left us with little options (kill shelters, euthanasia) but to continue this process and spay/neuter each animal to prevent further procreation and harm. To learn more about this process, please research TNVR (trap, neuter, vaccinate & return), which has proven success rates. Know that 100% of the monies raised by this GoFundMe page will be spent to help us put a dent this large expense. Our closest low-cost clinic charges $55.00 per feral-cat, which includes the following: i-tip cut in ear, green line tattoo, rabies & distemper vaccinations, and spay/neutering. We will personally be meeting the expenses for travel, food, litter, cages and pre/post-care shelter/treamtent (2 days per cat). If we exceed our goal for clinic visits, we will donate the extra money to the shelter.
We sincerely appreciate any donation made in any amount. While some of these cats are friendlier then others, all are deserving of our help and care! Please feel free to share this with any animal lovers you know. Thank you for helping us help them!!
Receipt from our first visit to the clinic. Didnt include the $10 extra charge for pain medicine we purchased at the end. 
Some of the gang.
Photo of 1/2 of the shelters we paid for that good friends volunteered to build! They did an amazing job!
A tabby staying comfy inside & out of the snow!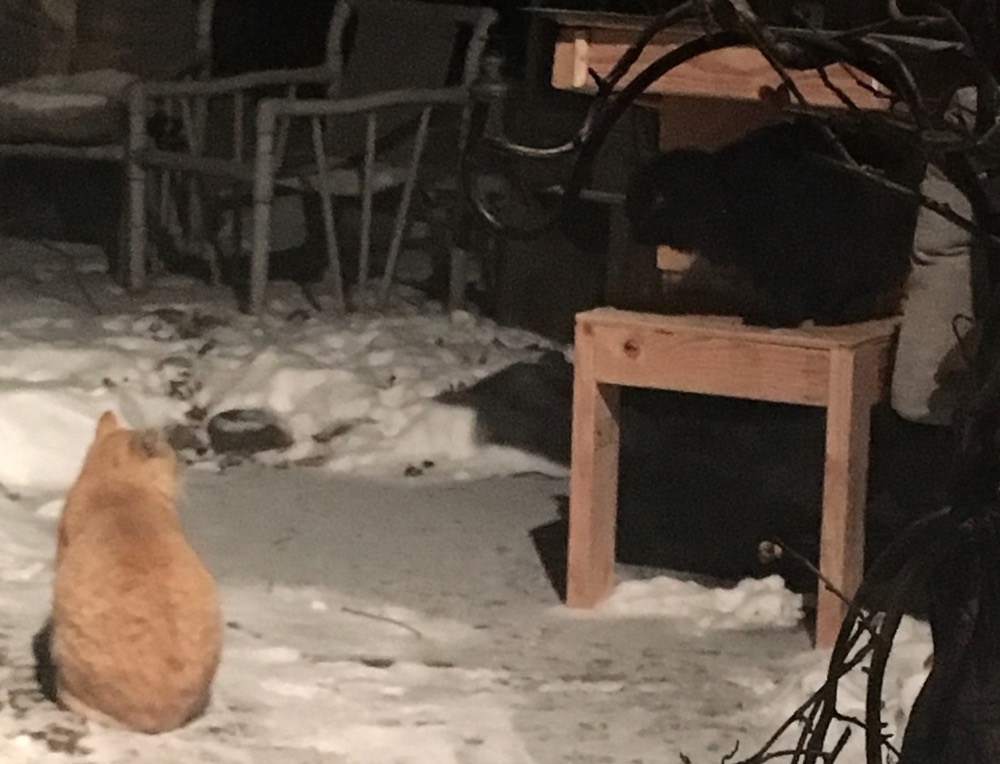 Shelters put to use.
First capture: Vet's best guess is that she is approx. 2 yrs old. She is now out of surgery & beginning the 2-day recovery in a larger cage inside.
24 hours post-op: Lucky! She's been the friendliest, has loved getting rubbed while she recovers. Is eating well and surgical site is healing nicely...We released  her 65 hours post-op & she is looking and moving great.

Organizer
Taryn Tabano, Amber Mattock Arslanian, Joanne Zascone