Working in property management has taught me a lot of things but one of the more important lessons I've learned is that the rules of service are different when you are dealing in people's homes.  What we look at as a 'unit' someone else looks at as their 'home' and then chooses to fill it with their whole life.   
Sadly, there are times when someone's whole life is taken from them in the blink of an eye.  I wish that in business there was more room for compassion and generosity but especially in the world of property management there are laws that prevent us from being able to help as a company even when we wish we could. 
An instance like that happened to woman on the morning of February 16, 2018 when her apartment caught fire and her whole life's belongings were lost to flames and smoke.  Her name is Donitta and she is a sweet, older lady who even after a tragedy like this, found a silver lining in that her mothers earn wasn't lost.  With a gracious and appreciative attitude she only cared that no one was injured or killed by the blaze.  Walking her through her home for the first time was an emotional experience for both her and I as I couldn't imagine loosing so much so fast.  That is why I wanted to do something more to help her.
Living off a fixed income and government housing assistance, Donitta will have to start rebuilding her home from scratch.  She will need all new furniture including a bed, couches, linens, electronics, cleaning supplies, bathroom supplies and food, all of which meant little to her in comparison to the family photos and other memories that cannot be replaced.  In addition she currently has only the clothes on her back to wear so she'll have to buy all new clothes as well.  I am hoping to help her with some of the costs of replacing these things as even though materialistic items aren't a necessity, they can make such a huge difference by bringing comfort and convenience in a time filled with struggle.  
I am hoping you'll choose to help me help Donitta.  Even a small donation would go a long way in restocking her apartment with all the little things that make day to day living easier.   Whatever I am able to raise for her I am hoping to present to her by Wednesday, February 21, 2018 which I understand is a tight deadline.  Share this with your friends and family if you feel so inclined.  Thank you so much for any help you can offer from both Donitta and I.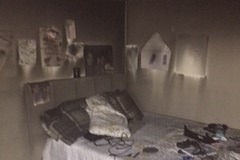 Organizer
Brady Cullen
Organizer
Cincinnati, OH