Parkside Music Students in Need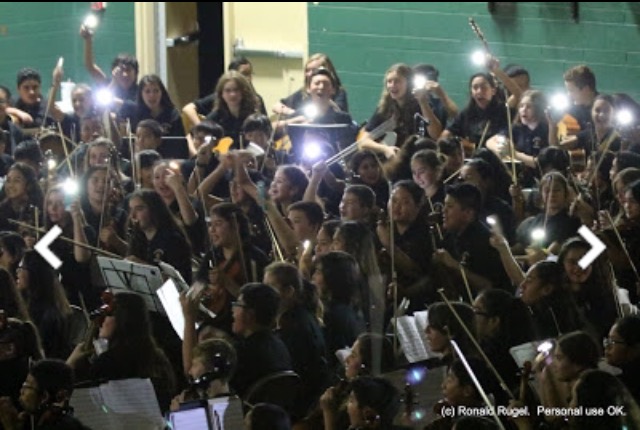 Hello Supporters of Music Education and Music Lovers,
BACKGROUND:


Our names are Elyse Mahfouz and Ciana Whitfield. We are the music directors and one part of a dedicated team building an excellent new music program from the ground up at Parkside Middle School in San Bruno, CA.  We currently have nearly 400 students in our music program (Concert Band, String Orchestra, Choir, Guitar, Ukulele, Jazz Band, Rock Band, Quartet, and Elementary Music) in a school of about 850 6th, 7th, and 8th graders.  Our hearts are fully immersed in creating the best experience for our students and we are reaching out to you in order to collaborate for a network of success, learning, and enjoyment for life-long lessons.
Here is a link to our facebook page:  
Parkside Middle School Music Department Facebook
Here is a link to our *under construction* website with a video library / samples of our work:
http://parksidemusicprogram.blogspot.com/
THE GOAL:
We need help raising $5,000 by April 15th in order to give financial assistance and more importantly, reassurance and stress-relief  to 23 students that cannot afford to attend our annual music event for all advanced PKS Concert Band, String Orchestra, and Choir students.  Each ticket has a cost of $125 for the student's bus seat, uniform, attendance, food, and performance/park attendance.
Students go to this event once per year to perform and watch other participating middle schools as a wonderful learning experience.  The majority of our students are able to attend but we feel strongly about all students going as a team and not being held back by financial constraints.  We have not yet been able to raise the funds to make this happen and are reaching out to the community in hopes of receiving help for our students.
All money will go to Parkside Middle School Music Boosters and pay for the student admissions for the trip. Any leftover funds will go towards future students in need and/or music program supplies, music, instruments, events, and all related elements.  We have also left small amount of extra room in the goal in order to cover any additional expected or unexpected gofundme fees.
This outreach has been done last minute as we were informed of this deficit only recently and could not foresee not receiving the funds for our students in need.
Thank you in advance for your time and help!
ADDITIONAL INFORMATION:


Our flourishing music program has a core of excellence that is in dire need of community and general assistance. We nearly doubled in size in under a year and are working with minimal resources due to this positive issue that brings waves of change. We have pending important needs and are desperately looking for help in order to give our children, future leaders, and artists the music education they deserve.
Please know that the Parkside Music Boosters and music family, Parkside Middle School, SBPSD District Office/Board, and all supporting groups and community members have been doing everything in their power to assist us and we are now asking for your help. We are wondering if there is anything you could offer and/or advise regarding helping our program.
Parkside Music Department thanks you very much for your kind time, support, and help.
Sincerely,
Ciana Whitfield
Concert Band and Choir Director
Elyse Mahfouz
String Director
Parkside Middle School
San Bruno, CA
[email redacted].ca.us
e
[email redacted].ca.us


Parkside Family Contribution 
Organizer and beneficiary