The story 
Two estranged, polar-opposite half-sisters with an unusual age gap are unexpectedly brought together by a shared desire to connect with their unreliable father.  Mae, a seemingly stern and wounded thirty-two year-old woman, has been invited by her father to attend the dance recital of Pia, her half-sister. She sees this as a rare opportunity to spend time with her distant father, but instead ends up spending an uncomfortable afternoon with Pia before her show, while waiting for his arrival.  During their time together Pia's naïve curiosity about Mae's past challenges her. Tension builds between them until Mae hits her breaking point, in which she realizes the two have more in common than they thought.

Meet the team

Why help?
Pia is a raw, emotional story focused on a very real subject matter that hasn't been recognised within film to the extent it deserves. We believe this complex relationship between half siblings hits home to a wide audience, and addresses the issues that arise within dysfunctional families. 

Your investment in Pia will not only allow this talented crew of storytellers to bring this film to life, but will also help propel these individuals into a professional working environment. Every member of our team is working around the clock to make this film a reality, an immense amount of time, research and creativity has been put into producing a relatable, stimulating and heart-felt story, and we want nothing more than to do it justice!  By contributing even the smallest amount, you will be helping us make this story a reality. 

Where is your money going?
All members of our team has put in money into this project, but seeing as we are students, we are unable to meet our ideal budget alone. Therefore, we are really counting on the help of this campaign in order to make this tender, beautiful short film that we feel so passionate about and believe in so strongly!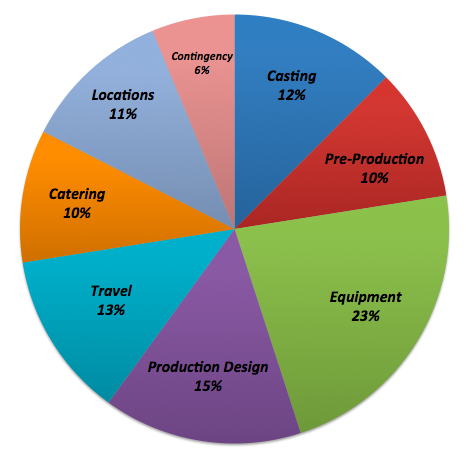 Budget Breakdown
All the money donated to this film will go DIRECTLY to the film's production costs. This student film is strictly not for profit.

LOCATIONS - We have a wide range of different locations need to bring this film to life. We must pay a fee to use use them. 

EQUIPMENT - This being such a subtle, realistic piece means our camera team needs all the more support to achieve stimulating visuals. Your contributions will allow to reach our cinematic peak. 

PRODUCTION DESIGN - Creating an authentic, believable world for our film is one of the most important elements. In order to build this atmosphere we need a very specific set of props, wardrobe and set design to further engage the audience in a subtle, convincing way. 

More about the team
Lainey Lipson - Director
Lainey Lipson is an award-winning director and actress from Los Angeles. Since beginning her career, she has worked on over 60 projects, from feature and short films, to television, web series', and commercials. Lainey tends to gravitate toward highly-realistic, relatable, character-driven dramas – she's thrilled to be guiding the beautiful story of "Pia", helping the film come to life.

Sarah Smith Gordon – Writer
Sarah Smith-Gordon is an emerging screenwriter with a unique eye for telling stories with strong emotional impact in a subtle, realistic and emotive way. She has a distinct style of writing, which merges arousing visuals with in-depth character driven drama, typically focused on that of raw, complex human relationships. The inspiration behind writing 'Pia' came from personal experience with the subject matter, one that hasn't been explored to the extent it deserves, and one that can resonate with all audiences. It is a gentle, honest tale of two sisters brought together by the very thing that pulled them apart, their father.

Brandon Wells – Producer
Brandon Wells is an up and coming producer who puts a strong empathises on his ability to manage people, budgets and the business aspects of film-making. He thrives in difficult situations and can adapt where necessary. He has a strong personal connection to the film and hopes to produce something that can resonate with its audience as much as it resonated with him.

Madelaine Santon – Production Designer
Madelaine Santon brings her specialist knowledge to the film to create a consistent visual style, and create a rich world for the characters. Pia, is about two sisters who are both very different, and giving them a distinct 'look' and view of the world they inhabit is something she will explore through the design, and through the use of contrasting colour palettes. Madelaine wants to capture Pia's childlike innocence and this will provide a contrast to Mae's more pessimistic view of the world.

Georgia Sewell – Director of Photography
Georgia Sewell hopes to capture this complex story as natural as possible, making the most of available light on location. She was drawn to "Pia" by its female, character-driven story, which sees Mae deal with her issues surrounding her absent father through her young half-sister. Georgia has worked on various projects in the camera department both inside and out of university, and is excited to bring her unique eye and style to the production of "Pia".

Jesika Costante – Editor
Jesika Costante intends to bring her unique editing style to the film. She believes this project relies heavily on the pacing of action and recognizes the importance of its emotional cues. She has been editing for over 8 years, and had developed an in-depth understanding of narrative structure.

Micheal Newton - 1st Assistant Director
Micheal Newton is ambitious, hard-working individual who complains about problems but relishes the challenges and enjoys problem solving. Micheal chose this project because of the subject matter, sharing a personal connection with the story.

Alice Stoll – Gaffer
Alice Stoll specialises in Cinematography. She has experience working on a number of different films and projects, lighting being her passion. She believes that her work with lighting will bring the story of Pia forward, create tension and provide the characters with further depth.

Christiaan Beumer - Grip
Christiaan is a focused and creative individual who enjoys working on productions with similar creative minds and constructing the visual world of cinema. He enjoys working in the cinematography department where he feels his cinematic vision is more explored. Christiaan is drawn to the script of PIA as he admires the rising conflict between the two sisters. He believes it is a heart warming but bittersweet reveal of adolescent experiences. 

Reu Tobolewski – Sound Designer
Award Winning sound designer Reu Tobolewski's approach to his work on Pia explores the thematics of the story and it's character dynamics with a uniquely abstract attitude. The script itself has especially overt opportunities for sonic experimentation and Tobolewski's soundscapes on the film, methodically inspired by his rich musical background, highlight the characters' isolation and poignancy.
                                                
Thank you!
Thank you so much for taking the time to check our page out. Please share this page with your family and friends!
We are eternally grateful for any donation. We promise we won't let you down! 

Organizer
Brandon Wells 
Organizer
Farnham, South East England, United Kingdom
#1 fundraising platform

More people start fundraisers on GoFundMe than on any other platform. Learn more

GoFundMe Guarantee

In the rare case something isn't right, we will work with you to determine if misuse occurred. Learn more

Expert advice, 24/7

Contact us with your questions and we'll answer, day or night. Learn more