JOIN US JUNE 16TH, 2019
ON A MONSTER MARCH FOR CHILDREN'S COTTAGE SOCIETY!
CALLING ALL LITTLE MONSTERS!

Since 1986 The Children's Cottage Society has been dedicated to preventing harm and neglect to children and building strong families through support services, respite programs and crisis nurseries.
They are a recognized leader in providing effective programs and services to help ensure Safe Children in Healthy Families.

Wee Wild Ones is bringing our community of little ones (including Y O U !) together for a
Monster March to fundraise money to support The Children's Cottage Society!
CHILDREN MARCHING FOR CHILDREN

When: June 16th, 2019 10:00am - 12:00pm
Where: The march begins at 10:00 am starting at Confluence Plaza - St Patrick's Island
The march will loop St. Patrick's Island ending at 11:00 am at Confluence plaza with Surprise Sponsored
Snacks and a Special Performance by Lightning Ant Music School
Who: Anyone + Everyone! We encourage Schools/Classes/ Preschools and Daycares to sign up as teams!
What: Marching 3 Kilometers along the River-walk

1. Sign up to participate as a single or as a TEAM member in you're a child Classroom by choosing their classroom from the drop-down list under Referral
2. Post about the cause on social media and encourage family & friends to participate or support you by
pledging a donation! Follow us @ofthe.wild and use the
hashtags #MonsterMarchYYC and #ChildrensCottage for a chance to have your photo reposted on our
website.
3. Join us on June 16th at 10:00 am at Confluence Plaza for the pre-March warm-up! (Directions will be
e-mailed to participants)
4. The March will end at St. Patrick's Island Confluence Plaza. All participants will receive complimentary
snacks supplied by our AWE-SOME Sponsors.
Our goal is to raise $10,000 as a community for The Calgary Children's Cottage so that they can continue
to provide important services. We ask that every child registered raise a minimum of $10.
CHILDREN HELPING CHILDREN

Children Marching for Children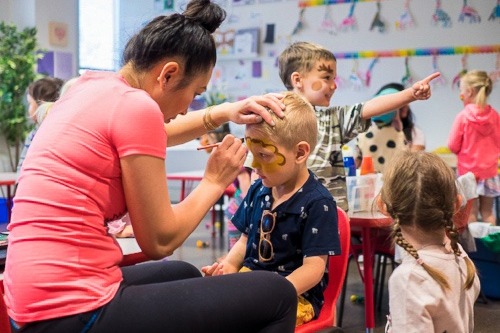 Fundraising team: Wee Wild Ones - Of the Wild (11)
Clovers Classroom
Organizer
Raised $230 from 12 donations
Calgary, AB

THE CHILDREN'S COTTAGE SOCIETY OF CALGARY, AN ALBERTA SOCIETY
Registered nonprofit
Donations are typically tax deductible in Canada.
Sunshines Classroom
Team member
Raised $800 from 19 donations
Willows Classroom
Team member
Raised $754 from 21 donations
Acorns Classroom
Team member
Raised $617 from 13 donations
Before After School Care Classroom
Team member
Raised $527 from 9 donations
See all