Melanie Benn's Cancer Fight
                                            Melanie Benn's Cancer Fight
To know her is to LOVE her.
Melanie Benn is no rookie when it comes to facing challenges. When she was 18 years old, Melanie contracted a rare form of bacterial meningitis that invaded her bloodstream. Eventually the attack on her body led to the loss of a kidney, quadruple amputations as well as dozens of skin grafts: 22 major reconstructive surgeries in total.  What meningitis didn't take from Melanie is her spirit to keep living, to fight rather than surrender, to become a heroine in her life rather than a victim. She showed the world what grace under fire really looks like…she embraced her challenges and was not going to be defined by the disease that changed her life course. There were many times that she showed us--her family and friends--how to navigate with courage and lean in to those moments that are uncomfortable and uncharted.
Being the tenacious person that Melanie is she enrolled back in classes a few months after her initial diagnosis, while still healing from her surgeries. Ultimately, she only missed one semester of school and graduated from San Diego State University in 1999 with a degree in psychology. She didn't stop there; she went on to get her master's degree in Social Work from UCLA in 2002.  Since then, Melanie has been serving the San Diego community in several different capacities as a social worker. Currently, she is taking a leave of absence from UCSD where she has been for 16 years.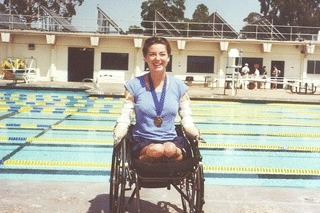 Melanie does not take one moment of her life for granted. She shows this in everything she does… There are innumerable awards, accolades and medals that Melanie has earned. She is so humble that many go without ever being celebrated outside of the ceremony in which they are given. There are a few accomplishments it that would be remiss not to mention. As part of Melanie's rehabilitation, she took up swimming as a way to heal and build strength. Being the athlete that she is, she fell in love with it and competed in a 1.2 mile swim in the ocean off of La Jolla, CA. Shortly after that, Melanie qualified and ultimately went on to win a silver medal at the 2000 Paralympics Games in Australia as well as another silver medal plus two bronze medals in the 2004 Games in Greece. She is amazing.
All of Melanie's accomplishments are remarkable. However, nothing is more important  than what she cherishes most in her life--her beautiful family. Melanie and Lindsay met and fell madly in love in 2012. As we all have witnessed, it is the kind of love story that is written in the stars. They are meant to be together. On December 25 2013, surrounded by their closest friends and family, they married in the exact place where they met the year before--The Lafayette Hotel. The next few years were filled with the bliss of being newlyweds, buying a house as well as the sharing dreams of adding to their family. It was not without challenges, but hope and love kept their dream a reality. In April 2016, Melanie and Lindsay welcomed the sweet, spirited, perfect daughter to their family. Calliope blessed the world with her entrance and continues to amaze us all since the day she was born.
Life was going on the planned course that Lindsay and Melanie had mapped. Melanie would continue her position at the hospital and Lindsay would be at home with Calliope along with any other babies that may bless their family. In May, Melanie and Lindsay learned the excited news that their family was going to be expanding! Calliope is going to be a big sister!! Baby boy Benn is due in February. And just like that, they will be a family of 4!
Today - The Diagnosis
In the summer of 2018, Melanie noticed a lump in her breast. At first, she was not alarmed because this was nothing uncommon. She had been getting regular mammograms since the age of 30 due to a hereditary dense breast condition. Her last mammogram was October 2017; she initially figured she would wait it out until that next appointment. It wasn't until the urging of Lindsay, that she decided to make that call. After another mammogram, PET scans and biopsies, Melanie was diagnosed with Stage IV metastatic lobular breast cancer. Cancer was also found in her thyroid as well as in her bones. While the diagnosis seems overwhelming, it should come as no shock that Melanie has every intention of beating this cancer. We all believe her.  If anyone can do it, it is Melanie Benn.
Melanie's treatment
Melanie has an aggressive treatment plan that includes many lines of defense. Breast cancer is no longer an "one size fits all" prescription. Therefore, her treatments may change during the course, but as it stands right now, she has started an estrogen blocking protocol in tandem with other drug treatments/ immunology.  She will be having a thyroidectomy and eventually a double mastectomy. The unfortunate news is that Melanie will not be able to receive a kidney transplant in the future. Once someone is diagnosed with metastatic cancer, transplants are no longer an option. The positive news is that Melanie feels confident with her care team of doctors and is looking forward to having this all behind her.  
How you can help
Melanie will be taking a leave from work as she fights this cancer; any funds raised will directly benefit the growing Benn family. There are some short term and long term financial realities that they are facing. It is our hope that the community will help alleviate some of that stress so that they can focus on what is the most important: Melanie's fight and recovery.  

Organizer and beneficiary