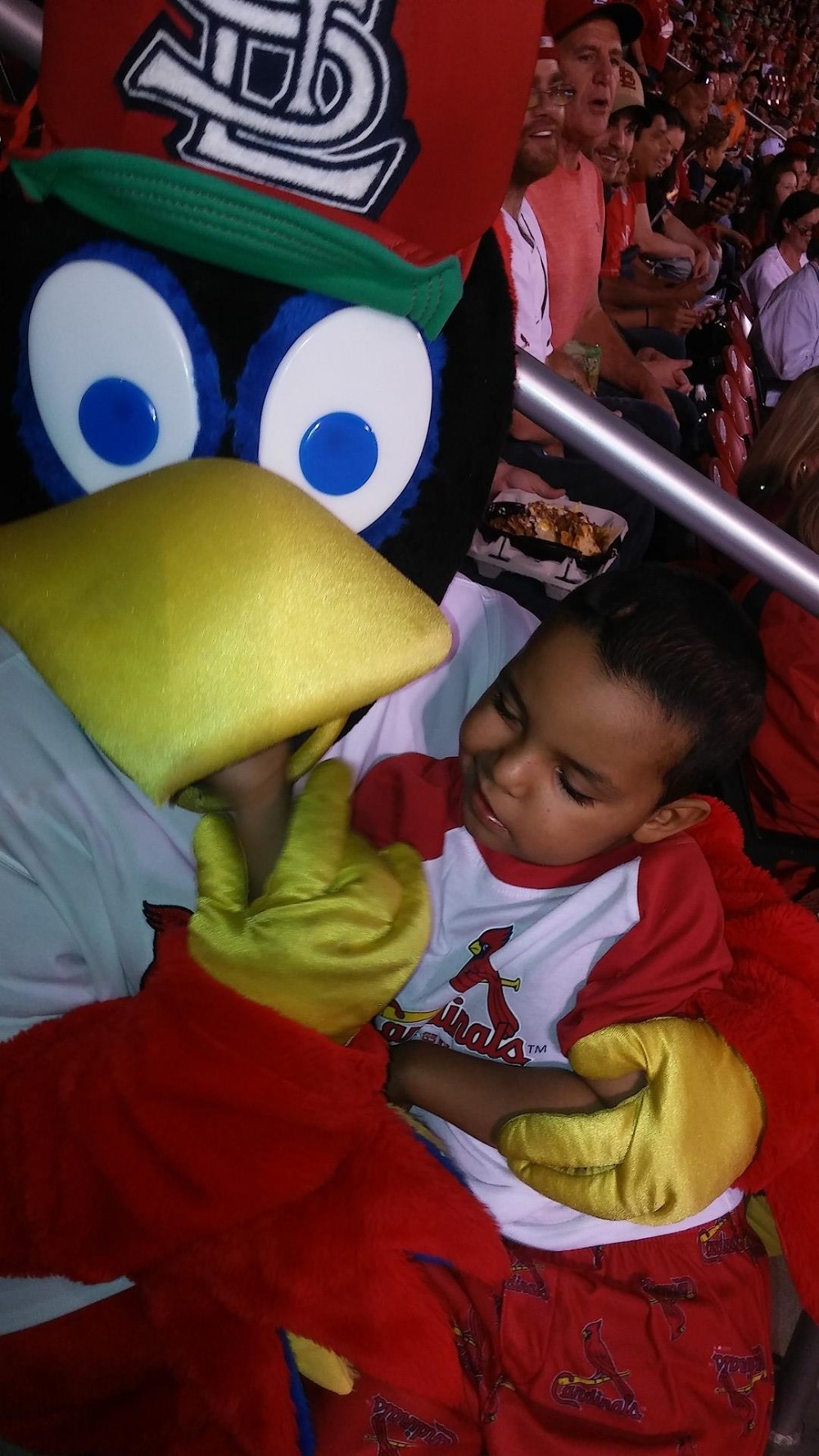 Everyday in the US 9 children are Diagnosed with a Brain Tumor. On December 17th 2014,  DYLAN FUGATE, was one of those 9 Kids.
This was not at all what any of the three  different doctors, he had been to in November had even tossed around as a possibility,  that  it could be.  Dylan's mom, kept searching for a doctor to figure it out.  In December she made an appointment at Cardinal Glennon Neurology department who agreed to see him. The day of his appointment they sent him for an MRI.During the MRI he went into respirarory arrest which lead him to being placed on a ventilator and admitted to the Neurology ICU. Luckily,after a few hours Dylan began to breath on his own, therfore they proceeded with testing. After the tests were completed Natalie(Dylan's mom) Daniel( the man who has taken on the father role to Dylan) my sister ( sandy) and I waited for the doctor to give us the results.
The Doctor sat on the bed,held Dylan's hand and began to cry as she delivered the news we were not prepared to hear, Dylan has Stage 3 Anaplastic Astrocytoma. The doctor proceeded to educate us on how aggressive this type of cancer is and how rapid the tumor could grow.and there was little hope for a good outcome and apologized for not being able to give us better news.We were also given a life expectancy of one year to one and half  yrs left to enjoy and celebrate Dylan.
Natalie & His Grandma (Leah) met with the oncology team for a plan of treatment. By January 28th, he was in his thrid week of Chemo and radiation. Dylan lost the use of his left hand and needed to wear a leg brace to help stabilize his leg to help him walk. Due to the treatments he began to fatique easily and was swelling due to steroid treatment.
March 9th, Dylan was fortunate to be granted his wish to meet the "Ninja Turtles" through the Make-a-wish foundation, This had been his dream as he loves all things " Ninja Turtle "
Dylan's mom is the sole income provider to Dylan and his sister's, but is unable to work  full time  . Due to Dylan's needs, of appointments and daily treatments.
On August 12th, Dylan had a change of condition and was taken back to the hospital where they did another MRI. The results showed the tumor was aggressively growing and the chemo and radiation were not helping. St Jude and St.Louis Children's Hospital were contacted to see if he qualified for any studies, with them .However due to his condition, The two studies  that where opened had such horrific side effects, an no postive outcome  that, On September 8th, Dylans mom posted on his For the love of Buds facebook page. this,  " "After much discussion with many of Dylans's doctors and the Team at St Jude and many prayers, an with the support of my family and good friend, I have decided not to take dylan for the clinical trail at St.Jude" She stated hospice will come onbaord to ensure he is comfortable and happy as possible.
Dylan is declining daily but as from the start we continue to pray and leave his journey in God's hands.
We request for donations to help relieve some of the financial pressure and to provide for funeral and burial services when needed. 
Dylan is a very special loving child that deserves to be celebrated. Please help us to help this family  when God calls Dylan home.