L&B Flooding Recovery Fund
I know there are going to be tons of funds for recovery in this city because the number of people affected is enormous, but we need all the help we can get after this storm passes. My name is Bruno Rios and live with my wife in Houston Texas. We lease a modest apartment home close to White Oak Bayou, which went over its banks last night due to the historic downpours of rain brought with Hurricane Harvey. Our home got significant flood waters inside during the night and onto the morning. We are trying to salvage what we can, but our safety is first. Fortunately, we are in a safe dry place, hoping the water doesn't keep rising so much. 
In this event, we lost most of our furniture, electronics, and appliances, as well as our clothes and other valuables. The cost of the total of our losses would sum up to around at least $5,000, but we just want whatever small amount we can get from our friends and family. These are some pictures right before we left (the water has risen significantly since then) and some pictures of the complex.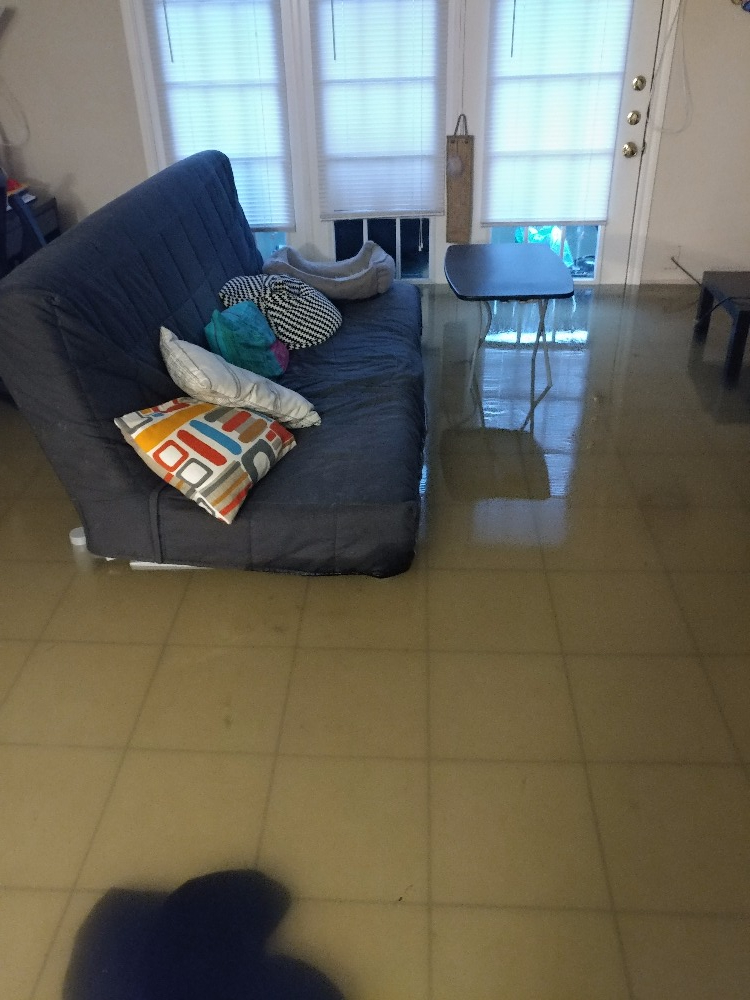 Especially, we lost our hundreds of books that we need for our research and work at the University of Houston where I study, and Linda's design work.  We have insurance, but we're not sure it will cover this flooding damage. The funds of this campaign will cover most of the things our renters insurance won't, since it is not officially a flood zone and we don't own the place, so FEMA funds are not available. This includes furniture (tables, dinning table, chairs, sofa, desks, bed frame, mattress, dressers, bookshelves, tv furniture, kitchen furniture); appliances (mostly kitchen appliances); accessories like cookware; electronics for work and entertainment (like monitors and screens); clothing (bedding, personal items, towels); even starting to think about replacing our library; and especially temporary accommodations until the storm passes. All the proceeds will go directly to the both of us for these expenses.
Anything to help with this will be immensely appreciated. We love you. 
Linda & Bruno
____________________________________________________________
Se que habrá miles de personas afectadas por este fenómeno natural, pero estamos en verdad desesperados porque perdimos la mayoría de nuestras pertenencias con esta tormenta. Durante la noche del sábado 26 de agosto y la madrugada del 27 los remanentes del huracán Harvey produjeron cantidades históricas de lluvia torrencial que hizo que el río White Oak Bayou se desbordara e inundara toda el área en la que vivimos. Nuestro departamento, en el momento en el que salimos, tenía por lo menos medio metro de aguas residuales. Tratamos de salvar lo que pudimos y salir para resguardarnos en un lugar seguro. La tormenta seguirá y sigue produciendo grandes cantidades de lluvia, por lo que no estamos muy convencidos de que nuestras pertenencias sobrevivirán la inundación. 
En la inundación perdimos nuestros muebles, electrónicos, electrodomésticos, así como otros objetos de valor, y en especial los cientos de libros que son parte de nuestra biblioteca personal, así como una herramienta esencial de trabajo para ambos. El costo total de los daños sería de por lo menos unos $5,000 dlls, pero lo que sea con lo que puedan ayudar será siempre de gran ayuda. 
Se lo agradecemos de antemano de todo corazón. Los queremos mucho.
Linda & Bruno
Elba Quiñonez Martínez de Castro
Organizer
Bruno Ríos
Organizer
Houston, TX