ANNOUNCING A CONNECTION!
Kelly van den Berghe aka Roxy Scarmichael of Santa Cruz County is pleased to announce the imminent arrival of a beautiful, pink, healthy kidney delivered from the generosity of long-time friend and perfect donor match, Josh Harrold of Los Angeles County!
Photo: Kelly van den Berghe and Josh Harrold
Photo credit: Kelly Castro
Kelly van den Berghe was born with Polycystic Kidney Disease (PKD) a genetic disorder for which there is no cure. PKD causes numerous cysts to grow on the kidneys which, in turn, can dramatically increase kidney size and painfully impede proper kidney function. Kelly has lived with the knowledge that one day her kidneys would completely fail and she would require either a kidney transplant or face the life-long challenges of dialysis.
BASEBALL CONNECTION
In August 2016, with ever increasing symptoms of renal failure, Kelly registered on the kidney transplant wait list. Remarkedly, three months later she received the gift of a lifetime when her dear friend, Josh Harrold, surprised her with one of his "Royal" kidneys!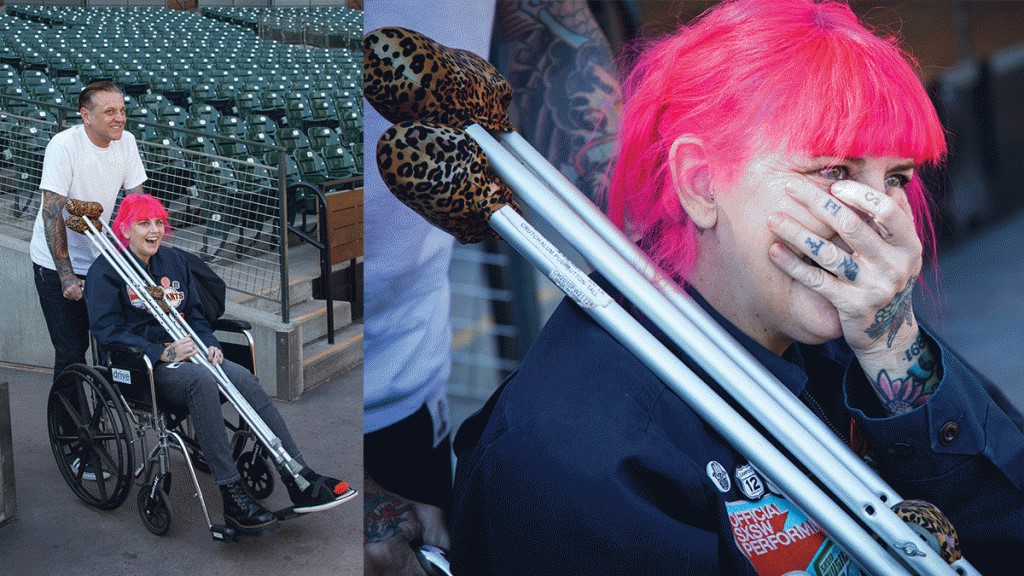 Photo credit: Kelly Castro
Josh considers his kidneys "Royal" because he is a loyal Kansas City Royal baseball fan. Kelly, on the other hand, as a lifelong, diehard San Francisco Giants' fan considers her kidneys
"
GIANT
"
due to PKD! So what better way to surprise Kelly about their royal kidney match than a giant scoreboard announcement at SF ATT&T Ballpark?!
Photo: Erica and Josh Harrold with Kelly and Lex van den Berghe; forever entwined.
Photo credit: Kelly Castro


For the full story of Kelly's surprise kidney donor announcement and to learn more about PKD, read Josh's blog at:
h
ttp://pkdconnection.org/transplantation/surprising-friend-kelly-royal-kidney
Fast forward to today, and Kelly is now waiting for final approval and scheduling of her kidney transplant. Because transplant surgeries are prioritized based on the status of each patient's immediate needs, Kelly's surgery could happen next week, next month, or later this year.
Photo: Kelly and Lex
In anticipation of her up-coming surgery, Kelly and husband, Lex, are readying themselves for the many out-of-pocket financial obligations ahead. While insurance will cover the cost of both Kelly's and Josh's surgery at Stanford University Medical Center, it does not extend to the travel and additional expenses incurred by the donor.
Photo: Donor Josh and wife Erica with Kelly and Lex
All funds raised for this GoFundMe campaign will help Kelly and Lex with their immediate out-of-pocket expenses incurred post
(successful!)
kidney transplant surgery. These expenses include Kelly's kidney donor, Josh, and spouse, Erica's, travel costs from Los Angeles to the Bay Area including gas, food, lodging --  even the expense of boarding the Harrold's pets during their absence.
Josh will be in the hospital for 2 – 3 days while Kelly's stay will last for up to one week.  After Kelly is released from the hospital, she will need to return for follow up appointments every day for the first week, and several times a week for the next few weeks and even months. Kelly and Lex plan to stay in the Stanford area following Kelly's hospital release due to these numerous follow up appointments. They want Kelly to avoid the exhausting and physically uncomfortable commute to and from their Santa Cruz home.
While Kelly's new kidney will bring immediate, positive changes to her health, her body will remain under siege as PKD will attack other internal organs such as the liver and pancreas. To add insult to injury, Kelly also suffers from fibromyalgia, a chronic pain disorder that affects muscles and soft tissues and causes widespread body pain, tenderness and fatigue. Kelly and Lex anticipate many years of increasing medical expenses related to Kelly's physical condition. This transplant surgery will not reverse the long term affects of the disease.
FAMILY CONNECTION
Photo: Kelly and mother, Pat
Since PKD is a genetic disease, it's not surprising that both Kelly's mother and grandmother were also PKD sufferers. The trait has a 50% chance of being genetically passed down to offspring. Sadly, Kelly's mother died from her PKD related issues in 2008.
The van den Berghes enjoy a very simple lifestyle: two kids, three dogs and three cats all residing in a cozy cottage surrounded by a picket fence and nestled in the coastal community of Santa Cruz.
Photo: The van den Berghes: Corbin (25), River (23), Kelly and Lex
Their reality, however, has also included adventures in the world of entertainment.

SURVIVOR CONNECTION
Lex was a popular contestant on the reality TV show Survivor: Africa, 2001, and Survivor: All Stars, 2003, and remains active in the Survivor community of fans and former contestants with his support extending to many charity events on behalf of Survivor.
Lex autographs a Survivor superfan's dress at 2017 Survivor Finale meet and greet.
In an interesting twist of fate, if not for Lex's Survivor experience, Kelly and Josh would never have met! Back in 2002, having just finished his Survivor experience, and because Lex had listed the chocolate drink Yoo-hoo as his favorite beverage on the show's website, Lex was surprised with a pallet full of Yoo-hoo delivered by Yoo-hoo national spokesperson, Josh Harrold!
As Josh writes on his PKD Connection blog, "there was an instant bond formed that night when I placed an entire pallet of 'chocolicious gold' into their garage. We've stayed close through the years. We may not talk all that often, but Kelly and Lex have always had my back and been there for me."
Photo credit: Kelly Castro
Lex sums up their relationship perfectly, "our connection was spawned by Survivor, but baptized in Yoo-hoo! There's times I feel like, 'why did I sign up to be a part of that reality show?' I feel like I got the answer. It was predetermined I was going to do this, because it would ultimately save my wife's life. Kelly and I are so close. We've had 25 of the best years anyone could ever have. Because of Josh, we may get another 25."
ROLLER DERBY CONNECTION
People may not  be familiar with Kelly van den Berghe; but, they can never forget meeting Roxy Scarmichael, badass roller derby legend with the atomic pink hair!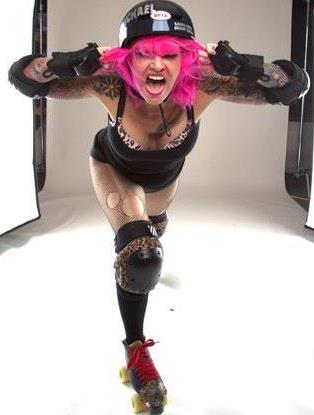 Roxy Scarmichael is Kelly's alter ego and a beloved, highly respected, founding member of the Santa Cruz Derby Girls.
When Roxy was no longer able to skate after a series of non-kidney related injuries, she assumed the role of coach and mentor.
Today, Roxy Scarmichael is retired with Legend status from the sport. In tribute to her influence and success, Roxy's #6 derby number was permanently retired.

MUSIC CONNECTION

Throughout Kelly and Lex's life together, music has been their passion. When their "eyes first locked" in 1988, Lex was playing drums with the
Frontier Wives
, a Bay Area band that frequented the music scene in Santa Cruz, San Jose, and San Francisco along with another Santa Cruz band significant to Kelly's story,
Camper Van Beethoven
(CVB)
.
The Santa Cruz bands of the 80s were a small, supportive community of musicians, and CVB was its rising star. The Frontier Wives fondly recall that it was David Lowery, lead singer/founder of CVB, who helped them secure gigs on their first tour.
But while CVB knew Lex, it wasn't until Lowery formed the band, Cracker, in the early 90s that he came to really see and know Kelly aka Roxy. Roxy would show up at Cracker shows displaying her badass attitude and place herself front and center thereby making her presence difficult, if not impossible, to ignore! Kelly teasingly reminisces, "I met David Lowery at least 100 times before he remembered who I was."
Kelly's first photo with David Lowery.
Over the years, Kelly has become a much loved and trusted friend of both CVB and Cracker bands. Members refer to her as the bands' mascot, which is how she found herself front and center and surrounded by a sea of "Cs" for this Camp Out group photo taken at Pappy & Harriet's in Pioneertown, Ca.  Camp Out is an annual music festival hosted by Cracker and CVB near Joshua Tree in the Mojave Desert and attended by several hundred loyal fans, self-dubbed "Crumbs," who have formed a tight knit community that considers its members a family of "freaks and geeks and weirdos."
12th annual Cracker/CVB Camp Out, 2016
Photo credit: Bradford Jones
Kelly even appears as a muse in Cracker's music video, "Beautiful," from their "Berkeley to Bakersfield" CD.
CONNECTIONS

The story of how Josh came into Kelly's life is filled with truly unique connections. If not for Lex appearing as a contestant on Survivor and connecting with Josh Harrold over something as random as Yoohoo, Josh would never have entered Kelly's life and she would most likely still be waiting for a kidney match.
The intention of this GoFundMe campaign is to reach out to Kelly and Lex's many varied connections from reality TV, roller derby, music and, of course, baseball. It's never easy to ask for financial assistance; but, every dollar of support is greatly and deeply appreciated by Kelly, Lex, their family and connections.
Save
Save

Organizer and beneficiary