Imani Milele Choir Bus Repair
We are Imani Milele Children Inc, a non profit organization in the US.  Our choir is from Uganda Africa and we represent 3000 voices of children that attend our 8 school centers in Uganda.  Our campaign is to help us repair our tour bus that is broken down.  Without our tour bus, our choir cannot travel to our venues to accomplish our mission raise awareness and support for our kids.  Below is our story.
We recently encountered major problems with our bus and are kindly requesting for your generous help to meet the cost. Without these repairs, we not only will be struggling to continue with our mission but also not have a way to get us and our gear from State to State, and from Venue to venue.
On Saturday, June 17th, as the Imani Milele Choir - East Coast team was driving to Clyde, New York from Pennsylvania, when our tour bus' air conditioning system failed. We continued with the journey until we finally arrived in Clyde. Ed, our bus driver, walked to the engine compartment to inspect the cause, only to find that the problem was much bigger. The four bolts holding one of the plates attached to the air compressor had broken and fallen off. He also realized other related issues that needed fixing as well.
Unfortunately, the closest bus repair shop was so many miles away, and for us to get there and have the bus looked at would require cancelling our already scheduled concerts, or, findind alternative means of transportation to carry the team and our equipment from place to place, which was not possible at the time.
So on Saturday, June 24th, as we traveled from Ithaca, NY to Albion, NY, the bus got stuck while joining a highway from a street with a steep angle (a downhill slope). Ed could not move it forward or even reverse it because it was stuck both on the front and rear.
We got everyone safely off through the emergency exit and waited for help. Two hours later; a big tow truck pulled the bus out, and we continued our journey and made it safely to Albion, NY.
A Video Clip of the bus as it got towed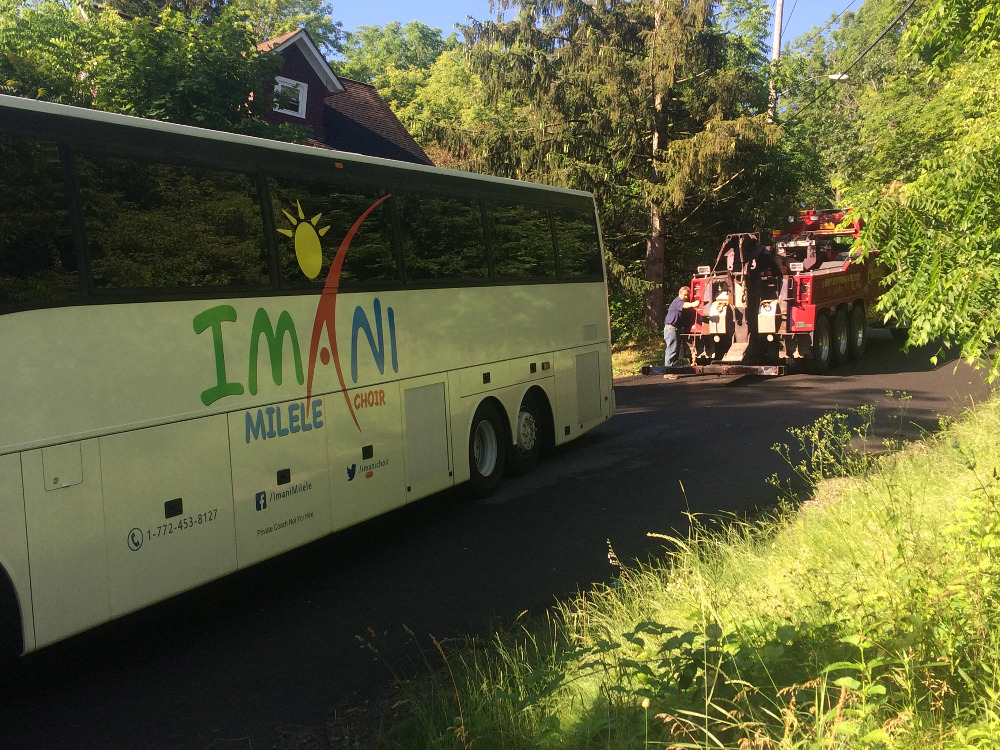 After finding a repair shop in a town close by, we took the bus in for a diagnosis. As the mechanics were diagnosing it, they found another huge problem; somehow, the Axel had damaged and broken into the frame of the bus.
At this point, we could not use the bus in this state, neither could the air conditioning system be worked without fixing this problem first.
We found a frame shop where we took the bus to be checked and possibly fixed. In the meantime, we needed to find alternative transportation to move us from venue to venue.
Fortunately for us, members of the First Baptist Church of Albion under the leadership of Pastor Aleka, worked together and provided us with transportation to Brockport, NY, our next destination.
We hoped that by the end of our stay in Brockport, we would have the bus ready to drive us seven and a half (7.5) hours from Brockport, NY to Hillsboro, OH. Unfortunately, we later learned that it would not be ready in time.
After talking to some people about our situation, God used Carpenter's House of Prayer from Hillsboro, OH, (through Mrs. Lynnette Garrison) and provided us with a couple of their vans to transport us toHillsboro. We also rented a Uhaul truck to carry all our equipment and belonging.
We are dearly grateful to Ed Graham, John and Lynnette Garrison for driving us the seven and a half hours to Hillsboro.
As we waited for the news about the bus, yesterday we got some none-exciting news. The repair shop that is to fix the frame quoted us $11,542.41 for buying the necessary parts, and the work needed to repair the frame. That does not include the cost of the air conditioning that is yet to be quoted by the other shop.
This tour is not even halfway through, so having our bus up and running is a priority. We are kindly requesting for your generous help to meet this cost because without this repair we not only will be struggling to continue with our mission, but we also won't have a way to get us and our gear from State to State.
We wish to thank all those who have helped us out during this challenging period. We thank you Stephanie Graham, Ed Graham, John and Lynnette Garrison (together with your contacts), Carpenter's House Of Prayer, Pastor ALeka and the members of First Baptist Church of Albion, NY
We kindly request for your generous help, anything above and beyond our goal will go towards the cost of fixing the air conditioning unit and other related issues.
God bless your hearts.
My name is Sam Straxy and I am the Tour and Choir Director for Imani Milele Choir belonging to Imani Milele Children inc. I created this campaign to help raise funds for the Imani Milele Choir's bus repair. 

Organizer