Help the NECWM Bring Seth Plumb's Uniform Home!
The New England Civil War Museum is raising funds to purchase the uniform of one of Connecticut's heroes - Sergeant Seth Plumb. Sgt. Plumb served with the 8th Connecticut Volunteer Infantry through the war until being killed in action at the Battle of Fort Harrison, Virginia. 
His uniform frock coat, cap, sash, and a few other items he owned have stayed together over the years, and will soon be homeless with the closing of their current museum in Texas. We now have the opportunity to rescue them, but we need your help to cover the price tag. Help us bring his uniform home!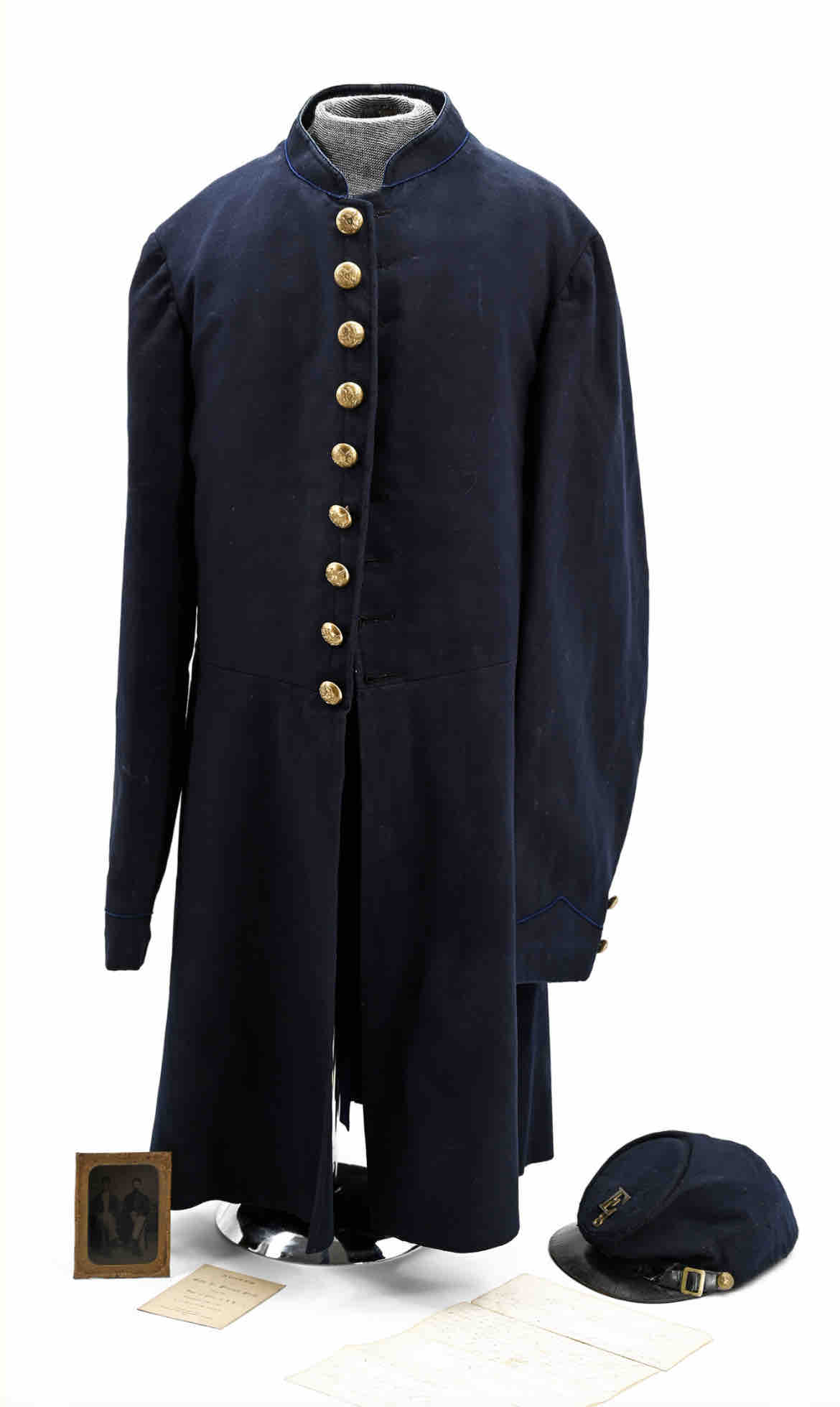 Seth Frederick Plumb was born on August 27, 1836, in Litchfield, Connecticut. The 1850 U.S. Census showed his father Frederick W. Plumb, and his mother Huldah S. Plumb. They had five children. John L. born in 1832, Seth F. born in 1836, Lemira E. born in 1840, William H. born in 1842, and Charles E. born in 1846.
Prior to the war, Seth farmed land he owned, and sold cordwood from his wood lots off of Brush Hill Road. In the winter, he taught in a one-room schoolhouse on Harris Plains at the foot of Brush Hill. The 1860 U.S. Census listed Seth living with his brother John, his wife Lucy, and their two-year-old son, Frederick. They all lived on John's farm on Knox Road, close by to Brush Hill.
Seth Plumb enlisted, at 25 years old, in the 8th Connecticut Volunteers on September 6, 1861. He was mustered Sergeant in Company E on September 25, 1861. He was promoted First Sergeant on May 16, 1864, after his best friend, First Sergeant Edward Wadhams of Litchfield, was killed at the battle of Drewry's Bluff. Seth was commissioned Second Lieutenant on July 17, 1864, but was never mustered. He was killed in action during the assault at the battle of Fort Harrison on September 29, 1864. It was the last battle the Eighth fought.
Seth's younger brother Will served in the 19th Connecticut Volunteers, later redesignated the Second Connecticut Heavy Artillery. Will survived the war, and continued the Plumb family legacy, farming in Litchfield.
Seth Plumb is buried in West Cemetery, in Litchfield, Connecticut.
The Litchfield post of the Grand Army of the Republic was named, in his honor, the Seth F. Plumb GAR Post No. 80.
Fundraising team: NECWM Team! (5)
Dan Hayden
Organizer
Vernon, CT
New England Civil War Museum Inc
Registered nonprofit
Donations are typically 100% tax deductible in the US.
Matthew Vallier
Team member