Help Florida ex-felons pay outstanding court costs
Hello,
My name is Darien Pollock, Founder and President of the Street Philosophy Institute, Inc., a non-profit research organization dedicated to promoting civic engagement and political literacy in marginalized communities, particularly in the rural South.
On November 6, 2018, through a public referendum, citizens of the state of Florida voted overwhelmingly in favor of restoring the voting rights of more than 1.4 million formerly incarcerated people. The passing of "Amendment 4," as this piece of legislation is known across the U.S., represented a rare moment in Florida political history where ordinary people came together and decided that protecting certain rights, such as the right to vote, is more important than the political differences that divide us.
Nevertheless, since the bi-partisan effort that culminated in the passing of this ballot initiative by a strong majority of Floridans (over 60%), there have been attempts by some Florida legislators to disrupt the implementation of this very important amendment to the Florida constitution.  
Specifically, on June 28, 2019, Governor Ron DeSantis signed into law SB 7066, which requires payment of all associated outstanding fines, fees, and restitution in order for formerly incarcerated persons to qualify for voting rights restoration. (see link below) 
Essentially, this bill functions as a modern day "poll-tax" and is a direct attack on the democratic power of ordinary Floridians. While there has been an injunction issued since then by a federal court ruling this bill unconstitutional, this injunction only suspends SB 7066 temporarily. (see link below) 
With this in mind, our organization is raising money to lead a community-centered movement, particularly in north Florida, that has three main goals: 
(i) organize and lead door-to-door voter registration campaigns, specifically targeting communities with predominant populations of returning citizens (i.e., ex-felons)
(ii) register at least 5000 ex-felons by the 2020 general election
(iii) raise awareness about Amendment 4 and the SB 7066 poll tax that some Florida legislators are trying to employ to prevent the implementation of this amendment 
We will use the largest portion of your donations to help pay outstanding court fees for a select number of returning citizens in northwest Florida. A small portion of donations will be used to help cover outstanding costs for the 2020 Breaking the Chains Summit that will be held in Tallahassee, Florida April 17th, 2020. 
Guest speakers will include philosopher and activist Cornel West, co-founder of the Florida Rights Restoration Coalition, Desmond Meade, director of the Florida State Civil Rights Institute, Dobby Flowers, attorney Adner Marcelin from Ben Crump Law, President of the Tallahassee chapter of the Florida Association of Criminal Defense Attorneys, attorney Jessica Yeary, and many more!  
Details about Fund Distribution:


Your donations will be earmarked for the Street Philosophy Institute (SPI), Inc.'s "2020 Breaking the Chains summit" account. 
SPI is an incorporated non-profit organization registered in Massachusetts.
The funds will be awarded to 5 ex-felons in northwest Florida (e.g., Jackson County, Leon County, Gadsen County, Calhoun County, and Bay County) at the 2020 Breaking the Chains summit at Florida State University inTallahassee, Florida, April 16th- 17th. 
Each recipient will be awarded a $3000 check at the conference, which will help pay any outstanding court costs that prevent them from having their voting rights fully restored.
For any large donations requiring a tax exemption, please make checks payable to:
Street Philosophy Institute, Inc., c/o The Wright Foundation2985 Guyton Street, Marianna, FL 32446.
The Wright Foundation is a local nonprofit, organized and operated for charitable purposes under Section 501(c)(3) of the Internal Revenue Code and will serve as fiscal agent for SPI throughout the duration of the project.
As Founder and Chairman of SPI, I will ensure that every donation is monitored with the utmost caution and integrity. If you have any questions, please feel free to contact us at our organizational email address [email redacted] or at my personal email address [email redacted]vard.edu.
Thank you so much for your support as we embark on this social movement to ensure that every person in Florida has a voice in the democratic process!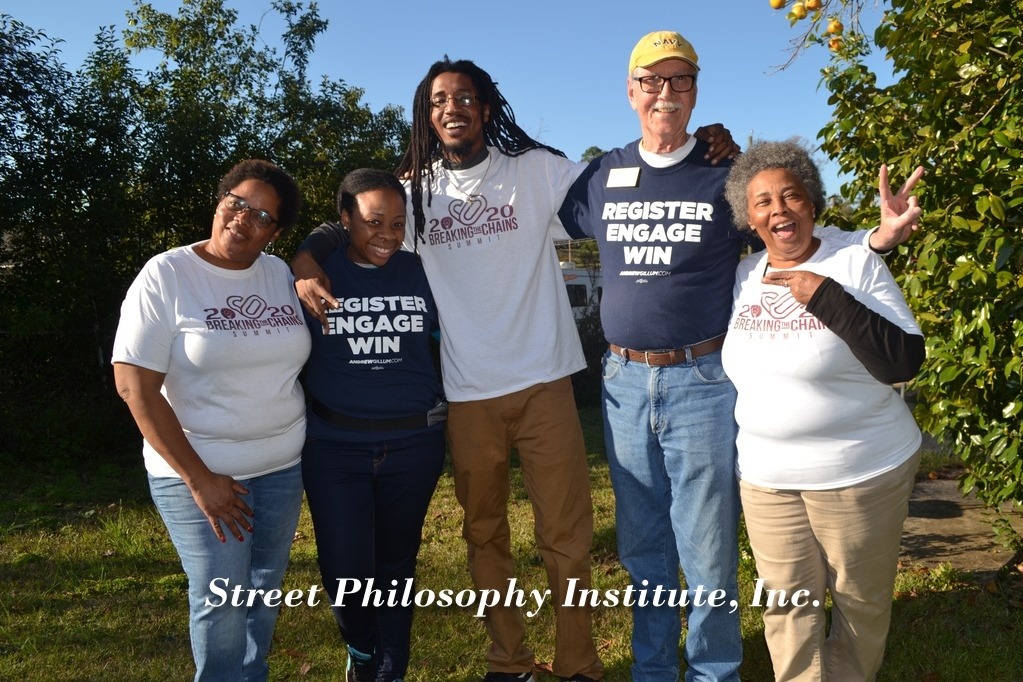 Articles: 
Poll tax article link:
https://campaignlegal.org/update/florida-implements-modern-day-poll-tax-depriving-thousands-right-vote
Federal judge injunction article:
https://www.nytimes.com/2019/10/18/us/felons-vote-fine-florida.html
Organizer