Hello Friends!
Our donation recipient Laura suffered a massive stroke at the young age of 25. As a result of the stroke, her right lower leg has been left paralyzed. This means she can't move it or feel it.
Medical professionals have introduced Laura to a new kind of brace that has not yet hit the radar of the North American public, and therefore there is no government funding available. However, as you will see by our upcoming updates and videos, the brace miraculously allows Laura to walk by using electrodes to stimulate the nerves that Laura's brain can no longer reach.
Here are a few words from Laura herself:
"Strokes at my age are fairly unprecedented. Out of every hundred thousand strokes only seven of them happen to people under the age of 45. With my age in mind, the doctors and therapist have not really known how to go about treating me. I'm not their typical stroke patient. I'm somebody who not only needs to learn how to walk again, but needs to learn how to run, swim, hike, dance, and use my bicycle. During this difficult time in my life, it is hard not to be overwhelmed with the myriad of things I can no longer do. I can't count, can't shower by myself, I can't even heat things up to eat. I don't know if I will ever get those abilities back. But one thing I can get back, with some help, is my ability to walk again. Unfortunately that won't happen unless I'm able to somehow reconnect the nerves in my leg to the pathways in my brain. However; therapists seem very hopeful about this new product. This brace uses electricity to send a message to the nerves in my leg, which in turn sends a signal to my brain, then back down to my leg, forcing my muscles to move the way they should. Over time, my brain and leg could learn to work together again on their own! This brace is my best chance at ditching my wheelchair and having my life back! Thanks so much for visiting my page and being supportive of me in this journey!"
- Laura
This technology is cutting edge, and would quite literally change Laura's life forever. Please consider donating to give this young woman her best chance at regaining her leg completely in the future.
Our current goal is 7500 to cover the cost of the brace and the fees associated with this site, but if we could exceed that, it would be even better! The brace has a maintenance fee of $300 per year, and Laura also needs some changes made to her home to make it accessible in light of her new disability. These changes include the installation of a semi-permanent (meaning anchored down but easily transferred to another home if Laura moves) wheelchair ramp so Laura can get in and out of the house herself. This ramp is going to cost an additional $2000. Every little bit helps!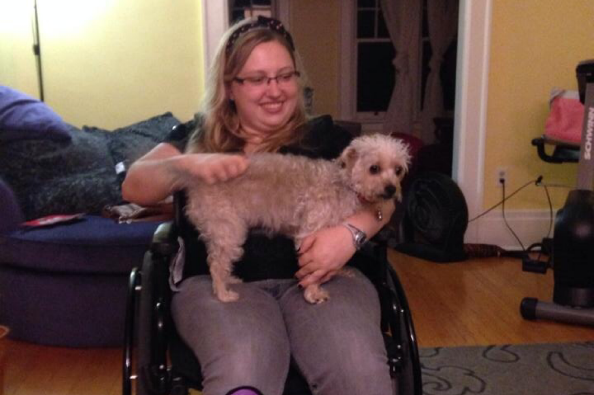 UUPDATE: Not only will this brace help Laura walk for the time being and train her brain to reconnect to her leg on it's own over time, it also has a physiotherapy setting. This allows Laura to sit back and have her leg muscles stretched and rotated, but instead of having someone stretch it for her, the brace lets her use her own nerves and muscles to do all of the work. Check it out in this neat video!
Note: Remember that the brace pictured in the video is not yet hers! It is on loan for a short trial period. Laura will have to return it at the end of that time unless we reach our fundraising goal.

Organizer
#1 fundraising platform

More people start fundraisers on GoFundMe than on any other platform. Learn more

GoFundMe Guarantee

In the rare case something isn't right, we will work with you to determine if misuse occurred. Learn more

Expert advice, 24/7

Contact us with your questions and we'll answer, day or night. Learn more