Fill The Gap: Black-Led Neighborhood Safety
Due to 100s of years of racism, many mixed-race neighborhoods view Black people as an automatic threat to safety. But what if, instead, they recognized and invested in Black peace-makers as a solution?
Last Fall, when neighbors in an area east of Lake Merritt, in Oakland, feared for their safety regarding gun violence and drugs being sold in a local park, their first instinct was to call the police. But that didn't solve the problem. In fact, it only increased the danger of violence, as OPD is notorious for its punitive and traumatic methods.
Luckily, a man named Kentrell Killens — a Black peace worker and professional Life Coach for young men, born and raised in Oakland — generously offered us his expertise, speaking with multiple sides and drawing on his personal relationships to seek resolution. He even gave us his private cell number, and told us to call him if conflict went down. He would come right over from his home in Richmond, and personally put his life at risk to de-escalate. Isn't that powerful?
Within a few months, the neighborhood calmed. Dozens of people now walk their dogs and babies around the park on a daily basis. And more of us have met each other, recognize each other, and can reach out to each other for help.
Kentrell succeeded in promoting safety where Oakland police could not.



That's why we're challenging our community — and all of Oakland, and beyond — to raise the approximate $100,000 disparity between a salary + benefits of 1 Oakland police officer, and a community worker like Kentrell.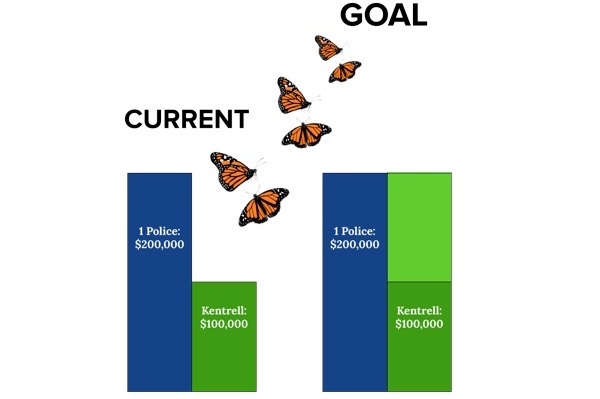 Black and Brown community workers engaged in effective peace-making measures are chronically underpaid by city government and NGOs. For example, a community worker employed by the City of Oakland's Department of Violence Prevention currently costs the city approximately $107K annually (salary and benefits), whereas the community resource police officer for the Eastlake beat costs the city
more than double that figure — $232K annually.
This disparity is evidence of the City's misplaced priorities.
Of course, eventually, we want the City government to fund people like Kentrell instead of police. A whole #DefundOPD coalition is working on redirecting funds away from militarized policing and into community-based services. But in the meantime, we need Kentrell and his organization of fellow mentors, the Good Brotha Network, to be resourced to do their work NOW.
So we are going to fill that gap — by raising $100,000 for Kentrell to magnify his peace work.
This fundraiser is not only a symbolic act in defiance of the current oppressive order, but is an actual investment in community workers, who spend countless unpaid hours building relationship with those most marginalized by the system.
When wealthy Oakland communities perceive that there is insufficient policing to protect their property, they have frequently invested in private security firms that employ the same racist tactics of publicly-funded policing. With this fundraising effort, neighbors in Eastlake United for Justice (EUJ) propose another path. We want to invest in the high-skilled, long-term trust-building it takes to grow true community safety.
Kentrell's amazing spirit, his genuine passion for empathy and peacemaking, actually made us feel loved and cared for — not just a problem to be solved. We need more organizations like Kentrell's, the Good Brotha Network: a volunteer organization led by Black community workers that supports struggling community members caught up in the cycle of violence.
We must create the world we wish to see, and invest in alternatives to policing and prisons.
Join us in the next step of this journey, by donating today!