Don't let them take my Girls !!
Normally, I'm not one to ask for help. It's not in my nature; I'm the one that helps others. I'm the one that donates to causes, wades through chest deep water to rescue pets and farm animals, helps rebuild houses after the floods. That's who I am. So doing this is one of the hardest things I have had to do, but I have no other choice. I need help. 
This is my story. 
On April 14th, 2009 my world was changed forever. My twin girls Rebekah and Lydian were born and I knew in an instant that I would do anything I could to make sure they were always safe and happy.  
One month later my landlord gave me a choice; pay double the rent because there was now double the number of people in the apartment or... face eviction. Rather than be extorted, I chose to move out. I moved myself, the girls, and their mother into my mother's house while I looked for a new place for my family to live.
After spending some time looking for a place to live, I came to the conclusion that the only way I could ensure that my children would always have a safe, secure, and happy home was if I built it myself - then, no matter what happened, no one could take it from us.
So... I bought a piece of land, saved some money, and I built a "tiny house." Now, when I say tiny, I'm talking HGTV tiny. It's 384 square feet.  It isn't much but we call it home and we are happy. 
The twin's mother and I didn't work as a couple and so we split up about 5 and a half years ago.  We both agreed that the best thing for the girls was stability - to have both of their parents in their lives, so we set up a 50/50 custody schedule, and that worked great for years. The girls grew and flourished. They excelled in school; everything was fine. 
As the girls grew I knew the tiny house was not going to work forever. I knew they would eventually need their own rooms. I spent the next 3 years trying to find a way to add onto our home. The tiny house movement hadn't reached my neck of the woods, and still hasn't. No bank would lend against it because it was too small, so I was forced to try and save my money so I could pay cash for the supplies when I was ready, all while trying to provide them with a normal childhood that includes things like birthday parties, dance and piano lessons,  and a summer trip to the beach. 
Fast forward to May 2017. I have actually managed to secure the funds necessary to begin a much-needed two-bedroom addition to my tiny house. I have plans approved, I have building permits, and recently I've started foundation work.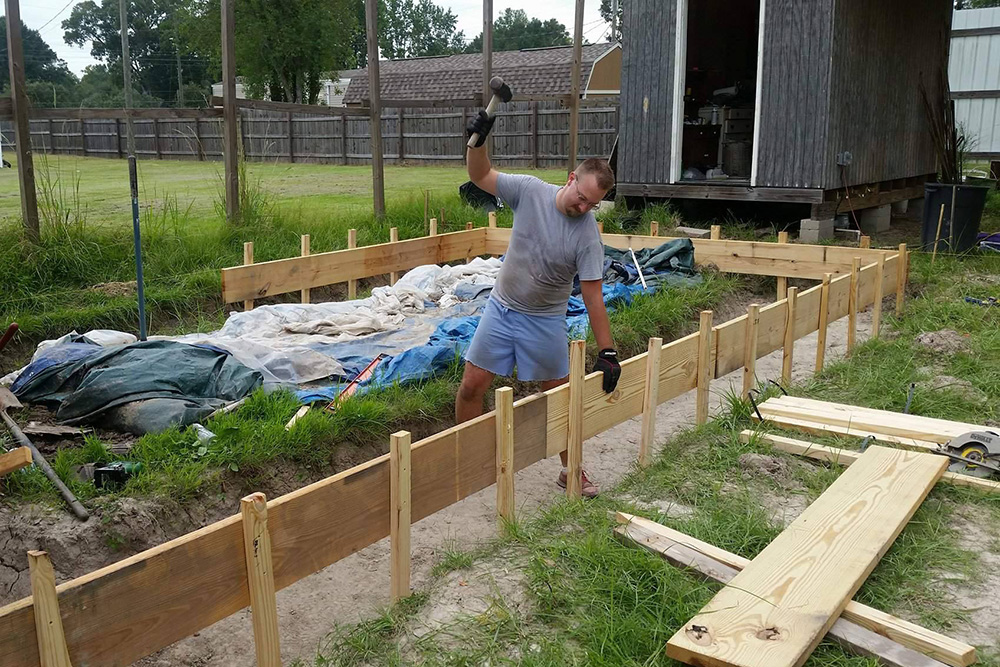 I am ready to go.  There is just one problem...the twins' mother.
There are a few things you need to know about their mother. 
When we split up, her parents bought her a lovely 3 bed 2 bath house in a nice new neighborhood just a few miles from my house. I was thrilled that when the twins were not with me they would be living in a nice home directly across from a park and they were just a mile or so from their school. 
Things were good for a few years. Then she started dating a man with several felony convictions for domestic abuse and battery, and he had a serious problem with drugs and alcohol. Not really the type of person I wanted around my children.  I tried to reason with her and get her to put the children's safety and wellbeing above her feelings for this man, even presenting her with his criminal records, but she just would not hear it and soon he was living in her house.  He was living with my children.
It didn't take long before his true character showed and he beat her bloody. Fortunately, the girls were with me at the time, and their mother was able to escape the house. That ended that relationship, and one would think she would then focus on trying to rebuild a stable household, and put the well-being of the girls ahead of her own desires.... well.... 4 months later she gets engaged to a new man she has only just met.
She then proceeds to move herself and the children out of that nice 3 bedroom, 2 bath house that they had lived in for 4 years, and into a less than savory trailer park just so she can live with this new guy. 
They rush into marriage, much to the dismay of my girls who had just had to adapt to several quick major life changes all in the space of about 6 months. It was actually affecting their physical well-being. They were both suffering from symptoms of anxiety and Rebekah actually had several panic attacks. 7 year olds should not be having panic attacks.
10 months pass.
The girls are splitting their time 50/50 between both parents as has been the case for 5 and a half years.
Their mother and her husband are living in a trailer with his parents and he has decided he wants to go back to school. 
That's when it happened. The ex hits me with a lawsuit for custody and child support. She wants to take the children and move them in with her full-time, take them out of their current school and move them to a lesser-rated school that is more convenient to her commute, and I will be reduced to every other weekend visitation. 
That was in June 2017. 
As of September 2017 I have spent $17,000 in legal fees fighting all of this just to keep the status quo and we have not even been to trial.  That's the money I was going to be using to build my girls' bedrooms.
My lawyer has been kind and has been reducing her bills, but she has to answer to the partners, and there is only so much she can take off.  She tells me that it is likely to cost another 15 to 20 thousand dollars if this goes to trial, which is very likely because my ex is not moving on her demands. 
So I am asking for help. I NEED your help.
Please give whatever you can so I don't lose my girls in this custody battle, and I can still try to build them their own rooms. 
If you can't give money I would ask that you share this with your friends, family, neighbors; just help get the word out because they might be able to help.
If you happen to be someone in a position that can donate building supplies I would also gladly accept that. 
You can contact me directly and I can provide you with a list of currently needed supplies. 
I just want to keep my girls and give them a space of their own.  Anything you can do will help.

Organizer