Chhiri's Nepal earthquake relief
As you know, a 7.9 magnitude earthquake hit Nepal on Saturday April 25th. Chhiri Rai and his family (including his wife and his 15 month old baby girl) survived, but his house is compeltely destroyed in his remote village . They are now safe in Kathmandu. They are sleeping in a tent outside, hoping that the aftershocks are over. Chhiri is a very strong and resilient trekking and climbing guide (former Sherpa) from a remote mountain village and he is the reason that my friends and I survived our trip across the Larkya La Pass on the Manaslu circuit in Nepal in December. Chhiri and I have kept in touch since my trip in December because of my plan to go back and climb with him as my guide later this year after I complete my PhD program. I am from South Carolina, in the US, and currently live in Australia where I am completing my PhD at the University of Queensland in Brisbane, Queensland.    
Over our 20 days of trekking I got to know Chhiri and his kind soul very well. He is a natural when it comes to making sure that others are safe because he is the oldest sibling of 11 and supports his 10 younger siblings and his mom, since his father passed away 2 years ago. This includes currently funding his sisters to get through elementary/primary school and University. He also supports his beautiful wife and his daughter.
Below: Chhiri's 15 month old daughter Esthumnima standing outside of the tent they are using for shelter in Kathmandu. Hoping to make it to their village soon.  That smile melts my heart.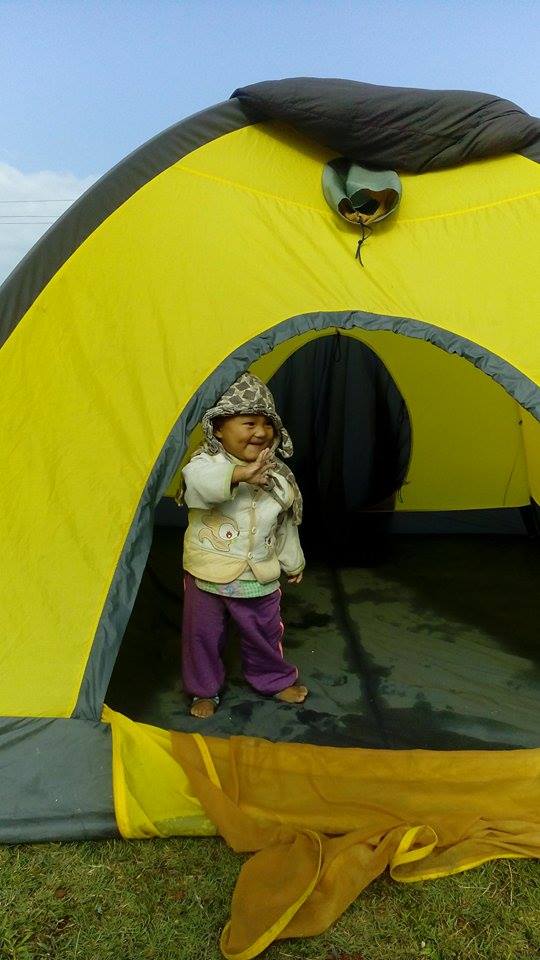 Now that all of the trekking trips in Nepal have been cancelled until October he has no income and is in need of support for himself and for his family. He is from a very remote village that is not recieving supplies or aid to rebuild. Any amount of money we raise will be greatly appreciated by him and his family. It will help him rebuild his home and take care of his family until he can work again in October. I hope to raise $13,000 AUD (which is roughly $10,200 USD) to support them over the coming months. To build a home in a remote villlage it costs approximately $8000-$10000US. to save that much money would take years and years of hard labour and saving everything. They need to rebuild VERY soon because Monsoon season is just a month away.
Nepalese people are the kindest, most gentle people
and it breaks my heart to see what is happening over there. However, they are very tough and resourceful and I know with some support they will make it through this. The money will no doubt help his entire village rebuild their homes, which is located about 1-2 days walk off the Everest Base camp trek, because in a Nepalese village you look after each other not just your immediate family.
The money we raise will be transferred directly to Chhiri in Nepal through his work bank account.      
*Chhiri is the eldest boy and his father passed away 2 years ago so he has the responsibility to look after his sisters, mom , wife and daughter. That means paying for his sisters education too.*
_______________________________________
I gathered estimates on the money that Chhiri will need to take care of his family over 5 months (predicted time that the trekking season is closed) and rebuild his home (in US dollars)= $14,146 US that is $17,245 Australian
$8,000- $10,000US to rebuild Chhiri's home in his remote village.
Where his mom, sisters, brothers, sister-in-laws, nieces, nephews, wife and daughter stay.
$700US= $140 x 5 months. Monthly apartment rent in Kathmandu.
Rental apartment in Kathmandu is not ok for his younger sister to sleep in incase of tremors at night so they sleep outside and it won't be fixed so they will need to find another apartment. This is where his sister, Cristina, stays regularly so she can attend the University of Kathmandu and Chhiri and his family stay here often as a meeting point in between work treks.
$200 US
= $40 x 5 month for utility in Kathmandu
$1395 US
= $465 for 5 months for food for 3 people (Chhiri,  his wife and sister) in Kathmandu. Prices have inflated for food by 3 times the normal amount. So this is a bare minimum estimate. *Food for his family in the village* They normally live off of dal in the village. They are rice farmers and that's their main source of food. Chhiri will check the fields while he is there to make sure they aren't ruined and give us an update.
$1,851 US
. University tuition for 1 semester for his sister.             
**Cover Photo from Chhiri's facebook page.
**This is where Chhiri and his family are staying in Kathmandu. While he continues to keep his family safe and calm.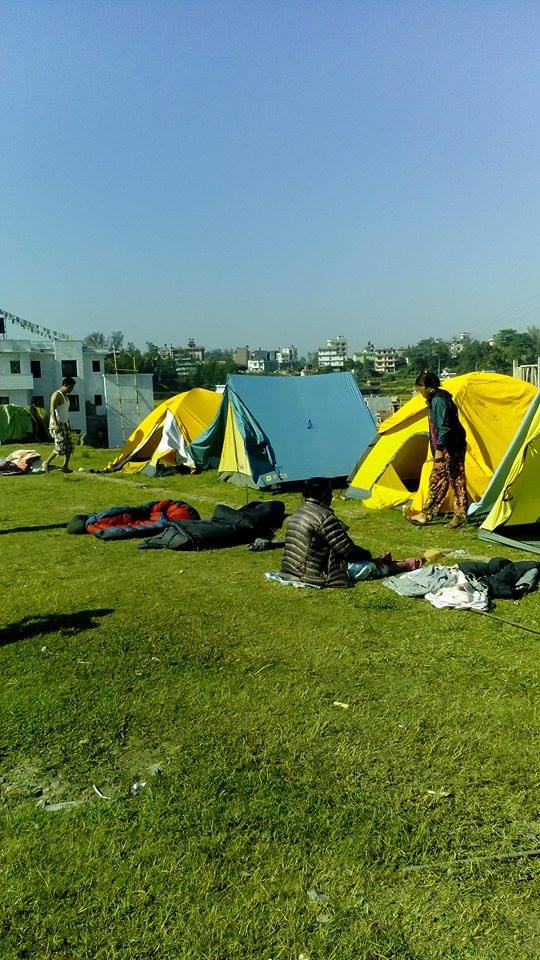 Below: This is a picture sent from Chhiri to show where him and his family are calling home while they wait to return to their village to assess the repairs that need to happen to their home and village.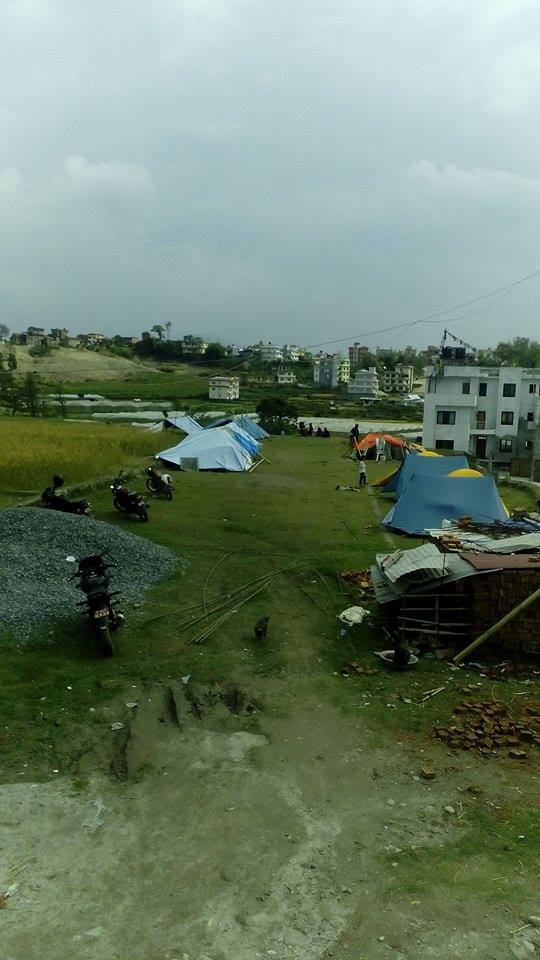 Photo below is (from the left) Jo Waterhouse, me, Chhiri Rai and Jess Olding in the Tsum Valley portion of our trek.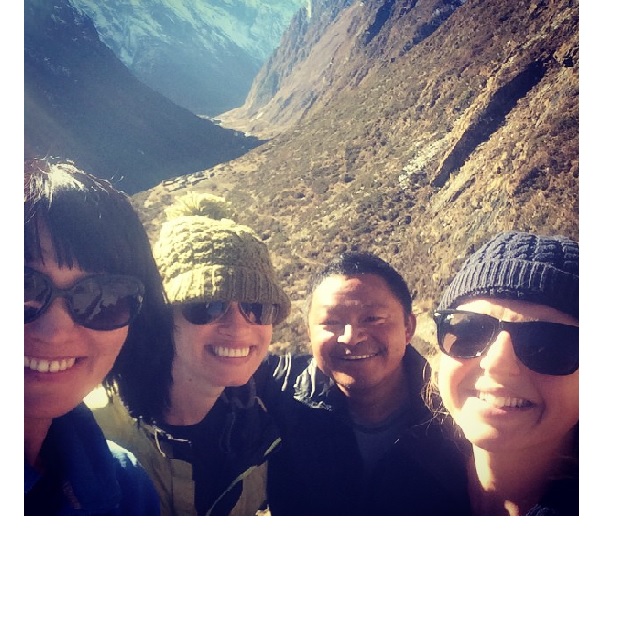 Organizer
Lauren Hodge 
Organizer
Mermaid Beach, QLD
#1 fundraising platform

People have raised more money on GoFundMe than anywhere else. Learn more

GoFundMe Guarantee

In the rare case that something isn't right, we will refund your donation. Learn more

Expert advice, 24/7

Contact us with your questions and we'll answer, day or night. Learn more