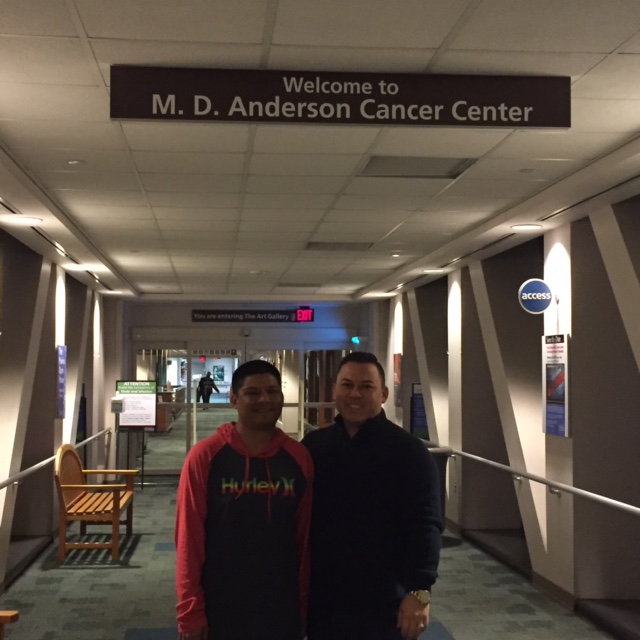 Aloha, my name is Brent Catekista.  I am an adult with Neurofibromatosis (NF).  I was diagnosed with NF when I was about 5 years old and my doctors detected a benign tumor in my chest area.  They monitored the tumor over the years and when I was 16 years old, it had grown in size and into my neck cavity.  Surgeons then decided to take it out.  Unfortunately, there is no cure for NF and it was very likely that the tumor would grow back.  Twenty something years later, the tumor has grown back larger than before.  I started retaking CT Scans and MRI's back in March of 2015.  I've seen many specialists then was finally referred to the top surgeons at Queens Cancer Center.  I was excited and nervous that I would go through surgery again to take the tumor out.  
The week that the surgery was scheduled, the surgical team determined that through re-evaluation, it would be in the best interest of my health and surgical outcome that they refer me to the MD Anderson Cancer Center in Houston, Texas.  The surgical team realized that the surgery I need is more complicated and feel that having it done at MD Anderson is the best plan for me.
Because going to Houston was a surprise to me and my husband, we were not prepared - mentally or financially - to pursue this best option.  
We are prideful and normally would not reach out for help.  But here I am, starting this GoFundMe and asking for any help you can give us.  
All donations we recieved have been going towards the medical expenses and travel, lodging, and transportation expenses, as well as boarding costs for our fur kids we incurred while we were up in Houston.  My health insurance partially covered the medical expenses.  Everything else was out of pocket for us.
The surgery to remove the malignant (cancerous) tumor was a sucess. However, after returning home and completing Radiation Treatment in August 2016, I found out that the cancer spread to my lungs. 
I started Chemotherapy in Nov 2016.  My first treatment required me to stay in the hospital for 5-days at a time.  After 4 rounds we stopped because the tumors stopped responding and continued to grow.
The second chemotreatment was out patient and I would go to the Infusion Center at Queens West for a few hours each week to receive my meds via IV.  We had to stop that treatment after 3 rounds because I physically and mentally could not continue on those medicines. The side effects were literally destroying me.
I am continuing to fight this Sarcoma Cancer in my lungs and I'm working with my team of doctors on the best options and next steps towards treatment. 
But times have become tough for us as Sheyne was laid off from work so that he can help to take care of me. When I am feeling well, I have managed to get to work so that we have some kind of income coming in. 
The medical bills continue to come in every week, along with the normal bills we get every month. Its been a challenge and stressful to keep afloat at times.
It would mean so much to me, my husband and our families for any help or donation you can give us.
Mahalo nui loa!