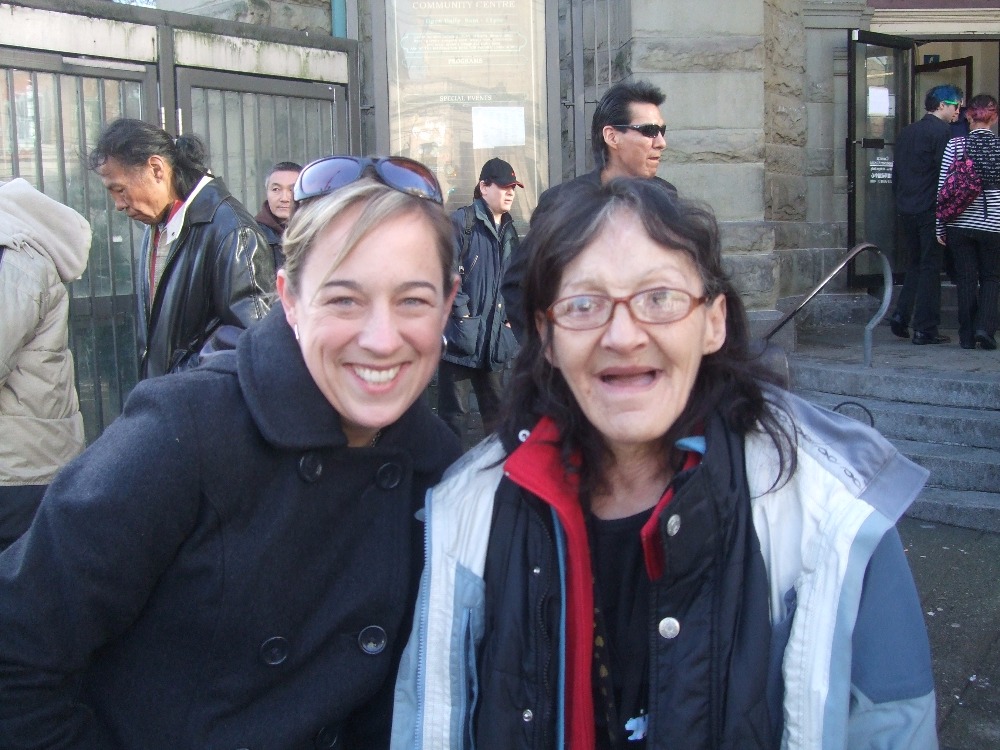 Project H.E.L.L.O.  (Helping Everyone Locate Loved Ones) began in 2009 as a one day fieldtrip.  Rather than handing out food and clothing, my students and I wanted to address the emotional needs of people living on the streets.  We invited people to write Christmas cards to their friends or family - possibly people they had lost touch with.   Our students promised the homeless they would do everything they could to find their families and send their messages of love.  
We quickly realized this was much more than a one day fieldtrip and our program has now expanded to a year round initiative focused on connections at Christmas and Mother's Day.  To date, we have helped just over 500 people living on the streets reconnect with family through greeting cards, phone calls and some very magical face to face reunions.

We now call our program 'Beyond HELLO' as we now help in many ways:

Elementary age students make beautiful handmade cards

High school students head to the Downtown Eastside of Vancouver and engage in conversation with the homeless and invite them to write cards.  (Shown here on  CBC ‌) They then return to their schools and use technology to search for lost families. When a family is found, the card is mailed.

Friends, family and graduates who were part of Project HELLO join me monthly to take a homeless person to lunch.  We invite them to share their stories and I blog about their lives at  www.beyondhello.org  The stories we have heard break my heart but they are also stories of triumph and resilience. They are stories that will forever change your perception of homelessness. 

A $10 donation will help us cover card supplies and postage.  A $20 donation will help us take a homeless person to lunch and allow them to share their life story (as shared on www.beyondhello.org)  A $50 donation will help us buy basic necessities for our friends on the street such as socks, underwear and toiletries.  

We have many requests where people would like to help us search.  Investing in our website will allow us to share our stories - stories of connection and stories of hope where we are still searching.  
This project has changed my life and changed the lives of my students.  It has taught me that every person has a story worth hearing.  The people on the streets are hungry - but they are hungry for so much more than food.  They are hungry for love, hungry for hope and hungry for human connection.  

As we enter our 8th Christmas season - our first Christmas without Sandra, we will keep our commitment alive by registering Beyond HELLO as a non-profit organization.  www.beyondhello.org 

Please help us continue to expand our reach and change the perception of homeless.  Donate today - and together let's go Beyond HELLO.

Thank you.  
Organizer
Kristi Strickland Blakeway
Organizer