UPDATE: The babies are home!
Abigail, Olivia and Ainsley have made it back to Nelson- they arrived home at the end of May with their parents and are doing really well!
 Mom and Dad are adapting to being parents- Dad is back to work at his construction business, B3 exteriors- and Mom is doing really well with being a mom to the babies.
 The local community has been really supportive with donations of diapers, clothes, and toys as well as through a Meal Train started by Ain and Katherine's friend Nicole. 
They are beyond grateful for the support they have received as Katherine hasn't had to worry about preparing food and diapers have been readily available which is great with three babies!
 We are keeping the Go Fund Me active as there are still some items needed for the babies- cribs, active toys, etc- that an extra little bit will help with.... And the family is moving to a bigger home at the end of July so they will need some new furniture as well.
 Katherine and Ain, and the girls, would like to extend a HUGE thanks for all the love and support everyone has given to them- it means so much to them!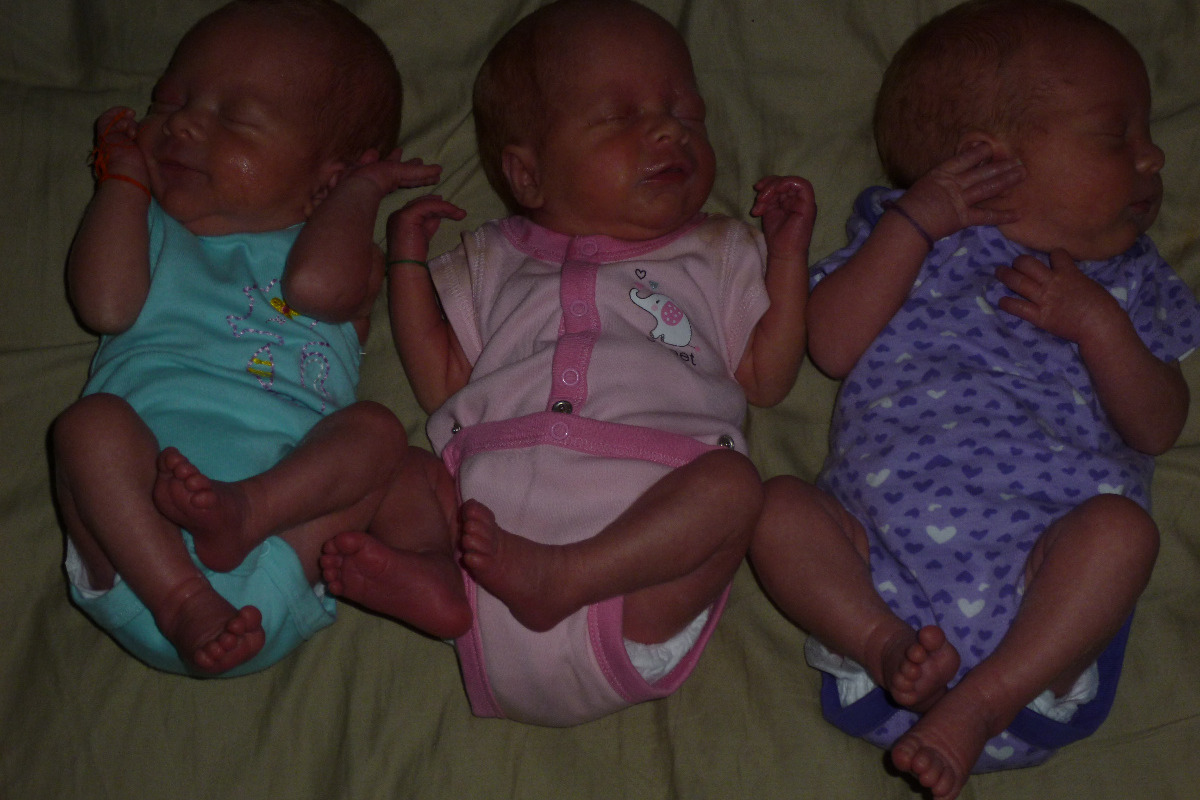 UPDATE: The babies have arrived! :)
 Delivered on May 8, 2019, the three little girls- Abigail Katherine, Olivia Ivy, and Ainsley Amanda made their debut at BC Women's and Children's hospital.  All are healthy but still premature, which means that Katherine and Ain are staying with them in the NICU to assist with their growth and development.
 As a result, Ain is unable to work as is he staying with Katherine and the babies to support them and strengthen their bond as a family.
 Any donations are much appreciated and will help this lovely new family through this period of transitional care to their journey home to Nelson.
ORIGINAL STORY:
One baby? no.... Two babies... no... Three babies? YES! Katherine (Kitty) and Ain are having TRIPLETS!
Katherine (Kitty) and Ain, together since 2010, have been trying to start a family for a few years now, with a couple of setbacks along the way.
In January 2017 Katherine became pregnant, then in February 2017, she experienced a miscarriage; in May of the same year, she became pregnant again.
Sadly, in October 2017, due to an undetected maternal infection, their baby girl Ivy Kate was born at 23 weeks gestation and did not survive the delivery. 
After taking some time to recover from this tremendous loss, Katherine and Ain decided to try again for a family, and were delighted when a pregnancy test taken in October 2018 was positive.
On October 28, 2018, Katherine went for a routine ultrasound to check on the health of the fetus…. only to be told the VERY surprising news that there was more than one embryo.
In fact, there were more than two.
Yes, the ultrasound showed TRIPLETS! :)
Spontaneous, naturally conceived identical triplets- the odds of this miracle are 1 in 2 million (from the stats we can find).
There have been some obstacles to overcome in the pregnancy that Katherine and Ain have met with grace and strength, which has increased their commitment to each other and their family to be.
 All three babies are doing very well, growing strong and healthy- a recent ultrasound showed the girls to be well within the expected growth range for singletons, so for triplets they are doing amazingly well! 
That being said, there is potential for health issues when the babies are born, which could mean a longer hospital stay than usual.
Any donation is greatly appreciated; baby items are most welcome also.
If you would prefer to donate a baby item, or purchase something from a registry, here are links to registries for items needed:
http://mountainbaby.com/apps/giftregistry/registry/70285
  or
https://www.amazon.ca/baby-reg/katherine-vanderveen-ain-baird-June-2019-Nelson/1PCAD0B0FOZ8E
If you would like more information or want to connect directly with Katherine/ Ain, please email Katherine directly at
[email redacted].
We thank you for your kindness and generosity in supporting this beautiful couple and their soon to arrive little ones… every bit helps and is accepted with the deepest gratitude.
Organizer and beneficiary