A Family Divided by Deportation
How My Father Arrived in America

My father's name is Thien Bui, and his nation of origin is Vietnam.  As the Vietnam War was coming to a violent close at the hands of Northern communist forces in 1975, he was forced into refugee status and abruptly separated from his family, never to see them again; he was shuffled onto a boat containing hundreds of other like-situated young men and women, and shipped to Southeast Asia, as if he were a crate of market produce.

The last sights and sounds my father retains of his homeland include the streets littered with corpses of his fellow countrymen, opposing military colors being waved from atop dilapidated storefronts and homes, and the roaring of bombs and bullets riddling the skies.  Given the immediate mortal threat that was posed by Northern Vietnam's invasion of the South, most of those taken aboard boats into refugee camps, including my father, never had the privilege of final goodbyes to their loved ones.  Keep in mind that this had all taken place prior to the advent of cell phones, or internet. 

He would eventually find himself atop American soil, where life's hurried pace would move him to begin anew. There was simply no time to mourn the loss of his eight siblings or parents, or to contemplate the tragic circumstances that had befallen his countrymen, because his priority was now to figure out how to feed, clothe and house himself in a land where his native culture and language had immediately become irrelevant. 



How My Father Responded to Tragedy

For a number of years, my father worked a series of hard-labor construction jobs, the only of which were available to most non-English speaking immigrants.  During this time, he shared tight living spaces with fellow workers, and relied on public transportation for commuting between work and home.  It was amidst this volatile period of his life that he met my mother, a natural born American citizen, who would become his wife of forty-two years.  They are still happily married to this present day. 

* An old photo of my mom & dad, holding their firstborn (my older brother, Vu Bui), circa 1979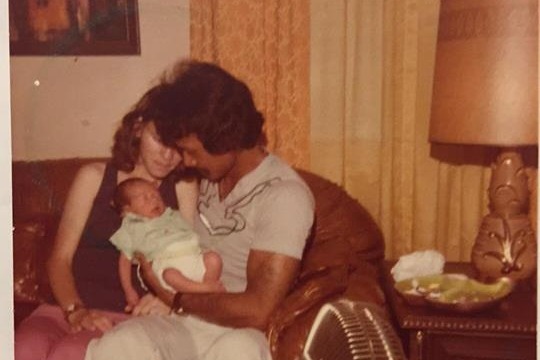 In 1986, he found more stable employment with a local golf cart manufacturer, and has retained good-standing employee status for the entire span of his thirty-two year career with this company.  
Somewhere along the way, my two brothers and I were born, and it is by the sole means of my father's dedication to his family – his steady income, and firm moral instruction – that we have persevered through life's worst. Today each of us is married, and has children of his own, all of which whom have close relations with their grandfather, and look to him as a source of inspiration and provision.  Musically inclined, he has taught a few of us to play guitar, and has motivated my nephews to workout in his makeshift garage gym, even dabbling a bit into the martial arts.

* An older, but more recent photo of my father, surrounded by his grandchildren


This truth cannot be overstated – my father is the rock upon which our entire family and home are built.  He is the lifeblood of our heritage, the cornerstone of our family's foundation, and life without him is unimaginable.
A few years back, when my father was diagnosed with Peripheral Artery Disease - a disease which restricts the bloodflow to the body's limbs, and threatens the infected with paralysis, or mortality - our family first faced the gloom prospect of losing that foundation.   We cried til our eyes were barren; we prayed until our vocal chords were strained.  
When we were provided a second chance via God's providence, and my father recovered from his open-heart surgery, we promised ourselves that we would never take for granted his presence. The day I first almost lost my father to heart disease has served as a continuous reminder that life without him is unlivable. 


Synopsis of the Problem

And yet, life without him has in recent days become all but a cold fact of reality for us all.  During a routine immigration check-in in August 2018,  officers informed my father that he had – under the pressures of recent federal administrative "efforts" – become subject for immediate deportation.  This was no mere warning or blanket threat; officials have already begun preliminary preparations to secure him a passport, and are actively inquiring into prospects for potential living quarters in Vietnam.  

The reason for this action is due to a minor misdemeanor charge incurred in 1977. With respect to being completely forthcoming and transparent with our situation, the details of this account will be described below.



Full Disclosure of Related Crime

On February 8, 1977, my father was charged with the crime of forgery of the first-degree.  A friend of my father had, unbeknownst to him, lifted a relative's checkbook, and had offered him a portion of each cashed check. Not speaking English at the time, and being financially hard-pressed, my father complied.  When the checkbook was reported as 'stolen,' my father was indicted as the primary person responsible, and was charged accordingly.  
However, due to his "good-standing status," and the peripheral circumstances (i.e., being a non-English war refugee, lured into deception by involved parties, etc.), he was granted First Time Offender privileges, and was never issued a conviction for the crime. He was assigned a 3-year probationary period, and was compelled to make restitution (payback) payments for the forged checks.  
On February 14, 1979, the State of Georgia determined that my father had fulfilled the punitive obligations as set forth by their former decision, and issued a statement of discharge from legal consequence for the crime, providing the following immunity: 
A.  No court adjudication of guilt.
B.  Complete exoneration of any criminal purpose
C.  No subsequent effects of defendant's civil rights or liberties; and
D.  No consideration to have criminal conviction. 


* Screenshot of the document provided below for full perusal. 


When presented to the immigration office, we were told that this immunity only applies to the state decision, and has no bearing on federal procedures. 



What is Needed

Our only option at this point is to fight the decision via the court appeal process.  As such, after much commerce between my hometown of Augusta and Atlanta, Georgia, we have enlisted the services of Nguyen & Pham, LLC., a law firm which specializes in providing services to those holding immigrant status. They are located, and operate, out Norcross, Georgia. 

This could very well be our last true hope to keep my father with us.

After several phone and face-to-face meetings with related parties, we have figured our total cost for pursuing justice to be $9,500. This does not guarantee a victory, mind you, and so we ask that, in addition to any monetary contributions you provide, you keep my family in your prayers. 
Again, in completely transparency as I ask you for assistance, an itemized breakdown of the expenses can be found below: 
$7,500 defense fees (paid to attorney) 
   1,245 citizenship fees (paid to Immigration Office)
       755 miscellaneous administrative fees (paid to Immigration Office)
 $9,500 TOTAL
*  I have added an additional 2.9% atop the total cost, in order to cover GFM's administrative costs, hence the slightly different total. 

* The attorney is requesting a $4,000 down payment by November 1, 2018, with the residual balance becoming due after initial hearings are concluded, to be collected in subsequent months. 


How & Who You Will Help 

Needless to say, none of us were prepared for this news, and we have all been enveloped by a general state of disbelief upon receipt.

After we were told that preparations for my father's deportation were already well underway, every waking moment has become unbearable, unlivable.  Waking up in the morning for work, my first thoughts are of the crushed face of my father, saying his future goodbyes to my mother and us before stepping onto a plane, never to be seen again. It is difficult for me to be an attentive father to my own children, or to even perform daily functions like eating or socializing, when the possibility of my father's detainment are looming overhead. Even my faith has been challenged to its core, with my failing to understand where my God is amidst all this chaos. 
While your contributions do not guarantee that my father will be saved, by your providing my family with the means to fight this injustice, you are breathing life into our tired lungs.  You are providing light amid the darkest of our days.  You are proving yourself - however distant, different or removed - to be a brother or sister in arms against the common evil of prejudice, racism and partiality that is killing our people.  
Despite my trials, I remained assured that goodness prevails, that light brings the recession of darkness, and that the smallest of hopes can conquer the fiercest bouts of despair.  


Final Comments

Contrary to the tone set thus far, my goal is not to invoke the spirit of pity. Rather, I would like to invite you to, alongside my family, celebrate the contributions of my father, a man who had everything stripped from him by cruel, inexplicable, faultless crimes against humanity - war, tragedy, untimely health diagnoses, and the threat of unwarranted deportation - and who yet raised the standard of what it means to be American in spite of having his legal citizenship status challenged by governing authorities. 

And as such, I would like to extend my family's most profound gratitude for joining us in this endeavor in whatever way that you can - prayer, donations, condolences, etc.  May God bless all those with ears with which to hear my pleas. 
Carrie Faulkner-Armentrout 
Organizer and beneficiary