This campaign was initially intended to help support Teresa with her cancer treatment. We want to thank over and over everyone who supported her throughout this battle. Unfortunately, she lost her courageous fight against lymphoma on September 10th.
Her dying wish was to be reunited with her mother, sisters, and extended family in Mexico, and on September 3rd, this was made possible by arranging an air ambulance from Burnaby Hospital to Guadalajara, Mexico, where she died in peace surrounded by her loved ones.
By the end of August, after being at the Burnaby Hospital for a month, it was confirmed that the lymphoma had spread to the brain, causing serious damage. Although the chances were now low, the doctors recommended a stronger type of chemotherapy that targeted the brain directly. After no reaction to the new treatment, the doctors also confirmed to the family that she was a victim of a very aggressive and rare type of lymphoma. Her condition was determined terminal. Despite all this, Teresa kept smiling and showing strength to everyone who visited her at the hospital.
Thanks to the support and intervention of her nephew, Dr. Luis Higuera, who followed her case closely, the chance to grant Teresa the opportunity to go back to Mexico became real. Decisions were quickly taken and on September 3rd she was transferred to Mexico on an air ambulance, accompanied by her husband and daughter. Against all chances and predictions, Teresa survived the trip and arrived safely to Guadalajara, where she spent her last days surrounded by family and friends.
Today, Teresa's family are in need of your help to deal with the great cost of the air ambulance and other expenses incurred in these past several months.  
"Despite the hardship we are going through, we cannot stress enough our gratitude to everyone that continues to support us." -Erika Medina (Teresa's daughter)
Your donations are very appreciated.
Below is the original Go Fund me campaign, made support Teresa's battle against cancer, which as mentioned, she lost recently.
She lives in the hearts of everyone who had the fortune to meet her.
___________________________________________________________
¡Nuestro grupo de corredoras está apoyando a nuestra amiga Tere en su carrera contra el cáncer- únete a la campaña!
Tere se caracteriza por ser una mujer muy activa y siempre llena de energía.  Si no está corriendo o caminando es porque está trabajando como niñera, ayudando a una amiga, haciendo voluntariado o aprendiendo algo nuevo. Tere es una pieza clave del grupo de corredoras, siempre alentando a otras, motivándonos a no darnos por vencidas, dando palabras de aliento … "claro que puedes vamos…"  y corriendo a la par de la persona que lo necesita, logrando así que se olvide el cansancio.
Pero todo cambio en Marzo de 2016, después de una carrera, Tere comenzó a notar que partes de su cuerpo se veían inflamadas y le causaban mucho dolor, en especial un ganglio en el cuello que se volvió muy visible.  Después de ser sometida a varios estudios, Tere fue diagnosticada con Cáncer linfático no Hodgkin y se determinó que había nódulos muy inflamados por todo su cuerpo y que éstos eran los que le causaban los dolores. 
Su cáncer linfático es muy agresivo y desde hace meses le ha impedido correr e incluso caminar. Las quimioterapias la han ayudado, sin embargo, después de una ronda entera de quimios el cáncer regresó y con mayor fuerza. Es por esto que se están buscando tratamientos alternativos que son muy costosos.
Nuestra amiga Tere ahora se encuentra en la carrera más importante de su vida, ayúdanos a proveer hacia su recuperación y poder ser el soporte que ella fue para nosotras. Todas las donaciones ayudaran a financiar los costos de un médico Naturópata y sus medicamentos. 
Gracias por su apoyo y generosidad. 
"Tere, gracias por estar a mi lado siempre, ahora me toca a mí acompañarte y apoyarte hasta el final de esta carrera" - Paulina
"Tere eres la imagen de fortaleza, gracias por impulsarme a correr más rápido y terminar " - Rosa
"Mujer deportiva, atleta, platicadora y siempre dispuesta a correr y acompañarte con sus bromas, esa es Tere". - Marcela
"Tere, siendo la vida un constante cambio, sigo acompañándote a dar tu máximo esfuerzo en esta, tu carrera más importante". - Claudia
"Tere, espero de todo corazón que tu fortaleza te haga vencer este nuevo reto. Así como en todas tus carreras esfuérzate para pasar cada obstáculo" - Mimi
"Tere representa la fuerza, entereza, lucha, sinceridad, buen humor, la admiro mucho y fue gran parte de la motivación para seguir corriendo..." - Perla
"Gracias por estar ahí cuando más te necesite, nunca olvidare como corriste a la par de mi hijo para cuidarlo". - Lorena
"Vamos Tere como me decías tu… ahorita está lloviendo pero allá adelante esta el arcoíris" - Alejandra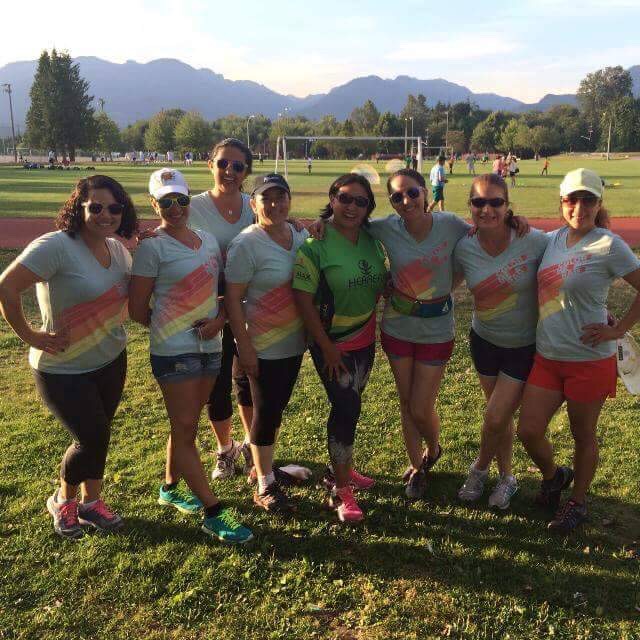 "Siempre has sido una parte integral del grupo que nos mantiene motivadas, unidas y nos impulsa a darlo todo". - Estefanía
"Siempre me ha impresionado ver de todo lo que eres capaz, muéstranos una vez más tu fuerza y resistencia. - Lluvia
"Ese espíritu tan tuyo de no rajarte y seguir adelante adelante es un ejemplo. Aquí estamos a tu lado sin rajarnos y a tu lado llegaremos a la meta". - Yuni
"Tere te admiro y respeto por la mujer tenaz, activa que eres y por todo lo que has luchado y sacrificado al venir a este país". - Leticia
Apoyemos a Tere y su familia en estos momentos tan dificiles.
Become the first supporter
Your donation matters
Organizer
YAZMIN Noemi Andrade Miranda
Organizer
Burnaby, BC