Liberty Hill Pocket Park - Springfield
The Lower Liberty Hill neighborhood in Springfield is not typically associated with safe outdoor spaces. The residents of Liberty Hill Townhouses, together with Home City Housing and dedicated leaders like Kevin Kennedy and Derek Kellogg, are hoping to change that. We want for our community what everyone wants – healthy outdoor spaces where we can, relax, be social, and be active.With over 45 years of serving the City of Springfield as a non-profit affordable housing developer and management company, Home City Housing is committed to building better neighborhoods. It's not enough to put a roof over someone's head. We've been providing critical resident services to our Liberty Hill Townhomes families in the last couple years - tutoring, health seminars, financial planning, a computer lab. Now residents feel comfortable telling us what they want to see in their community. They want a space of their own for basketball, picnics, and a place to stay dry while waiting for the bus. Those all sound good to us! So now we're working with architects and artists to deliver a beautiful space. Residents will continue to actively participate in the process through mural painting, with the guidance of local artist, Robert Markey, and maintenance of the park by the newly formed "Liberty Gardeners" resident gardening group. With your help, by the end of August, they should have their pocket park ready to enjoy.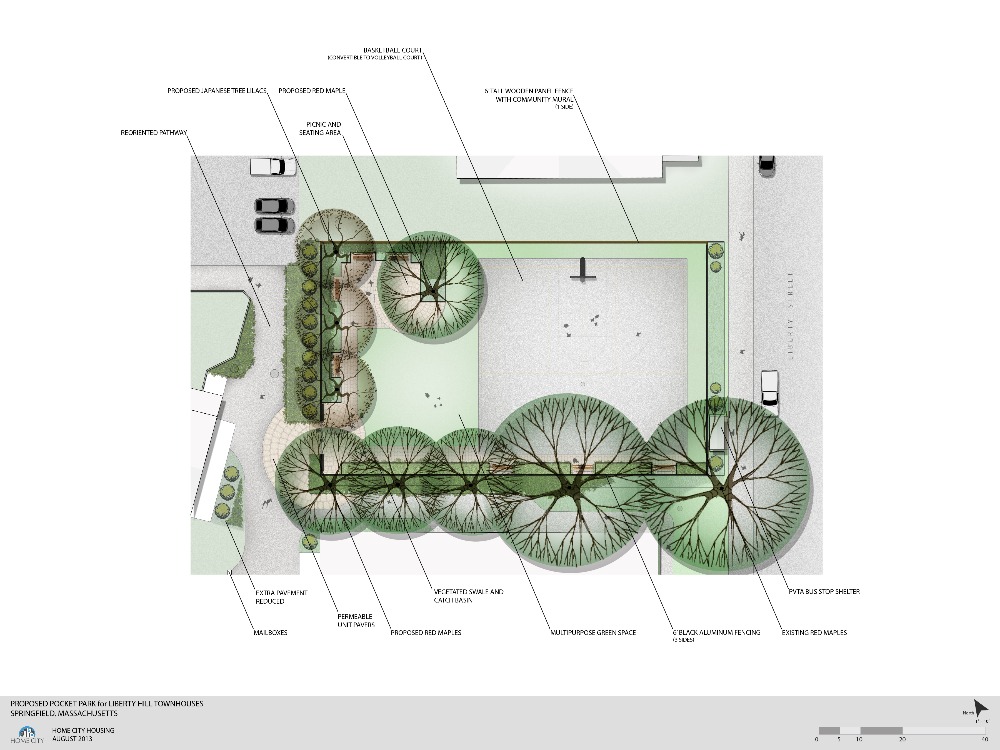 Local landscape architecture student, Samantha Anderson, designed the park with input from community meetingsThe video above shows where the kids are playing basketball now - in a makeshift court in a dumpster enclosure.
Unfortunately, much of the "green space" our residents walk by in their neighborhood is vacant lots, abandoned by negligent landlords and piled up with trash. There are multiple city-wide initiatives run by the Mayor's Office and non-profit partners to try and tackle the problem of vacant lots, and through those programs we have been buying lots around our own buildings when we can. We clear the lots and keep them clean - in large part thanks to our residents and the community clean-ups they participate in. But without more substantial work they are no place for a child to play, with the industrial debris and dead trees.
Here's the site before we took it over: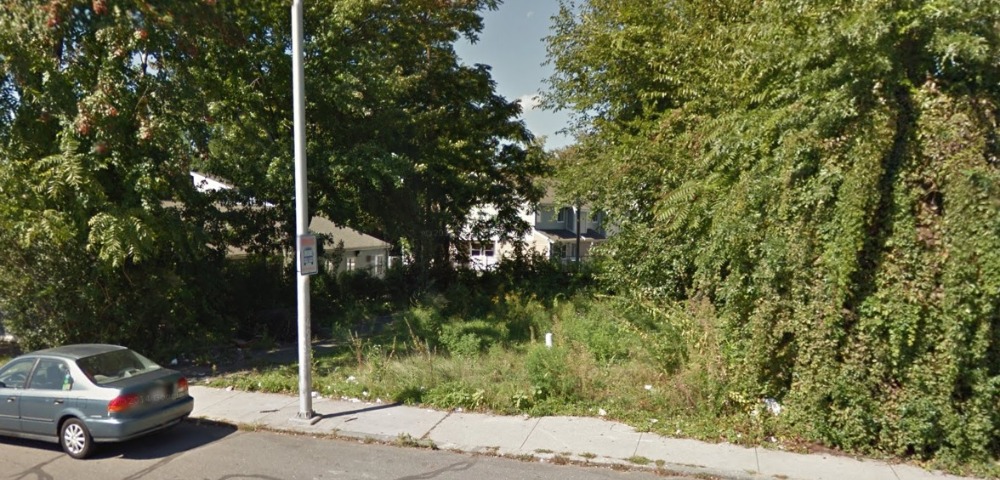 This is how the site looks now. We bought it from the City and cleaned it up, but it has a long way to go to look like the rendering above: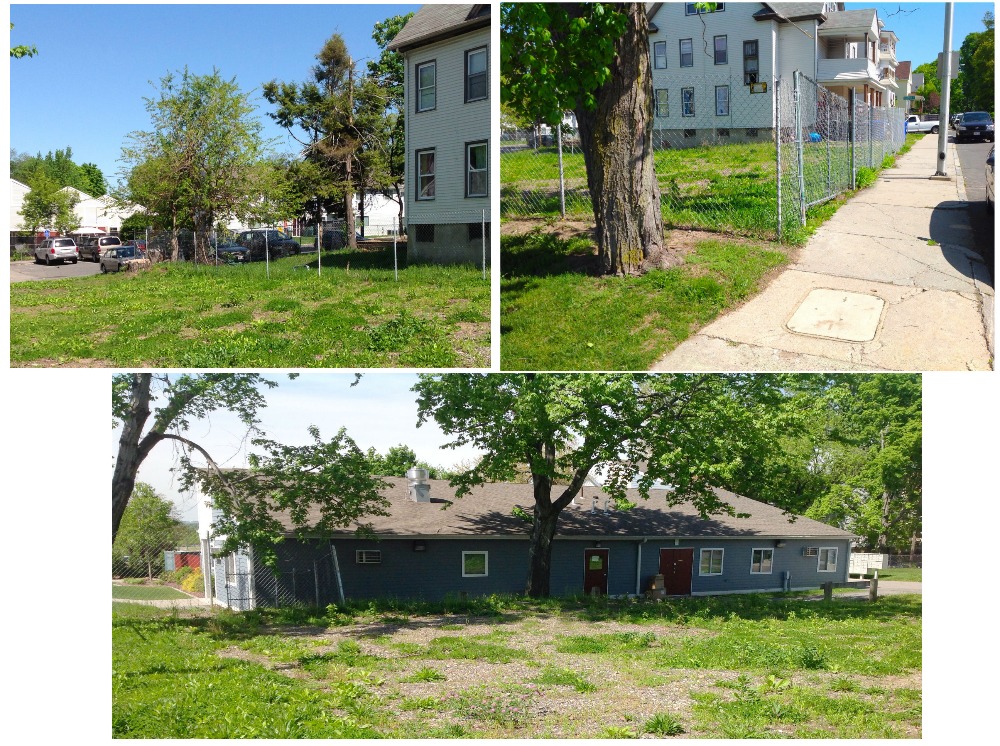 The bus shelter is exciting too! We're in the beginning stages of working with an artist, Angus McCullough, to design a unique shelter that will serve the practical function, but also serve as a public art piece. The stop also serves the surrounding neighborhood and the non-profit mental health and substance abuse clinic across the street. It's not just about our residents and the roof over their head; we want to instill pride in the whole neighborhood.The total project cost is about $110,000. At this point, we've tackled most of the challenges, and given our experience and legwork up until now, all we need to make this a reality now is to finish-up the funding. Our oganization has $70,000, and we've already raised $15,000 in offline donations. We have the lot where we already cleared away an unsightly, abandoned property with the generous support of a local McDonald's. We have the permitting. We have the residents ready to support our maintenance staff in keeping the space clean and safe for everyone. We have the contractor ready to go! We can't build it without your help! We need the last $25,000 to complete the funding.
Behavioral Health Network, Inc. 
Organizer
Registered nonprofit
Donations are typically 100% tax deductible in the US.