A Plea to Save Grandpa's Home!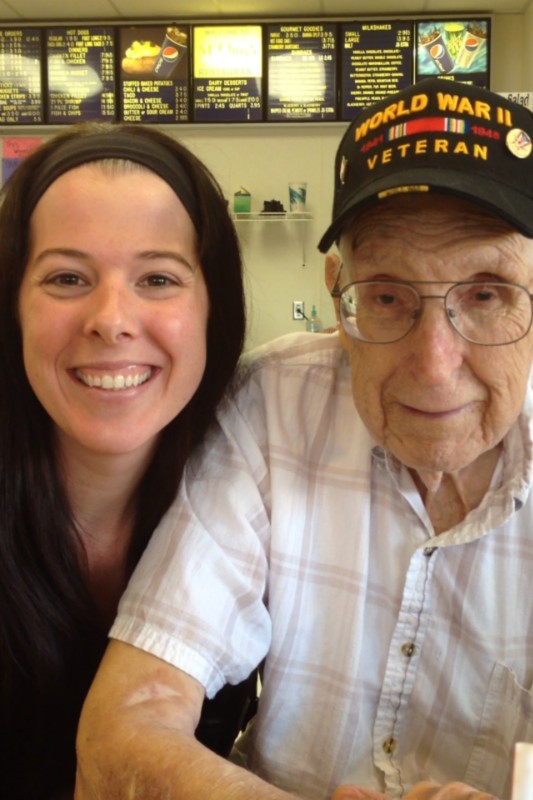 91-year-old WWII Vet told to "Hit the Road, Jack!"
John "Jack" Potter, age 91, is being evicted from the Zaleski, Ohio home he built and lived in for 56 years. John is WWII vet having served in active combat in The Aleutian Islands campaign. In addition to his service to his country, he is also a former Sheriff of Vinton County, Mayor of Zaleski, Ohio, a retired chief train dispatcher from the B&O railroad, and a 65 year Master Freemason.
On Sunday, February 3, after a visit with his 64-year-old son, who has been severely disabled since birth with Austism, John was served eviction papers by the home's owner, Janice Cottrill. Janice is the only daughter of John Potter.
In 2004 John's daughter Janice used her power of attorney to transfer his house into her name, as a gift to herself. The rest of the family discovered the transfer in 2010, after Janice tried to wrongfully have John declared legally incompetent and force him into a nursing home against his will. After his family had the wrongful guardianship removed, John, being legally competent, filed a motion to reverse the transfer, since legally a power of attorney is not allowed to "self-deal" or give gifts to themselves from the person or estate in which they have power of attorney. While the Vinton County Common Pleas Court ruled in John's favor, a subsequent ruling from the Fourth Appellate District Court, reversed the ruling in John's favor stating, the statue of limitations for reversing the transfer was 4-years and had expired. The decision was awarded in the Cottrill's favor only by benefit of time, not because it was right.
Janice and Dean Cottrill have voiced their intentions to sell the house that John Potter built and in which he currently resides. January 29, 2013 the Cottrill's filed with the Vinton County Courts to have John evicted and forcibly removed from his home. On April 22, 2013 John will have to appear in Vinton County Court and will be ordered by the court to vacate his home of over half a century. No matter how wrong any judge may feel the eviction to be, the courts are powerless to stop this eviction. It is a sad day in our society, when there are no laws that can protect the rights and home of a 91 year man. John Potter just wants to live what remaining life he has left in the home he built with his wife, in which he raised his family, and has lived for the last 56 years.
The efforts of the family to convince Janice to allow John to live out his life in his home have failed. Janice states she needs the money, so the old man must go.
I am John's granddaughter Jaclyn. I am asking for your help to raise enough money to buy back his home. While the last thing I want to do is pay my mother any money for the pain and anguish she has caused my grandfather, if it will save his home, I will do anything.
If 125,000 people read this and 125,000 people donate simply $1,
or just 6,250 people donate $20, I will be able to buy him back his home. Anything raised above the cost of the house will go to paying for in home care and anything else he might need. Any donation you can give helps, please help my grandfather enjoy what time he has left in the home he built, which holds his memories of a full and wonderful life.
Please Help Grandpa!

Organizer