Aide alimentaire. Food aid. Leticia, Colombia
—> English version below / Versión en español abajo <—
Bonjour ! 
Je souhaite vous présenter le projet #LaCosecha géré par la Fondation Habitat Sur à Leticia. 
La situation actuelle dans la région est critique. La crise sanitaire met en danger les 24 groupes indigènes de la région et donc une richesse culturelle inestimable. Leticia est en effet le territoire colombien le plus touché par le coronavirus et la quarantaine va durer jusqu'à fin juillet. 
Les paniers de solidarité organisés par #LaCosecha, grâce à des dons déjà perçus via différents partenaires, sont distribués aux familles les plus vulnérables de la région, familles connues grâce aux années de travail de Hábitat Sur sur place. 
Les denrées périssables telles que les fruits et légumes sont fournies par les agriculteurs  et indigènes qui peuvent ainsi les commercialiser par l'intermédiaire de #LaCosecha. Cela leur permet de ne pas perdre leurs récoltes et de percevoir un revenu pendant la pandémie.
Avec seulement 50'000 COL (env. 12 EUR / 13 CHF), une famille de 5 personnes à de quoi manger pendant une semaine. 
Des kits d'équipement de protection individuelle (alcool, gel antibactérien, masques, acétaminophène, combinaisons de protection pour le personnel de santé) sont aussi distribués. Un kit complet pour un poste de santé coûte cher, environ 1'200'000 COP (env. 290 EUR / 310 CHF)
Toute contribution compte ! Merci infiniment !
Pour suivre #LaCosecha :
https://www.facebook.com/habitatsur/
Plus d'information sur la Fondation Habitat Sur :
www.habitatsur.org
**************************************************************************************
ENGLISH
Hello!
I would like to introduce you to the #LaCosecha project managed by the Habitat Sur Foundation in Leticia. 
The current situation in the region is critical. This health crisis is endangering the 24 indigenous groups in the region and thus an invaluable cultural wealth. Leticia is indeed the Colombian territory most affected by the coronavirus and the quarantine will last until the end of July. 
The solidarity baskets organized by #LaCosecha, thanks to donations already received, are being distributed to the most vulnerable families in the region, families known thanks to the years of work of Hábitat Sur on the spot. 
Perishable foods such as fruits and vegetables are supplied by farmers and indigenous people who can then market them through #LaCosecha. This allows them to avoid losing their crops and receive income during the pandemic.
With only 50'000 COL (approx. 13 USD), a family of 5 people has enough to eat for a week. 
Personal protective equipment kits (alcohol, antibacterial gel, masks, acetaminophen, protective suits for health personnel) are also distributed. A complete kit for a health post is expensive: about 1'200'000 COP (approx. 322 USD).
Every contribution counts! Thank you very much!
To follow #LaCosecha:
https://www.facebook.com/habitatsur/
More information on the Habitat Foundation: www.habitatsur.org
* * * * * * * * * * * * * * * * * * * * * * * * * * * * * * * * * * * * * * * * * * * * * * * * * * * * * * * * * *
ESPAÑOL

Hola!
Quisiera compartirles el proyecto #LaCosecha gestionado por la Fundación Hábitat Sur en Leticia.
La situación actual de la región de Leticia es crítica. Esta crisis sanitaria pone en riesgo a los 24 grupos indígenas que hay en la región y por lo tanto a una riqueza cultural invaluable. Leticia es, en efecto, el territorio colombiano más afectado por el coronavirus y la cuarentena va a durar hasta finales de julio. 
Los mercados solidarios que se entregan a través de #LaCosecha, por medio de donaciones ya recibidas a través de varios socios, llegan a las familias más vulnerables de la región, familias conocidas gracias a los años de trabajo de Hábitat Sur en el terreno.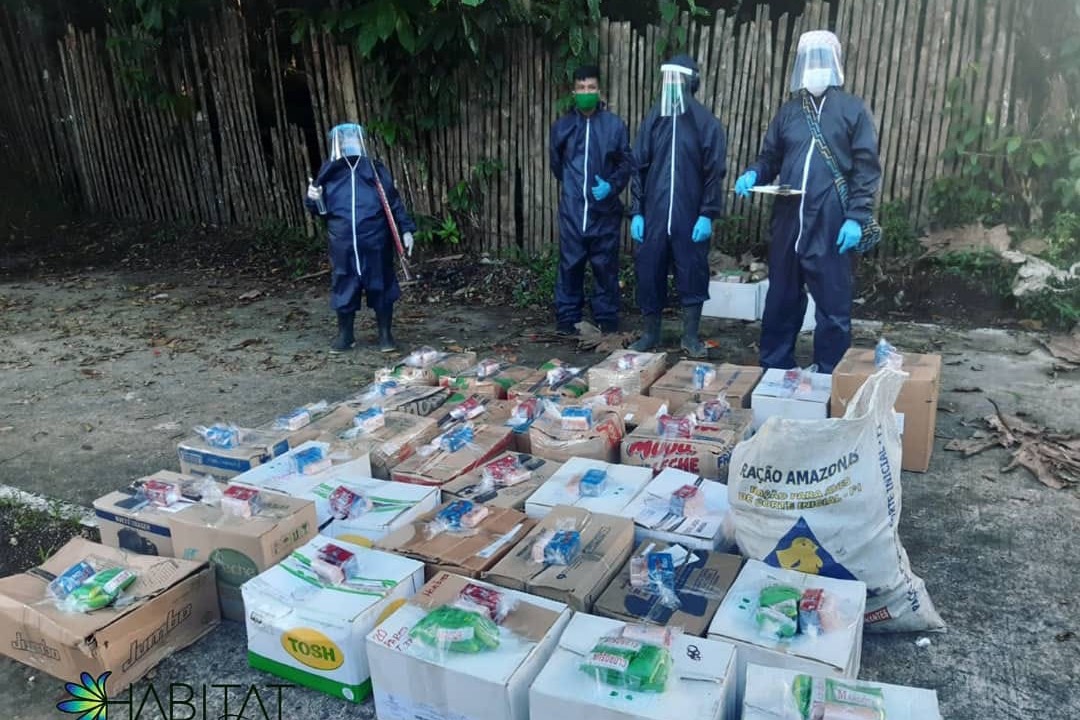 Los alimentos perecederos como frutas y verduras, las proveen los campesinos e indígenas agricultores quiénes pueden comercializarlos a través de #LaCosecha, de esta manera, no pierden sus cultivos y dinamizamos su economía durante la pandemia.
Con solo 50'000 COP (aprox. 12 Euros  / 13 CHF) una familia de 5 personas tiene de comer durante una semana.
También se distribuyen equipos de protección personal (alcohol, gel antibacteriano, máscaras, acetaminofeno, trajes protectores para el personal sanitario). Un kit completo para un puesto de salud es caro, cuesta alrededor de 1'200'000 COP (aprox. 290 EUR / 310 CHF).
Cualquier contribución suma! Mil gracias!
Para seguir #LaCosecha : 
https://www.facebook.com/habitatsur/
Más informacion sobre la fundación Hábitat Sur : www.habitatsur.org
Organizer