Support World Taiko Conference
As Japan and its rich culture draws global attention, this year is the perfect occasion to connect the world with taiko–the instrument and folk art that has been the heartbeat of Japanese communities for centuries.
※日本語文はスクロールしてください※
<About WTC>
In 2020, the inaugural
World Taiko Conference (WTC)
will be held
ONLINE.
This event aims to connect people from around the world through taiko (Japanese drums) and share the wonder of taiko with a wider global audience.
WTC will offer a diverse lineup designed for participants to enjoy regardless of their taiko experience. The program will feature a range of taiko talks and stories, and a platform of taiko pieces that can be shared and learned from all corners of the world.
Starting in North America where the first Taiko Conference was held in 1997, now continued to be held biannually, has then spread to Europe where a taiko conference is held every year since 2016. Now, in the year of 2020, WTC will be the
first Taiko Conference in Japan.


However, with the spread of COVID-19, it has been difficult for people from all over the world to get together.  Hence, we will be holding this year's event
ONLINE. 
<WTC's Mission>
- To further
expand and develop
the Japanese performing art, "Taiko"
-
Facilitate exchange
between taiko enthusiasts (players and spectators alike) in Japan and abroad that delves beyond differences in language, age, and physical ability. 
-
Convey the joy of playing taiko
to all attendees.
Not limited to this one time, we hope to continue to gather again to provide an opportunity to fulfill our missions through various forms.
To find out more about the World Taiko Conference, please visit:
https://en.wtctokyo.com/
<Purpose of this
Crowdfunding Campaign
>
To provide a rich experience for all participants joining us from all across the globe and within Japan. 
As we have all been staying safe at home around the world,  it is difficult to travel domestically and internationally, and playing taiko has been a challenge for most of us with limited opportunities to perform or to practice.  The WTC committee would like to take this time in learning from each other, and looking back at the journey that taiko has developed over time.  
In the new online format of WTC, we will continue to expand and develop the art of taiko, strengthening the community to seek new ways of connecting with one another. 
In light of these extraordinary times, WTC has decided to make the virtual conference free to attend. Removing the registration fees this year gives us the chance to welcome as many taiko friends as possible to take part online from around the globe.  Fortunately, we were able to receive a certain amount of subsidy from the Japanese government.  However, despite the generous contribution of our WTC TALK speakers and volunteer staff, it is still difficult to meet our budget at this time.  
Therefore, we would appreciate your support in helping us run this inaugural World Taiko Conference, so that we are able to provide a high quality program and experience for all participants to enjoy.
We hope that taiko enthusiasts from all over the world will be able to participate, allowing them to experience and gain knowledge that can be brought back to their respective countries and communities.
Leading on from other taiko conferences around the world, we believe that WTC will create a place for further international exchange and new learnings to be passed on to the next generation.
With the success of WTC, we hope that people from around the globe are able to connect with each other and work towards creating an abundant lifestyle through various use of taiko. 
<Sponsorship/Donor Packages>
We have put together the below sponsor packages in the hope that we are able to give back a little to the generous supporters of the event. Please see below for details on each package.
Supporter Package 
Donation Value: 10,000 yen or less
Benefits: Name on WTC Website
Copper Package 
Donation Value: 50,000 yen or less
Benefits:  Your name/company on the WTC Website and in the official WTC videos.
Bronze Package 
Donation Value: 1,00,000 yen or less
Benefits: Your name/company on the WTC Website, in the official WTC videos, and on our T-shirt design (deadline to be on the T-shirt design is September 12th) 
* Please contact the WTC Committee directly if you can support more than the above amount. Details on the different sponsor packages available can be found
here
 .
Thank you for taking the time to read until the end.
In addition to supporting through the crowdfunding campaign, we would appreciate it if you are able to share this page with your friends and community via social media or link shares, and get people involved!
We would like to express our sincere gratitude for the generosity in advance.
********************************************************************
国内外から日本文化が注目される年2020年。
WTCは、郷土芸能をはじめ古来より日本人の生活に息づく太鼓で世界をむすびます。
<WTCとは>
2020年に東京で行われる今回の
「世界太鼓大会」
は、太鼓の素晴らしさを広く世界に発信し、太鼓を通じてあらゆる
人々を繋げる
イベントです。
本イベントでは、コンサートだけでなく、アクティビティ・ディスカッションなど、多様なプログラムを展開し、太鼓経験者だけでなく、誰もが楽しめることを目指しています。
北米では1997年から隔年で太鼓大会が開催され、2016年からはヨーロッパでも大会が毎年開催されるようになり、ここ
日本では本年初めての開催
となります。
しかし、新型コロナウィルスの影響で、世界中からの人が集まるのが難しくなってしまった今、
オンラインでの開催
を行うこととなりました。
<WTCの目的>
1 - 日本発祥の芸能である"太鼓"の
普及と発展
。
2 - 国内外の太鼓愛好家同士での言葉・年齢、身体能力を超えた
交流
。
3 -  来場するすべての人に
太鼓とふれあう楽しさを伝える
。
そして、今回だけでなく、このようなイベントが継続して行われることを目指しています。
「世界太鼓大会」についての詳細はこちらから:
www.wtctokyo.com
<クラウドファンディングの理由>

私たちは、参加者の満足度を高める豊富なプログラムを用意したいと考えています。
世界中でSTAY HOMEが余儀なくされ、自由に国内や海外を移動することも難しく、太鼓の演奏や練習を行う環境も限られてしまった今だからこそ、世界の太鼓界やこれまでの軌跡をより深く知るチャンスに変えていきたいと考えます。
WTCでは太鼓文化の普及と発展を目指し時代を拓いていく、新しいカタチを模索し続けます。
そして今回WTCは世界中一人でも多くの方々にご参加いただくため参加費は無料で実施致します。幸いに国などの助成金を一定額得られる運びとなりました。一方で、御登壇いただいているスピーカーの皆様を初め、沢山のボランティアスタッフの方々にご協力いただいていながらも依然予算の成立が難しいのが実情です。
世界中のより多くの方々に良質のコンテンツをご提供しご参加していただけるよう、皆様のご支援をお願いできますと幸いです。
「世界太鼓大会」に参加し、そこで得た経験や知識は、それぞれの国や地元に持ち帰ることで、さらなる太鼓の「和」を広げることになるでしょう。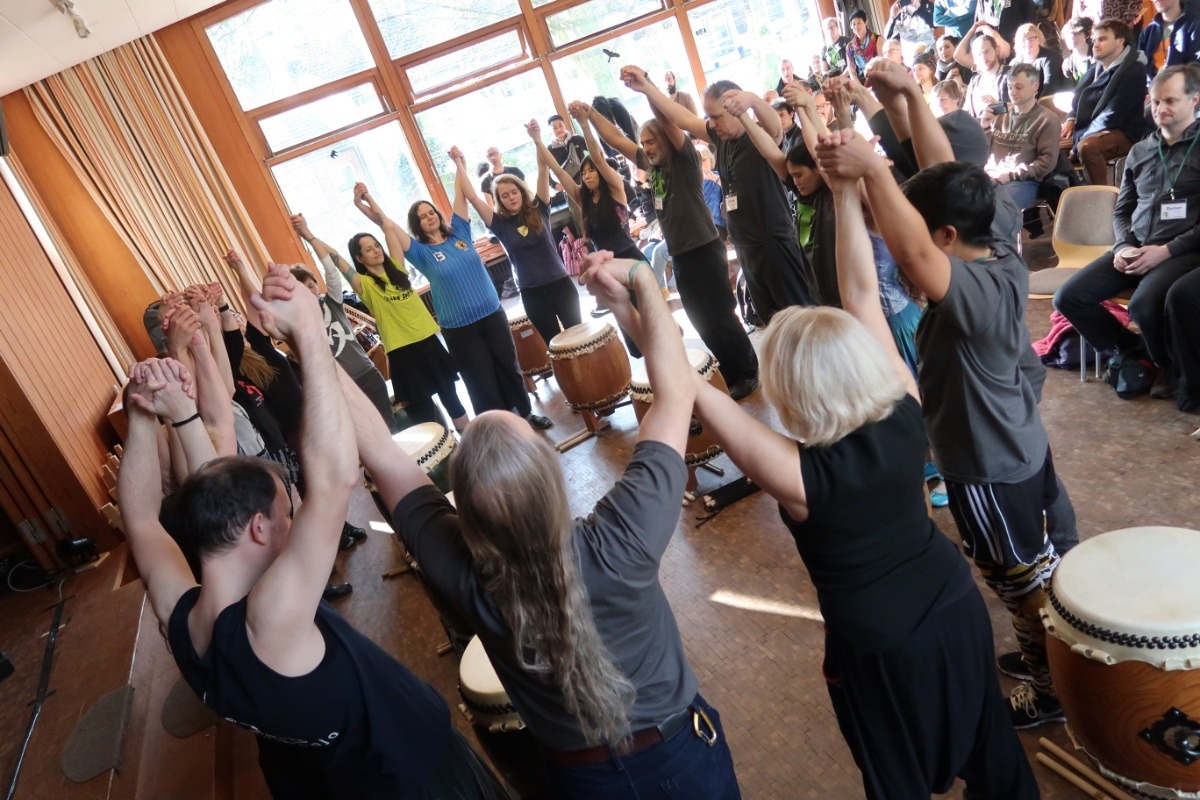 そして、今回の「世界太鼓大会」(WTC)は、太鼓を通した国際的な交流や次世代の学びの場の最初の一歩となります。
私たちは、今回のWTCを成功させることで、世界中の方々が太鼓で繋がり、日常生活の様々な場面で太鼓が活用され、豊かな暮らしになることを願っております。
  <ご支援パッケージ>
ご支援していただいた方々に少しでも恩返しができるよう、こちらのスポンサーパッケージをご用意させていただきました。ご支援を検討していただく際の参考にしてください。
サポーター・パッケージ
金額:1万円以下
内容:WTCウェブサイトに御名前を掲載します。
コッパー・パッケージ
金額:5万円以下
内容:WTCウェブサイト、WTCオフィシャル動画に御名前を掲載します。
ブロンズ・パッケージ
金額:10万円以下
内容:WTCウェブサイト、WTCオフィシャル動画、オフィシャルグッズに御名前を掲載します。*オフィシャルグッズへの御名前記載締め切りは9月12日
※上記の金額以上をご支援いただける場合は、直接、実行委員会へお問い合わせください。パッケージの詳細については
こちら
  をご覧ください。
最後まで読んでいただき、ありがとうございました。
クラウドファンディングへのご支援のほか、本イベントへのご参加、PRページのSNSでの拡散など、様々な形で、ご支援いただけると幸いです。
皆様にご賛同、ご支援を賜りたく、心よりお願い申し上げます。
写真クレジット:日本太鼓財団、North American Taiko Conference、European Taiko Conference
Photo credits: Nippon Taiko Foundation, North American Taiko Conference, European Taiko Conference