Trusting God With Trustens Heart
August 2012, my husband and I were excited to go in for an ultrasound of our baby boy. With our other children and my mom at our side, we couldn't wait to see him. When the Dr. came in and asked if the children could leave the room, my heart sank. He gave our son a rare, life threatening diagnosis of Hypo plastic Left Heart Syndrome (HLHS). We had no idea what that meant, but could tell by his seriousness that it wasn't good. He told us that our baby's heart was severely underdeveloped on the left side and it would not be able to function without repair. There was not a known cause, he said, and even worse, no cure! With only half of a heart, he would need to have at least 3 open-heart surgeries to reconstruct the way his heart was made. The surgeries would be done so that his heart could function as long as it could before it may eventually fail, leaving him in need of a heart transplant.
Completely devastated and feeling helpless, I announced to family and friends our news. We were overwhelmed with friends and strangers who reached out to us, offering sweet words of encouragement and advice. One friend suggested that I read a blog written about a baby with the same condition. She told me that it was very encouraging and had a lot of helpful scriptures to refer to. She shared her testimony with me and reminded me of Gods promises. The name of the blog was Bowens Heart. Bowen is the son of Matt Hammitt, the lead singer of the Christian band, Sanctus Real. What happened after that changed my perspective on the way I handled trials in my life. I spent the last 4 months of my pregnancy, surrounding myself with God's word through scripture and song. Burdened by fear, anger and sadness, I prayed for God to just speak to me and give me answers about why this was happening to our family. Mad at the world because of the way my life was going, I was to the point of just not caring. I hated that life seemed to always give me the bad end of the deal. But this time, it wasn't just me who would have it hard, but an innocent child. Why would God let this happen to someone so precious? Then, the words of my friend began to stand out. Part of her testimony was that God brings people into this world with a purpose, that God places them strategically in our lives to do His work. She wanted me to trust that God would take care of my son.
The lyrics to Matt Hammitt's songs written for his son fit my life perfectly. God spoke to me. The presence of His Holy Spirit was so strong. It was as though every time I opened my Bible, or read a child's story, or heard a song, God revealed to me what I needed to do. I had accepted Christ as my savior, as a child, but through many trials, spent a lot of time doubting Jesus, living selfishly, and not fully trusting God with my life. That was what I needed to do. Give up fighting the world, living for myself and trying to fix everything on my own. I needed to give up ~ and trust.
We named our son Trusten Hamilton. Proverbs 3:5 says to Trust in the Lord with all your heart and lean not on your own understanding. God says to cast all of your anxiety on him because he cares for you. 1 Peter 5:7. I will never understand why Trusten, or anyone has to hurt or go through so many challenges. But for me, I now find peace, knowing that I have made the decision to trust in the Lord as my Savior! I realize that although trials may never end here on Earth, I can still be happy because God loves me and has better plans for us all. I have faith that God will take care of me even through hard times. I find that the more I focus on Him, the less I focus on whatever the problem is. The friend that helped me find hope was Mrs. Kristen Stewart. I will never forget the encouragement she, like many people, gave me at such a hard time in my life. I am forever thankful for the impact her testimony made on my life and her willingness to share it.
Trusten Wayne Hamilton was born on Dec 14th, 2012. We were able to see him for an hour before he was sent to ACH CVICU. He had his first open heart surgery at only 13 days old followed by several months of recovery. We spent many nights split between his hospital room and home with his brothers and sister, torn about leaving either place. At around 3 months old Trusten finally got to come home. The relief we felt is indescribable. The way he continues to fight daily to do the simplest things that come naturally for most, is impressive. Trusten A.K.A T-Dub or T is now 8 months old and has overcome many set backs already. God has protected him and kept him safe. He plays, laughs, and loves just like most babies do. With many very special friends and family who love him, he is truly blessed.
On August 27th he will have his second open-heart surgery. I believe in the power of prayer and am asking that you join us in praying for him. I have given my worries to God and have asked him to protect Trusten.
On December 23,2013,Trusten had to be Intubated. After eating breakfast and watching cartoons his heart rate went through the roof. He will remain sedated until either God calls him home, or until he receives a new heart. We have started testing to make sure he's healthy enough to receive a new heart. Please keep us in your prayers
December 26,2013 Trusten is officially on the heart transplant list. He is stable, sedated and resting ACH until his new heart arrives. He's listed as 1A ~ which is top priority. Prayers are so appreciated!!! We love you all!! Thank you everyone for checking up on us!!
I am ~ Trustin God With Trusten's Heart
Since December 26,2013 Trusten is doing better he is no longer intubated he is making it on his own at this time, praying that a heart will arrive soon. This can be a very lengthy stay at ACH. Where Holly remains by his side 24 hours a day due to her wishes and also the rules of ACH. Trusten has already spent 9 months of this 13 months of life at ACH. Holly has had to quit her job as a LPN due to the fact that Trusten needs her every minute of the day.While Trusten is at ACH disability does not send his disability
check which creates meeting financial needs more difficult. At home Jon and Holly have 3 other children that requires someone to keep the family taken care of. Jon is employed in Sheridan which is a 60 mile round trip he travels daily for work.
If it be your wish to help this family it will be very appreciated. We would like to say thank you for your prayers.
May God bless each and every one of you!
Trusten Hamilton is the Grandson of Randy and Debbie Lott of Lockesburg and George and Kathy Hamilton of Little Rock and Tony and Mandi Underwood of Cumming, Ga
Please feel free to follow Trustens story on Face Book at Trusting god with trustens heart
Please say a prayer for the family that loses a child so that Trusten my live.
For contact information [phone redacted] Marcell McMillian or Debbie [phone redacted]
Donations may be made to Jon or Holly Hamilton 262 N Park av. Lockesburg Ar 71846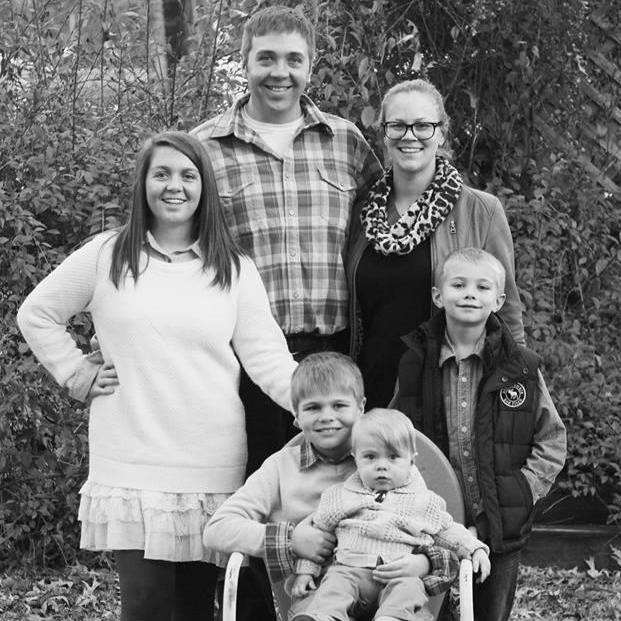 Organizer