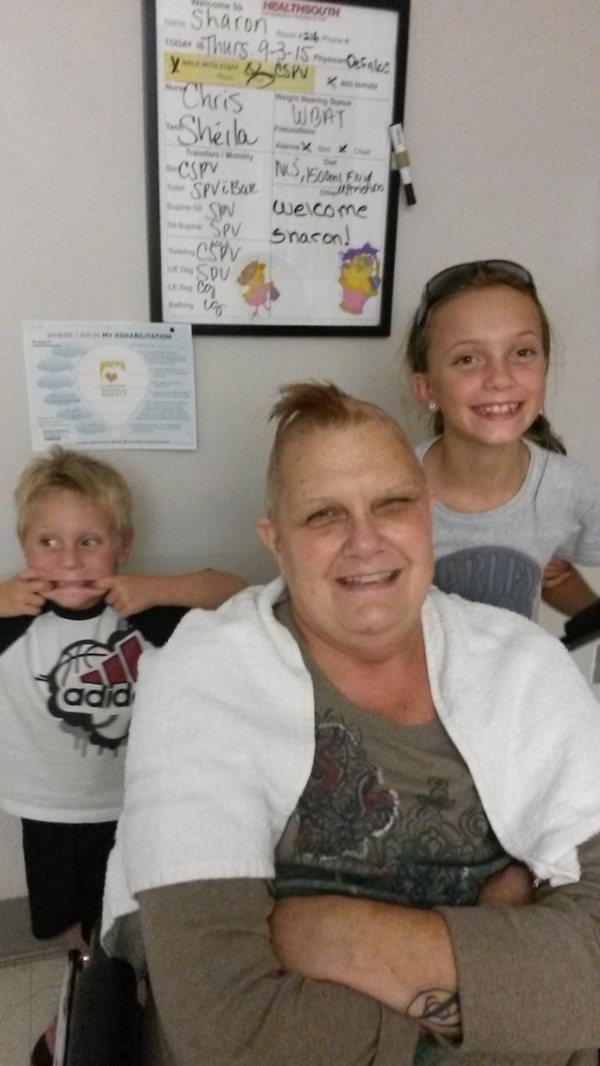 So I want to tell you about my mother-in-law, Sheri.  She is a strong, vivacious woman who loves her family.  She would do anything to help them.  She has 2 grown boys and 3 fur babies.  And her pride and joys of her life, her 2 grandchildren.
Her life took a turn the moment she found out she had breast cancer.  Her heart sunk.  No one wants to hear this kind of news. And the news came after she got to love her her first granddaughter in 2005.   Finally a little girl to love.  Thankfully this was a drive for her to fight.  The chemo and radiation really wore her out. But she still found time for family.
But little did we know, this was not going to be the end to her cancer.  After she thought she was cancer free 6 years later, it was back.  And this was just as she became a grandmother again.  We gave her a grandson in 2011.  Strange how the turn of events happened.  That giving her another grandchild would help her fight the fight so she can see these little guys grow up.
Well Sheri decided that her breast had to go.  She had a double mastectomy so she wouldn´t have to deal with breast cancer any more. She contiplated reconstructive surgery, but thought, I really don´t need those.
Her boys and daughter-in-laws put together a poker run in honor of her.  We called it ¨Save our Moms.¨  We realized that there are so many others that are really struggling with the costs that come with having cancer.  We raised a great deal of funs during our ride.  And Sheri insisted that all the money be donated to the Cancer Center so that others could have a better quality of life.  She took nothing.  That is just the kind of person she is.  Always thinking of others.
Sheri spends a great deal with her grandkids.  She never turns down the opportunity to watch them overnight, go to school events, or even a vacation to the beach.  She even has a tattoo on her forearm with both of their names.  When I tell you they mean the world to her, I am not exaggerating.
This year we planned a trip to the Outter Banks.  And of course, we invited Sheri to come along, as we do every year.  She declined.  Strange since we always vacationed together.  Then we asked to use her vehicle.  Of course she said yes.  And jokingly her son said we are going to drive it on the beach.  Her response, whatever.  This was coming from someone who took very good care of her vehicles and always kept them clean.  I knew something was off.  
See Sheri works with her brother and he came to me one day and asked if I saw a change in Sheri.  She wasn´t as fierce as she usually is, was forgetting things, and sentences just were not ending right.  I told him that is exactly what I was seeing.  She just didn´t care like she usually did.  That was a huge red flag.
Her brother got her to go to the drs right away and after asking a few easy questions the drs knew they needed to do a scan.  And low and behold, the scans showed a tumor the size of a plum on the left side of her brain, the side where the cognitive emotions are controlled.  It was so big it was pushing into the other side of her brain and needed to be removed right away!
Her sons had to make this major decision for her, operate or not, as she was not able to totally understand what was going on.  They wanted their mom back, the same mom they grew up with.  I have never seen these two so emotional.  But the answer was clear.  They had to operate so she could have a more normal life.  If they didn´t she would have frequent seizures.  Not a way to have to live.
Everyone has said, ¨Hasn´t she been through enough?  How much is one person supposed to go through in such a short time?¨  See Sheri lives by herself.  She does eveything that she can herself.  She has a supportive family, wonderful friends, and helpful neighbors. As she was recovering from this major brain surgery, everyone pitched in.  Sheri isn´t able to work until she is cleared from the doctors.  She isn´t even able to drive.  All of us pitched in to get her to speach therapy, physical therapy, and occupational therapy.  No one once complained about helping out.
After she was healed, her doctors decided that she needed radiation to the spot where the tumor was.  But first they needed to do a PET scan.  This is a full body scan that is able to make sure that Sheri is cancer free once again.  She had her scan, the next day the doctors read the scan and called her to their office.  On Wed. Oct. 28th, Sheri got the worst news ever -- the cancer is back, and it has spread.  She has cancer in her liver, her lungs, her lymph nodes, and her brain.  And it is incurable.  She has had all the chemo that her body can possible handle.  There is a cocktail that she can take to help her live more comfortably and possibly longer.  If no action is taken, they are giving her 8 months.
No one ever wants to hear that.  Sheri is a young, vibrant woman with so much more life to live.  As a family we had plans to go to Disney.  I want to be able to grant this wish for her.  And unfortunately, we need to do this as soon as possible while she feels good.
This is why I am reaching out for help.  There isn´t a make a wish program for grandparents.  So I am doing everything in my power to give her this memorable trip with her grandkids.  I told Sheri I was going to do this for her.  I did not ask permission because she would have said no.  She doesn´t like to ask for help.  So as her daughter-in-law, I will ask for help.
We need to do this right away.  Christmas in Disney will surely make her forget for a short time about the cancer.  And let her enjoy the smiles on her grandchildrens faces.  She said to me the other day, ¨I am supposed to watch those kids graduate from high school and get married.¨  This was the hardest thing to hear from her.  I love this woman like my own mother.  And it breaks my heart to see her go through all of this.  I am having a hard time typing this as my eyes well up.  
Thank you in advance for opening up your hearts to help fullfill a dream.
~Brandy