Pictured above is the aftermath of Typhoon Yolanda, which had devastating effects on the Philippines in 2013.
A country with 7,106 islands inhabited by 105,000,000 people is hit by an average of 22 typhoons every year, half of which result in significant casualties. The Philippines consists of far-flung coastal communities that suffer deeply in health care delivery system. A 19-meter shallow draft motorized fiberglass Trimaran Boat has been designed to be readily used in these calamities. While its existence in these disasters is significant, the main purpose of this Floating Medical Clinic is to conduct ongoing medical missions and create Montero Medical Missions sustainable healthcare projects including: Eyesight 20/20, Prosthesis, Dental Care, Diabetes Screening, Women's Health, Food4Children.
Mike Smith, CPO, is Chairman of MMM Prosthetic project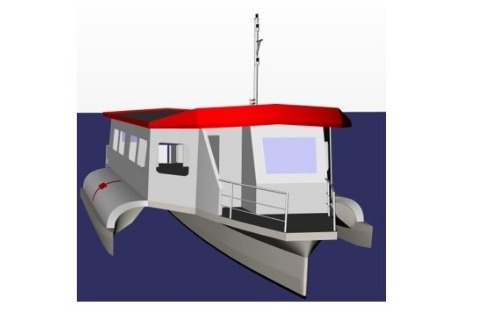 Trimaran-style Floating Medical Clinic
Dr. Warren Sachs, Co-chairman of MMM Dental Care project with Vicki Brett, RDH
Post-Op Cataract Patients in Tandag
Dr. Peyton Neatrour, Chairman of MMM Eyesight 20/20 Project
Dr. Chris Buniel, OD, Chairman of MMM Eyesight 20/20 Project, Philippines
A group of Physicians, led by Dr. Shawn Espina, a General/Trauma Surgeon in Cebu City, will oversee the operations of this novel floating facility. We believe the Trimaran, accommodating up to 50 people, will be a public-private initiative that will surely promise sustainability through a consortium of corporations; foundations; service organizations i.e. Rotary Clubs, Lions Clubs; medical/nursing schools; shipping company(s); tourism; government agencies, philanthropists.
The Floating Medical Clinic has been designed and quoted by Evercat Asia, Inc. in Mactan, Cebu. This boat is fitted with solar power (6 solar panels, 4 pcs 200 ah Battery). The quoted price of $300,000 USD (16,000,000 pesos) includes the fiberglass Trimaran hull as well as life saving equipment such as life rafts, life jackets, life buoys. The boat will be fashioned with all navigational equipment needed for inter-coastal voyage as required by Authority and Class. This project can soon be made a reality with people like you. Whether your contribution be monetary or nonmonetary, any support is welcome and greatly appreciated! Kindly share this post as a sign of your philanthropic effort. Thank you.
All donations made through PayPal Giving Fund will be tax deductible and will be used for the sole purpose of funding this sustainable Floating Medical Clinic.  Donors will be graciously acknowledged, and accordingly. 
Visit our website: monteromedicalmissions.org
Fundraising team: MonteroMedicalMissions (2)
Juan Montero
Organizer
Raised $1,480 from 16 donations
Chesapeake, VA

Montero Medical Missions Inc
Registered nonprofit
Donations are typically 100% tax deductible in the US.
Vincent Medina
Team member
Raised $100 from 1 donation