When I am weak then am I strong – 2 Corinthians 12:2
Welcome! This page was set up by two brothers, Niko and Mikkel, for their father,
Trygve Bolante
, who suffered a heart attack, underwent a failed angioplasty and survived a difficult – as his surgeon described it – triple-bypass surgery in the past few days.
Trygve is a 62-year-old from Manila, Philippines. His career has been dedicated to development work and government service, helping civil society groups and government agencies see sustainable development gains. In his private life, he is known by his friends as a born comedian, always ready with a joke for any occasion. He is part of an all-male singing quartet specializing in traditional Filipino serenades. He is also a cycling aficionado, riding his mountain bike every weekend to meet with his cycling club over breakfast.
Nine years ago, though, he went through a difficult period when his loving wife, Flory, was diagnosed with leukemia, a group of cancers that begin in the bone marrow and result in high numbers of abnormal white blood cells.
Flory, during her painful years-long battle with cancer, taught her family and friends the meaning of strength. If courage is described not by the absence of fear, but the ability to overcome it, then strength, real strength, is not the absence of weakness, but rather can only be shown in moments of adversity.
One of our strongest memories during that time was her defiantly walking into the emergency room with what we later found out to be blood numbers so low that medical professionals were flummoxed how she could even be conscious.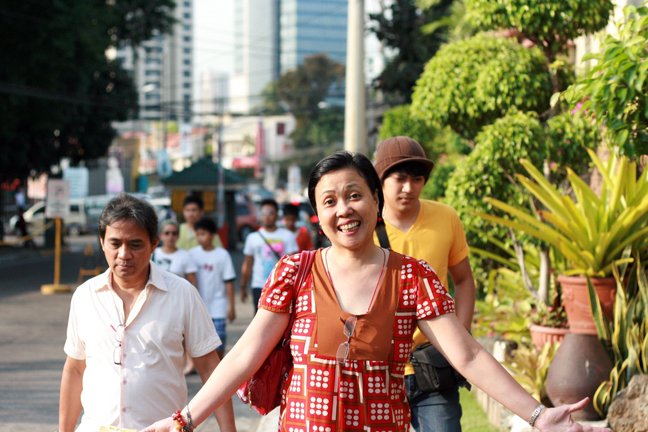 We honored her by placing this Bible verse on her epitaph: "When I am weak then am I strong – 2 Corinthians 12:2." 
Trygve, though, taught a different lesson. He showed loved ones the meaning of heart. He left his job to be able to spend every moment with her, accompanying her to every chemotherapy session, every search for alternative healing methods, every prayer meeting.
He emptied out the family savings, sparing no cost and thinking only of her recovery. (And even then, it was far from enough – we weathered it only through the unending support of our amazing extended family, who went above and beyond to help us.)
And though we were able to score a victory over The Big C – Flory went into remission and enjoyed some of the finest years of her life with renewed purpose – when the time came for us to bid our beloved Mom goodbye in 2011, it was our Pops, the man who had every right to hurt the most, that served as the pillar of strength for us during those dark days.
Our mother taught us strength and our father taught us heart, and the time has come for us to show how much we've learned.
Last Wednesday, we brought Trygve to the emergency room after he complained of chest pains in the morning. Much like Flory before him, he walked in on his own two feet – even telling the attendants that on a scale of 0 to 10, his pain level was at 0 – only minutes before the doctors scrambled following tests that revealed he suffered the characteristics of a heart attack and had to be prepped for an emergency procedure.
His doctors attempted an angioplasty on him, but the blockage in his blood vessels proved too hard for them to successfully complete it, instead placing an intra-aortic balloon pump to increase cardiac output and scheduling him for a bypass surgery.
The morning after fighting for his life in the operation, with a breathing tube in his mouth and countless machines assisting his systems, he faintly but defiantly gave us a thumbs-up signal.
It was his turn to remind of the lessons our mother taught, of strength overcoming weakness.
Now it is our turn to show him the heart he once displayed, our turn to give him the chance to live out his finest years as he gave our mother all those years ago.
We are now doing everything we can to raise funds for his recovery. Though both of us have worked hard through the years to grow our personal accounts through disciplined saving and smart investing, we find ourselves in the same dilemma our father once found himself in: it is not enough.
We are exhausting all options available to us. We are getting in touch with government offices that can offer financial assistance. We have reached out to family and friends, old classmates and work buddies. But we, too, have always believed in the kindness of strangers.
So we invite all those willing and able to share what they can with a pledge from us that we will pay it all forward in the future. See, in the days that we have been in the hospital, we have heard countless heart-breaking stories from others going through difficult ordeals. There are tales of families considering selling their homes to keep up with medical bills. There are those forced to travel over 400 kilometers with no place to stay in Manila just so they can have an operation unavailable in their own provinces. We pledge that any excess to our goal will find its way to some of these wonderful people we have met here who may be unable to set up fundraising campaigns on their own.
While Trygve's physical heart may have shown weakness, we know that his heart – that which he passed onto us and we hope will touch some of you as well – will overcome.
When I am weak then am I strong – 2 Corinthians 12:2