End Second-Class Citizenship
$63,579
of $60,000 goal
Raised by
1,087
people in 37 months
This summer, part of Bill C-24 went into effect, officially creating a two-tier citizenship system. 
As a result of this new law, dual citizens and people who have immigrated to Canada can have their citizenship taken away while other Canadians cannot.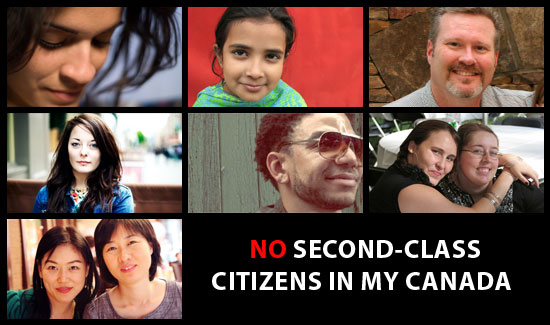 For the first time,
unaccountable bureaucrats inside the federal government are able to take away the Canadian citizenship of dual citizens, and throw people into exile
if they commit certain serious crimes, even if they have already paid for their crimes through our criminal justice system.
Ottawa will also be able to strip Canadians of their citizenship if they are convicted of offences by other countries –
even if those countries are undemocratic dictatorships without a fair justice system.
That means that Canadians who came from undemocratic countries to build new lives in Canada are at even greater risk.
The only Canadians who can never lose their citizenship are those born in Canada who do not have (and are not eligible for) another citizenship. No matter what crimes they may be accused of, these first-class citizens can never have their citizenship taken away.
Taking rights away from Canadians because of where they were born, or where their families come from? That's un-Canadian. It weakens Canadian citizenship for all of us. And it's just wrong.

That's why the BC Civil Liberties Association and the Canadian Association of Refugee Lawyers are taking the federal government to court.
We need you to stand with us against this unfair law that turns more than a million Canadians into second class citizens.

For the last 50 years we have fought to defend human rights, and we know how to win. But we can only do it with your help.
We're a small team, unaffiliated with any other organization in the country.
We exist, and are able to do our work, only because of the generous donations of our supporters.


Our court challenges are carried out by pro bono counsel working for free because they believe in our work, but moving forward a case like this still costs tens or hundreds of thousands of dollars.

Your support, big or small, will help us win. Please join us by donating now, and stand up for equal citizenship for all Canadians.
Learn more here at the case website.
Read the Canadian Association of Refugee Lawyer's Backgrounder on Bill C-24 in
English
,
French
,
Spanish
,
Farsi
,
Urdu
,
Hindi
,
Arabic
,
Chinese – traditional
,
Chinese – simplified
, and
Filipino
.
*Note: donations to this campaign will be fully tax receipted. We will be doing this manually, so you can expect the receipt via email in a few weeks.
+ Read More