Anita Rios for Ohio Governor
$1,325
of $5,400 goal
Raised by
19
people in 43 months
Anita Rios is the only candidate for governor who will:

Establish fair education funding
Fight for women's rights
Protect our natural resources
Reform the criminal justice system
Support a hemp-based economy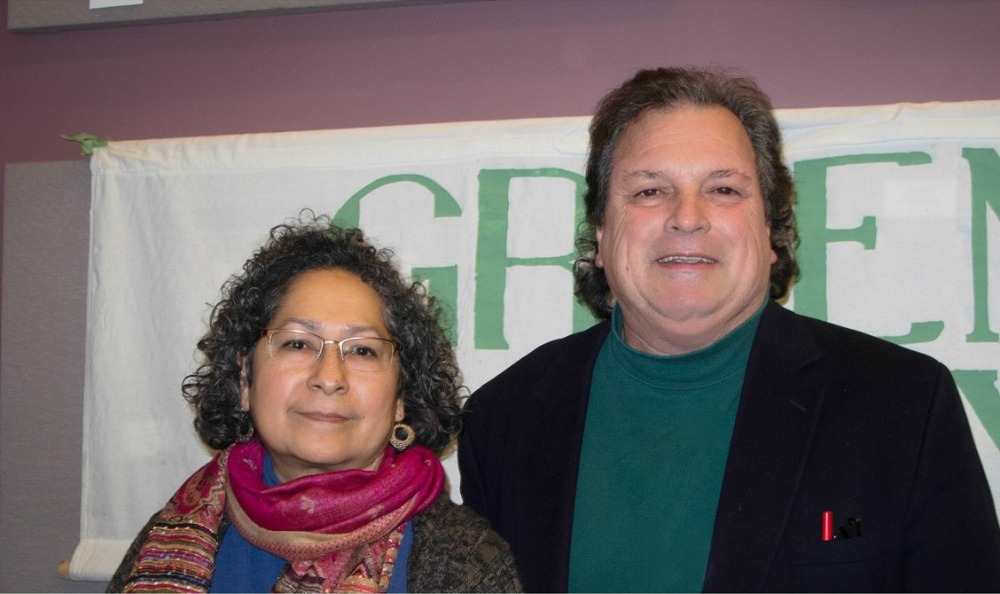 Pictured: Anita Rios with running mate Bob Fitrakis


We need more Ohioians to hear Anita's message. Help us raise $5400 by September 30th so that we can air commercials in targeted cities across Ohio.


On the Lake Erie water crisis: "It is truly frightening that Toledo being a Great Lakes port sits on the largest source of freshwater in the world and yet we currently have no drinking water. This is an entirely man made crisis. For years we have seen the algae blooms on Lake Erie and we know that this is directly related to the runoff and pollutants that result from home and farm fertilizers. In addition, Toledo has needed to upgrade its water filtration system but due to the cost has kicked that can down the road. For years these problems have gone on and it has simply been dumb luck that has allowed us to go this long without implementing solutions.

Most likely it will be mother nature that eventually saves us by sending in a summer storm that blows apart the algae and allows the toxins now contaminating the water to dissipate. But the real solution has to be wiser stewardship of the land and investment in our infrastructure. A first step in becoming better stewards of our precious water is a ban on lawn fertilizers that produce nothing and contribute to harmful runoff. Certainly the revenue lost by lawn care companies can be offset by the business created in the redesign of indigenous plant friendly lawns."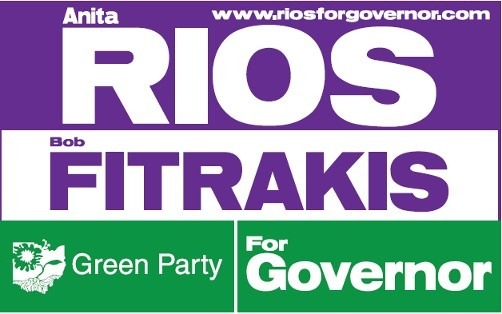 Bio: Anita Rios was born and raised in Toledo and grew up as one of eight children of parents who were Mexican American migrant farm workers. Her parents still live in the two-bedroom house where she was raised. Spanish was her first language, but she still managed to get her G.E.D. and graduate from the University of Toledo.


Like many Americans, Anita has worked in a variety of low-wage jobs, as well as jobs with better wages and benefits because of union contracts. As a result of her strong communication and organizing skills, she was elected to head the union at the Zepf Community Mental Health Center, which serves Lucas County with a wide range of behavioral health services. She negotiated two union contracts, and was the union's representative to the regional labor council of the AFL-CIO.

A longtime Green Party activist and proponent of one-person-one-vote democracy for all people, Anita was active in the Ohio recount after the November 2004 election, and served as the lead plaintiff in the Rios versus Blackwell lawsuit. That case was filed in Federal District Court in Ohio in December 2004 to try to stop the Electoral College from certifying Ohio's electoral votes when so much fraud and obstruction had occurred during the 2004 campaign and election in Ohio.

Anita has been married to Robert Hannon, a really cool mail man & co-founder of the Toledo City Bike Co-Op, for 30 years. They reside in the Old West End. Anita has raised two sons, Gabriel and Alexander, and is honored to be considered a second mom to several young men who she has welcomed to her kitchen and fed a time or two.

Rios serves on the Central Committees for both the Lucas County and Ohio Green Parties and was most recently employed as President of the Ohio chapter of the National Organization for Women (NOW).


Website:  http://www.riosforgovernor.com
You an also donate by sending a check made out to Rios For Governor to:

Rios For Governor
151 N. Michigan St. Suite 201
Toledo, OH 43604
+ Read More