Cheddleton's European Campaign
€3,298
of €3,000 goal
Raised by
62
people in 28 months
Hello everyone,
It is that time of the year again... Autumn has dawned on us and the European Club Cup (the chess equivalent of the Champions League), which will take place in Novi Sad from 5-13 November, is just around the corner.
After our debut in the ECC last year (which I touched upon in the following piece:
https://chess24.com/en/read/news/behind-the-scenes-at-the-4-nations-chess-league
), Cheddleton are planning to be back with a vengeance this time around. In 2015 we finished in 22nd place after an unlucky finish, losing the last two rounds by the smallest of margins.

This time around the team boasts an even higher average rating, and with a starting rank of 17 we can realistically hope to be the first ever English team to finish in the top 10 in this competition. You can find all the participating teams and their line-ups here:
http://chess-results.com/tnr239337.aspx?lan=1
However, unlike many other of the top teams, we don't have a sponsor to financially support us in our endeavour. Which is why, like last year, I have decided to launch this fundraiser. And just like last year I would like to highlight that the money we're trying to raise will only contribute towards our expenses and that nobody on the team will be paid to play.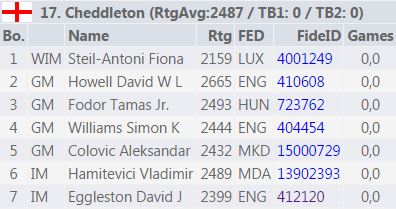 But let me briefly introduce the team. Once again, our European campaign will be led by former British Champion David Howell. Next up is the one and only Simon Williams (aka GingerGM), who surely doesn't need any introduction. The other two grandmasters are Tamas Fodor, who lives and teaches chess in London, and Alex Colovic, who has been a member of the team for many years and posted one of the best overall performances at the last ECC. The IMs on the team, David Eggleston and Vladimir Hamitevici, have two GM norms each and it is only a matter of time before they will get the title. Some of you will remember 'Eggy' for his spectacular performance at the British Championship this summer. Finally, I will be serving as team captain and supersub (although most probably not on first board, as listed above).
I also like to stress the fact that we play with pretty much the same team throughout the entire 4NCL season (with the addition of 2-3 other players) and that besides being a decently rated team, we are also really good friends who enjoy representing Cheddleton together.

In order to make donating both more appealing and more fun, we have come up with a little 'rewards' model (you can obviously also donate without taking up this offer).
Donate £10 or more = Get a postcard from Novi Sad signed by the team
Donate £20 or more = Get a postcard from Novi Sad signed by the team plus a player of your choice
OR Play one of us during a Twitch stream
Of course you can also donate in Euros, or any other currency of your choice. (I will refrain from making any bad Brexit jokes, but the equivalence for the prizes will be the same for Pounds and Euros.) And if you know someone who knows someone who owns a company or business who have always been looking to sponsor a chess team, do not hesitate to put us in touch (we are happy to wear t-shirts, use pens and do all sort of silly publicity stunts).
Thanks a lot for reading, and even if you don't want to (or cannot) support us financially, just keeping your fingers crossed for us during the tournament will do! :)
Fiona
+ Read More
Update 2
Posted by Fiona Steil-Antoni
27 months ago
Share
WE MADE IT! :) Thanks a million to everyone who so kindly and generously donated, or supported us otherwise! We will try our very best to make you ladies and gents proud in Serbia!
I will close this page on 10th November, a week from now. Every other donation that comes in until then will further contribute to our European quest. And of course the postcard offer still stands! :)
Thanks again from everyone on the team, we really really appreciate it!
+ Read More
Update 1
Posted by Fiona Steil-Antoni
27 months ago
Share
Good morning world! :) First off - we have almost reached the 1000€ benchmark and on behalf of the entire team I would like to thank everyone who has so generously donated already!
Today is a very special day as David Howell, Vladimir Hamitevici and myself will be streaming for 12 hours to raise more funds towards our European journey! Special guests will include Simon Williams aka GingerGM and MikeyG! Join us at
www.twitch.tv/fionchetta
at 3pm CET for both a lot of chess and a lot of nonsense!
+ Read More
Read a Previous Update
Be the first to leave a comment on this campaign.