Camera trapping in the cloudforest
€2,490
of €20,000 goal
Raised by
21
people in 24 months
Look up! Camera trapping of elusive mammals in the Costa Rican cloud forest.
by
Ernest Minnema
As an enthusiastic tree climber with a love for tropical biodiversity – why not combine the two in one of the most extensive camera trapping projects in Central America?
Working as a Resident Naturalist on the Costa Rica campus of the University of Georgia, I have been encouraged to set up my own research project, putting my passion and expertise to the service of research and conservation in this beautiful area. Here, I will share this passion with you in the hope you will get as excited about it as I am.
Different camera trapping programs have shown us time and time again, cameras are an extension of our eyes into the forest. They sit there quietly, waiting to witness what wildlife happens to unfold before them. Cameras on the ground have allowed researchers to track animal populations throughout remote areas, giving us new perspective on the tendencies and patterns of the animals with whom we share a home. But are we missing something? Look up! Anyone who has been to a tropical rainforest knows, some of the most exciting wildlife extends far above the forest floor and into the dense and diverse canopy. Birds, monkeys, and even some species such as porcupine, kinkajou, coati, and the elusive margay spend much of their lives out of sight, but certainly not out of mind of scientist everywhere.
Our campus is located in the world famous Monteverde cloud forest area (UGACR:
www.ugacostarica.com
). Its unique location on the edge of the Monteverde-Arenal protected zone, combined with the campus' holistic approach to sustainability and reforestation, makes this an enchanting place for anybody interested in conservation and research.
Cloud forest and mammals. Why should we care?
Cloud forests are an amazing ecosystem because of high diversity, endemism and their ability to capture water from the clouds. Besides, the fact that this ecosystem covers less than 1% of the total forested lands in the world makes it a very special habitat. These forests are severely threatened by uncontrolled land conversion and global climate change, and it is impossible to say how much has already been lost worldwide. In Costa Rica an extensive part of this unique habitat has luckily been preserved in some of the oldest and largest private reserves in the country. However, despite decades of research, there is only fragmented information available on biodiversity in this area, and in particular about the mammal species that live in these forests. It is essential to collect sound information on these species, as these often charismatic creatures can influence conservation management decisions regarding the protection of this threatened ecosystem and its inhabitants.
Surveying mammals in tropical forests is a difficult task, even for terrestrial species… for arboreal species, it is that much harder.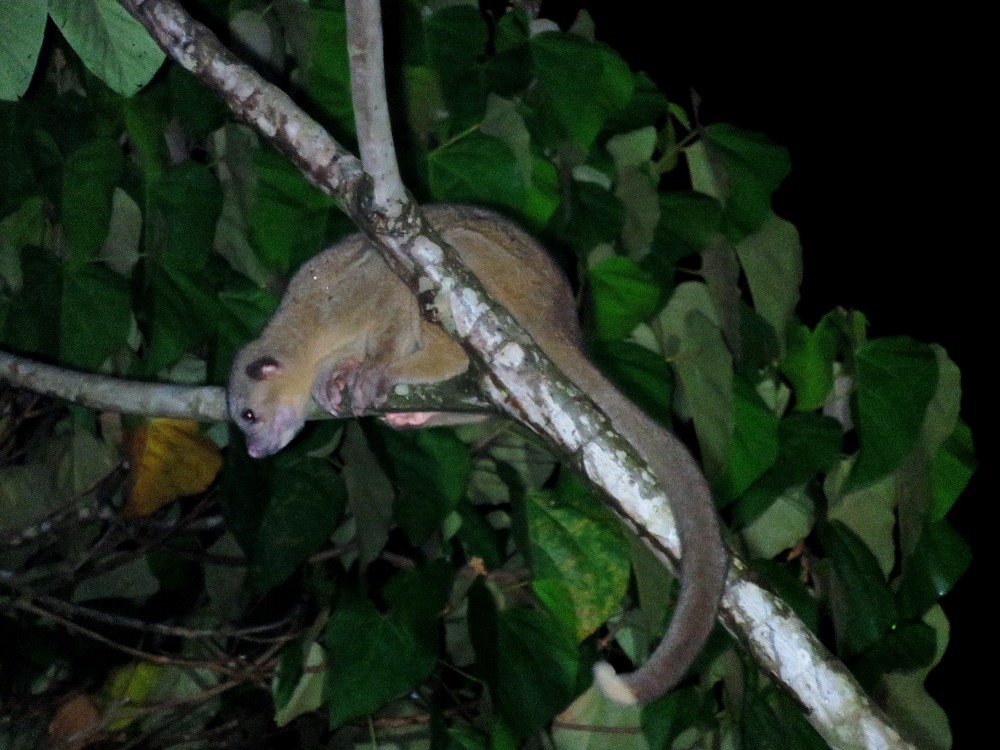 Kinkajou (
Potos flavus
)
Trying to study mammals in hot, humid and bug infested conditions while working your way through
thick vegetation and spiny vines is not everybody's idea of a walk in the park. Besides, many rainforest mammals are shy or only come out at night, like the elusive, rarely encountered jaguar - even by people that spend years of their lives in the forest. Having your research subjects sometimes well over 30m above in the canopy (like monkeys and kinkajous) is an added challenge in the daytime, and near impossible at night. This is why we still know very little about arboreal mammals. The study of these animal communities that seem to be very sensitive to human encroachment is essential if we don't want them to quietly disappear from the world's tropical forests.
The effect of visitors
Besides the fact that there is little known about mammals in cloud forests in general, there is also very little known about the effect that visitors (like tourists and scientists) have on their populations. That we don't see them, doesn't mean they don't see us!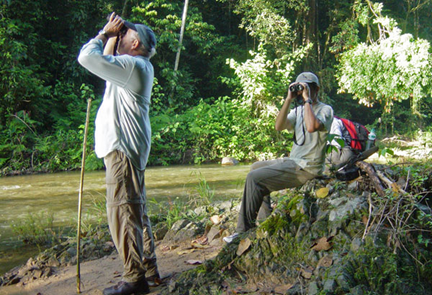 Ecotourism
With ecotourism being the fastest-growing sector in the largest service industry, tourism, and Costa Rica being a major player in this market, the country is facing important decisions concerning the impact of all these visitors. While visitors contribute greatly to the protection of natural areas by generating income and knowledge, they can put pressure on the animal communities by simply disturbing their activity patterns with their presence. Therefore, gathering information on the impact of visitors to natural areas is an essential tool in the decision making process of conservation agencies and governments.
How?

With recent developments in the success of detecting secretive rainforest animals using camera traps, this method is becoming more popular for arboreal inventory of animal communities as well.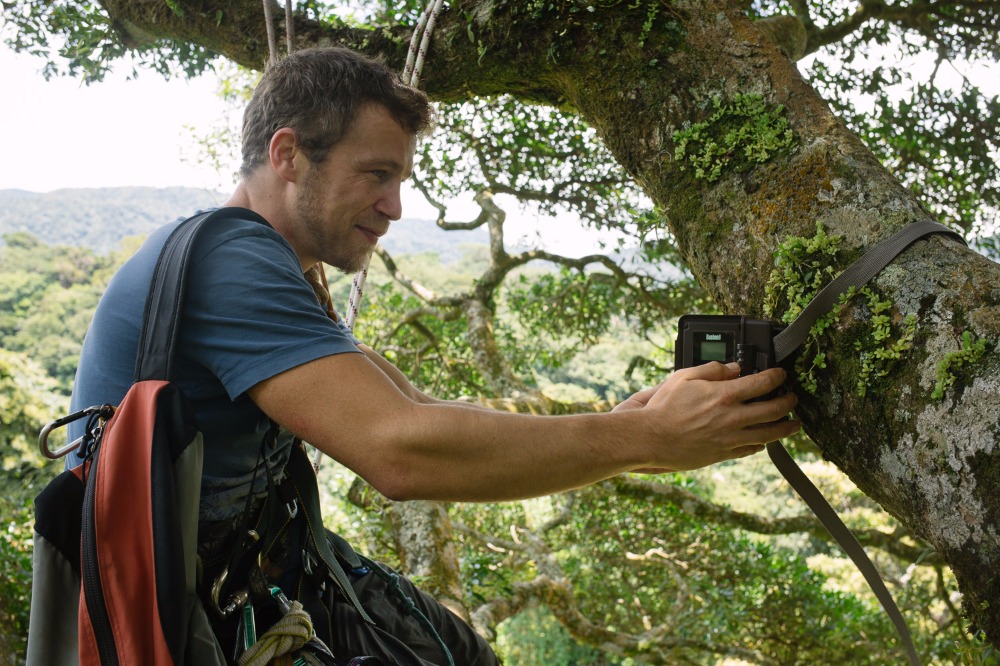 Camera installation (Photo: Rachel Eubanks)
Traditionally, arboreal rainforest mammals have been studied using ground-based inventory techniques. Camera trapping seems to have considerable potential for the study of elusive, charismatic and threatened mammal species, both terrestrial and arboreal. We will be using a combination of camera traps throughout different heights in the forest to create a three-dimensional picture of the mammal communities in the area. These cameras will be divided over two plots. One plot is in a high activity area and the other in a low activity area, to assess if the human presence has any effect on the number of species that are detected and their activity patterns. Ten cameras will be placed at ground level, while the other twenty will be distributed amongst different heights up to 30 meters (which is about as high as a 10-story building).
We will leave the cameras out in the field for an initial 2 weeks, after which we will go out and check what they have captured – the most exciting part of the research!!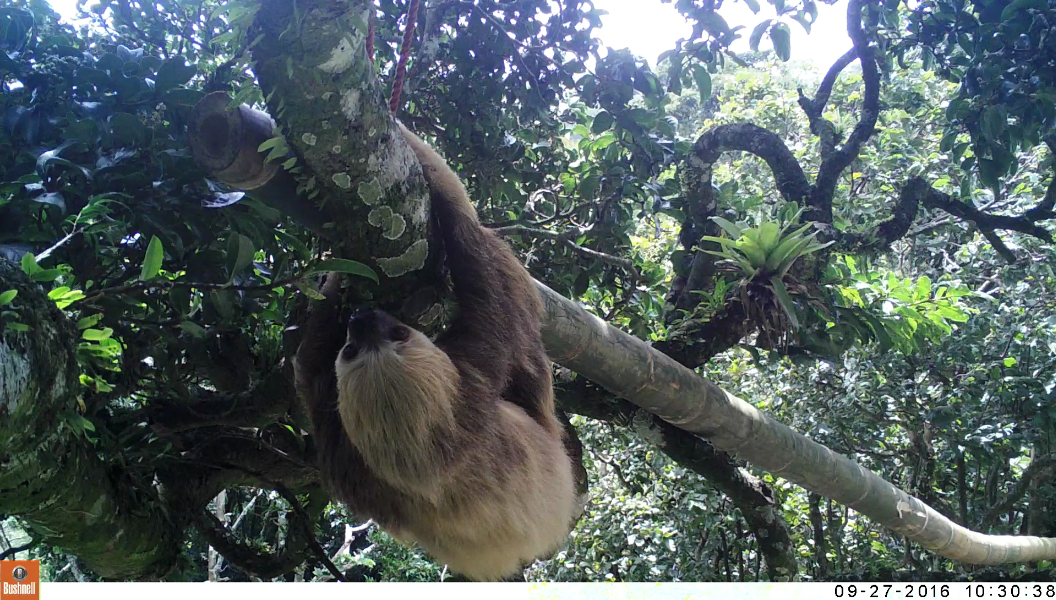 Hoffmann's two-toed sloth (
Choloepus hoffmanni
)
Where?
T  he cameras will be placed in the reserve of the University of Georgia's campus in Costa Rica. Nestled in the Tilaran mountain range in the province of Puntarenas, Monteverde is famous for its cloud forest ecosystem and biological diversity, which makes it a major ecotourism attraction in the country.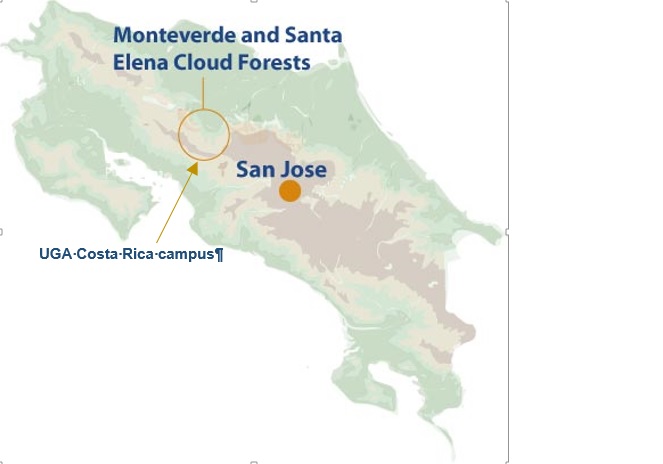 Location research site
The campus is strategically positioned where the Monteverde Conservation Zone and the Bellbird Biological Corridor converge, bordering the Monteverde Cloud Forest Reserve. The Monteverde Conservation Zone is comprised of a series of interconnected private and state-owned protected forests. Together, these forests represent a contiguous tract of 86,000 hectares (212,510 acres) of land designated strictly for conservation, research, education, and ecotourism. The area is one of the most biodiverse regions in Costa Rica.
You can help!
The research team will be provided with room and board at the UGA Costa Rica campus and pay for much needed transport and other additional costs. Nonetheless, the project will need to invest in the essential hardware to get started. That is where your help will be valuable! The estimated costs to start the project are $10,000, which will cover:
·
The so-called fundamental survey option with 30 camera traps (incl. batteries and memory cards) which will cover an area of 65 ha. This is an area that could be compared to about 120 soccer fields and potentially overlap with habitats of endangered species like the Oncilla and the Central American spider monkey                  $7,000
·
Essential climbing equipment for 3 persons to get the cameras safely up in the trees                 $3,000
Any funds that we receive above the stated amount will be used for a "deluxe" version of the survey by expanding the project into adjacent reserves which could result in covering an area over 10,000 ha., thereby covering habitats of more species and possibly adding the territory of larger elusive cats like the jaguar.
Your donations will create the foundation for a high-impact research project that can run for multiple years, used by a range of scientists and students to increase our knowledge about this precious ecosystem.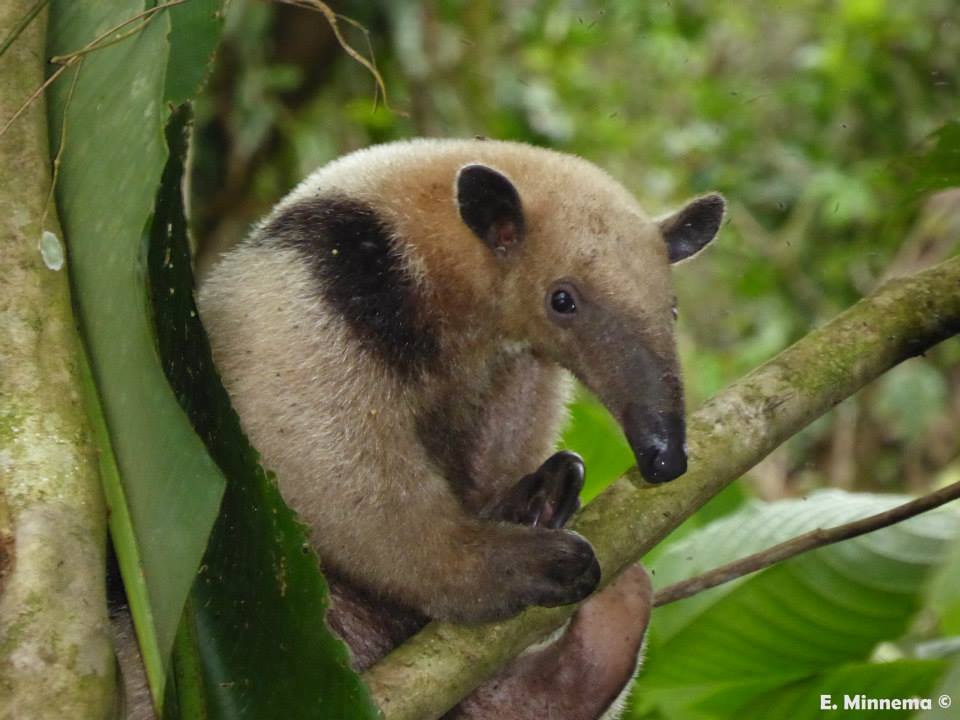 Northern tamandua (
Tamandua mexicana
)
Many thanks for reading through my funding request. Please share my page with all your connections to make this study a success.Ernest Minnema
For more information visit my weblog at
https://ernestminnemablog.wordpress.com/
or send me an email
e.minnema@gmail.com


Feature photo by Rachel Eubanks
www.rachel-eubanks.com
+ Read More
Be the first to leave a comment on this campaign.