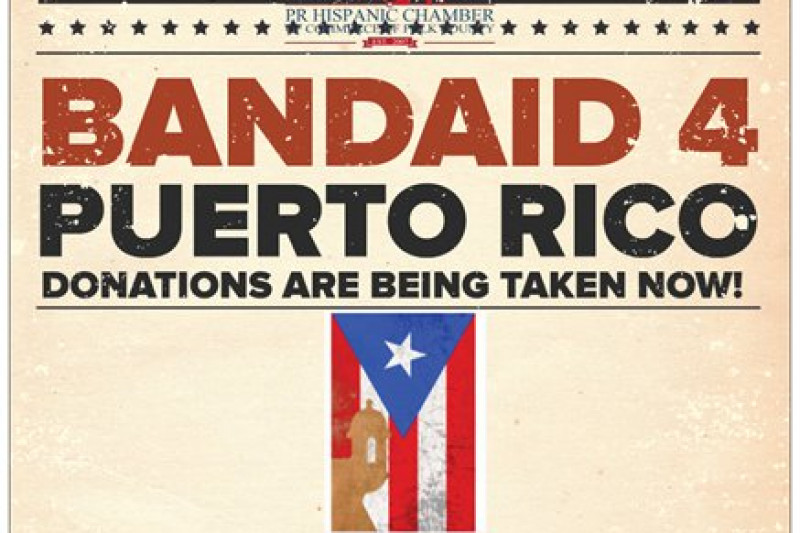 34
14
BANDAID 4 PUERTO RICO
$8,280
of $8,995 goal
Raised by
35
people in 5 months
Created September 23, 2017
The passing of hurricane Maria over Puerto Rico, left not only 3.5 million inhabitants without the basic necesities, but it also left the 5 plus million Puerto Ricans that live on the mainland with no other choice but to band together to help raise their homeland back to it's "shinning star of the Caribbean" status. 
Together with the PR/Hispanic Chamber of Commerce of Polk County we will be holding collections of first necesities, fundraising events and a drive to help with the cause. All this to benefit an island in desperate need to get out from not only it's fiscal crisis but a atmospheric catostrophe. 
Join our facebook public group page "BANDAID 4 PUERTO RICO" as we help heal Borinquen. 
Puerto Rico will rise my friends from the ashes like the Phoenix!
Puerto Ricans siempre presente, ahora nosotros presente para Puerto Rico. Give what you can. Share our cause with family,friends,co workers, community leaders, your employers heck even strangers.
These funds will go to help with the rebuilding of the Puerto Rican spirit and its communities. The funds will go towards shipping the donated items that as a community we continue to collect.
Let me share our plan:
The following is all about our goals with this campaign:
Who am I? Ana Rivera - Founder and President of this chamber
Who are we?
PR/Hispanic Chamber of Commerce of Polk County - 
Where you're from: I am from Ciales Puerto Rico and currently live here in the beautiful city of swans Lakeland FL.
My relationship to the parties we're raising funds for;
My relationship to my countrymen and women on the island of Puerto Rico being Puerto Rican heritage myself.
How the funds will be used you ask? They will be used to help with the cost of shipping containers full of relief effort merchandise to those in Puerto Rico. Additionally to feed those volunteers who have given of their time towards this immense task. To help some of those who have relocated to our Florida shores. To other organizations needing of our help to shipgoods. To give thanks to all of those who have donated of their time, sweat and funds. This does not stop here.
Our next phase is to adopt municipalities to send specifi items of need to them. Be it food, medicines, material to rebuild , gas cards, gift cards etc.
Our intention as a group is to make sure these donations collected by over 25 members of our chamber reaches the correct hands on the island. We are working with United City , the Downtown Farmers Market of Lakeland , The Rotary Club of Lake Wales to make sure the churches affilaited with BANDAID 4 Puerto Rico receive the items to help those they serve.
Pictures and videos have already highlighted much of our work.
Our BANDAID 4 PUERTO RICO Facebook page has list Donation Stations are allover Polk County Florida. Visit our website for more info. Or contact A Rivera at 863-838-2084
http://www.prhccpc.com
"We must live like angels and produce like the devil" - Governor Luis Munoz Marin
We are a non for profit 501 (c) (6) organization and as such we do not endorse any political candidates nor any political organizations.Our chamber is an organization with members in the small Hispanic and Non Hispanic business community located in Polk County, Florida. PRHCCPC is looking to work closely with local Puerto Rican, Hispanic and Non-Hispanic members of the educational, cultural AND business community. Allowing them the opportunity to access education, networking, marketing and growth potential inside and outside of the Polk County area. No matter how large, small , or even if you are on your way to beginning on starting your dream business, or simply would just like to want the opportunity to network with a dynamic group of people that make the current diverse and dynamic membership, we will be your chamber to help you get empowered.
As a group of people within this organization we are supported and mentored by groups within our community from businesses to houses of worship. We are also a bi-partisan organization interested in hearing both sides of the issues pertaining to our small business community. The PRHCCPC is not a threat , it is a force to empower the growth and enterprising spirit of it's diverse community .Helping with the opinions to empower and make things matter and happen , when it comes to growing our community through our mantra of ....
Community , Culture and Business.
+ Read More