Baby Vargas Adoption Fund
$6,645
of $39,000 goal
Raised by
40
people in 34 months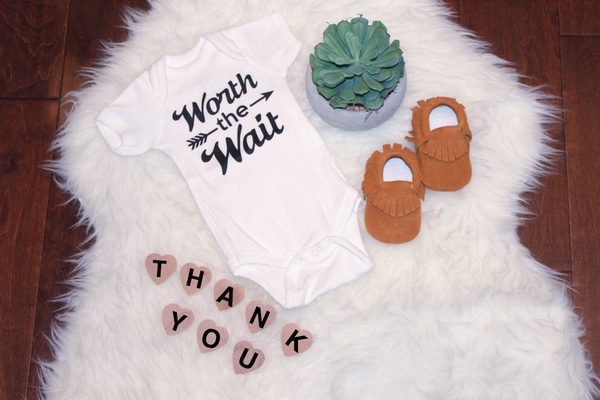 Our dream of becoming parents has not been an easy road thus far. We started on our journey to parenthood almost three years ago now and it has been nothing short of heartbreaking. It has been years of tears, needles, tests, surgeries and loss. After almost a year of trying we went to the doctor and I was told i had low progesterone and a short luteal phase. They gave me medication that was supposed to help and it did, but only for a fleeting moment. We have had three pregnancies all ending in miscarriage and the last one a D&C. I cannot even begin to explain the pain of being told that the baby who was growing in your womb's heart had stopped beating. 
It has not been easy, but the Lord has blessed our marriage immensly and we have held on together through the healing process. 
We have always had a heart for adoption and when we were just dating dreaming about our family we always talked about having two biological children and then adopting from there. Things have not worked out the way we planned, but in the 8 months that we took off from fertility treatments God seriously broke our heart for adoption. Every time i was down and depressed an adoption story would pop up on facebook, instagram, television, youtube, you name it. I would quietly send it along to Tim have an ugly cry and go about my day. 
A couple months ago the Lord did it again. I hadn't let myself mourn my babies and it was finally hitting the both of us actually, and i came across a video on instagram. It was of a Christian couple who were dealing with infertility and she explained how looking back on their wedding day, they had no idea how heartbreaking the journey to parenthood woud be. They had decided to adopt and they announced it to their family and friends and they all reacted as if they told them they were pregnant, which is something i cant even imagine being able to tell loved ones. This video led to a series of other videos, one being of a couple who met while attending the college I attend here in Portland and are on their joourney of adoption. I actually had to laugh through my ugly cry and say, "OK God i hear you loud and clear." With excitement I showed Tim what i had experienced that day and he said "Lets do it!"...well actually he said "I've been saying lets adopt for forever now so let's do it!" which is essentially the same. 
We have spent the past few months visiting adoption agencies, telling our close family and friends, choosing an adoption agency, filling out a lenghty apllication for said agency, planning fundraisers, accumulating raw materials, and now we are anxiously awaiting our homestudy packet in the mial.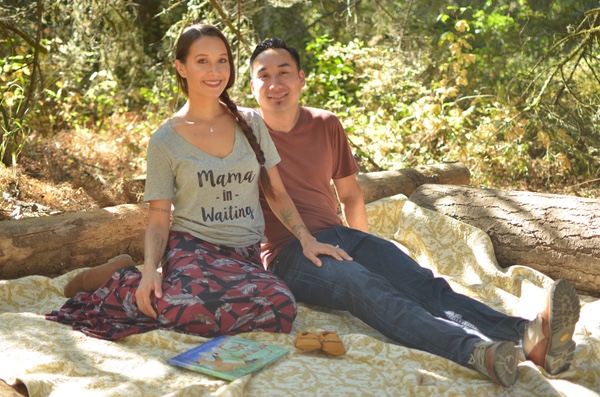 This all leads me to a concept that used to have a huge sting when i would see moms talking about it. 
"IT TAKES A VILLAGE"

Just as it takes a village to raise a child it takes a village to adopt one. We have already been so blessed by everyone in our lives, and have been so loved and supported on this journey thus far. 
The cost of adoption is pretty daunting, but we know that we serve a big God and we truly feel that we have been called to adoption. With years of pain and worrying that we would never become parents, i cannot even describe the peace that we felt the moment that we said YES. 
How you can help:
-Pray!- We truly belive in the power of prayer so please pray with us, and for us. Adoption can be a long and difficult road and there is always a chance of a failed match and more heartache on this journey to bring baby Vargas home. We are praying for big things on this adoption journey. 
-Give. If you feel called to give every donation helps no matter how small. We have made our goal the entire amount of the adoption because we want to be transparent in what we are doing, and how we are saving to bring baby home. Thankfully with adoption all of the fee's are due at different times, and in the beginning they are not that great, however after the homestudy is complete the biggest chunk, $14,000 is due. Thankfully we should have our tax return by then which will help tremendously. As we save, sell things, etc. we will update the ticker with what we have been able to contribute for our precious babe. 
-Share. Please share this page on social media, every share can help!
Thank You! From the bottom of our hearts we want to thank you for reading through all of this first of all and for all of your love and support it truly means the world to us. I can't wait to have our sweet baby in our arms and one day be able to tell them that they were so wanted, chosen, and loved.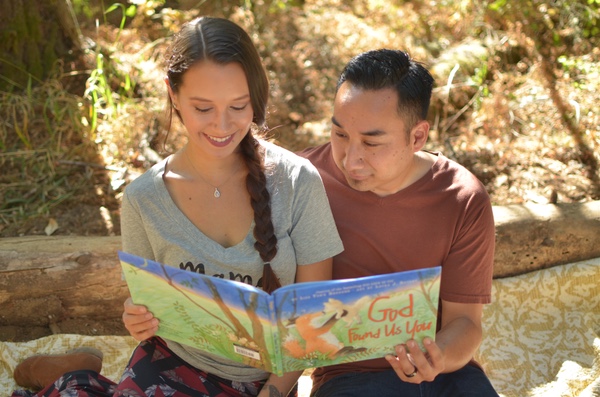 + Read More
Update 1
32 months ago
Share
It's been a while now since we have begun our adoption journey and it has already been a whirlwind! We have had doctors visits, CPR classes, fingerprinting, questionnaires, the works! In the last week God has changed a lot about this journey and we are excited, and a bit terrified, as we step out in complete faith in Him and his plan! This may be a long story so forgive me! Since beginning this process we have followed Faithful Adoption Consultants. They are basically a third party that walks through this process with you and has connections with 60 agencies across the United States. Because of these connections wait times are shorter, however the cost is a bit more. Because of this we chose to go with Bethany, a smaller agency in Portland. My mind kept going back to the consultant route and i was growing more and more uneasy as we were about to give Bethany a non refundable $14,000 come January after we got our tax return. I was really conflicted about it so i laid it out to the Lord and prayed about it and journaled about it in my quiet time last week and specifically asked if he wanted us to stay with Bethany or go with a consultant. Now rewind about four months. When we first started on this journey i joined a Portland adoption group and had asked if anyone had any experience with the local Bethany office. NO ONE ever responded. I figured out that the group is actually pretty inactive and no one really ever posted anything at all. So back to now, two days after my prayers i had a notification on my phone when i got out of class from an adoption group. I didn't think much of it as i had posted about something in another group the previous day and had been chatting with folks. I open it up and someone responded to my Bethany question from four months ago! They had said they had some experience and i was welcome to ask questions so i private messaged them. They went over what they liked and didn't like and all this time i assumed that they completed their adoption through Bethany. After a few more questions they said, "We actually didn't end up using Bethany, have you ever heard of a consultant?!" WHATTTT???!!!! I had this overwhelming sense of peace come over me that this is what He wanted us to do. I called Tim he agreed and I got online and set up a phone call with the consultant for the following Monday. After talking to them on the phone it felt even more right! Now this is where the terror sank in. They have a faster placement time, which is so exciting, but that also means that we have to come up with the funds faster. Me being an anxious planner i was like ok, we don't have to sign with them now, we can save more and then start blah blah blah. Then we went to small group last night and the whole nights theme was listening to and obeying God. Some quotes i wrote down from last night were, "When God tells us to do something do it, because he is trustworthy" "When God speaks your not supposed to think you just obey!" As terrifying as it is we are choosing to obey. I used to see situations like this and think wow they are a little crazy i wish i had that kind of faith! Now i think the Lord is using this journey to strengthen our faith which is something i have been praying for, for such a long time. Since the beginning of this journey i have been praying for BIG things to happen! So some of you may think that we are crazy and i don't blame you! But we serve a big God and i believe in HIM!

Now this brings us to fundraising! We are very proud people and hate asking for help, but we will do anything for this child! So please show us grace as we somewhat bombard you with our upcoming fundraisers! I have been on the receiving end so i know some of the thoughts that go through peoples heads, but we are trying to push through that. Please know that with every ounce of us we mean that Prayer means just as much to us as a donation. We are so thankful for every donation, kind word, prayer, hug etc. on this journey.

They next fundraiser we are doing is a puzzle piece fundraiser! we have purchased a blank puzzle! You can sponsor a piece and we will write your name on it and this puzzle will be placed in a shadow box in Baby V's nursery! Starting sponsorship for each piece is $5+ we will post updates as we fill pieces of the puzzle! and not for worry we will be going through and writing names on pieces for people who have already donated on this page!!

Thank you for reading another one of my long drawn out posts!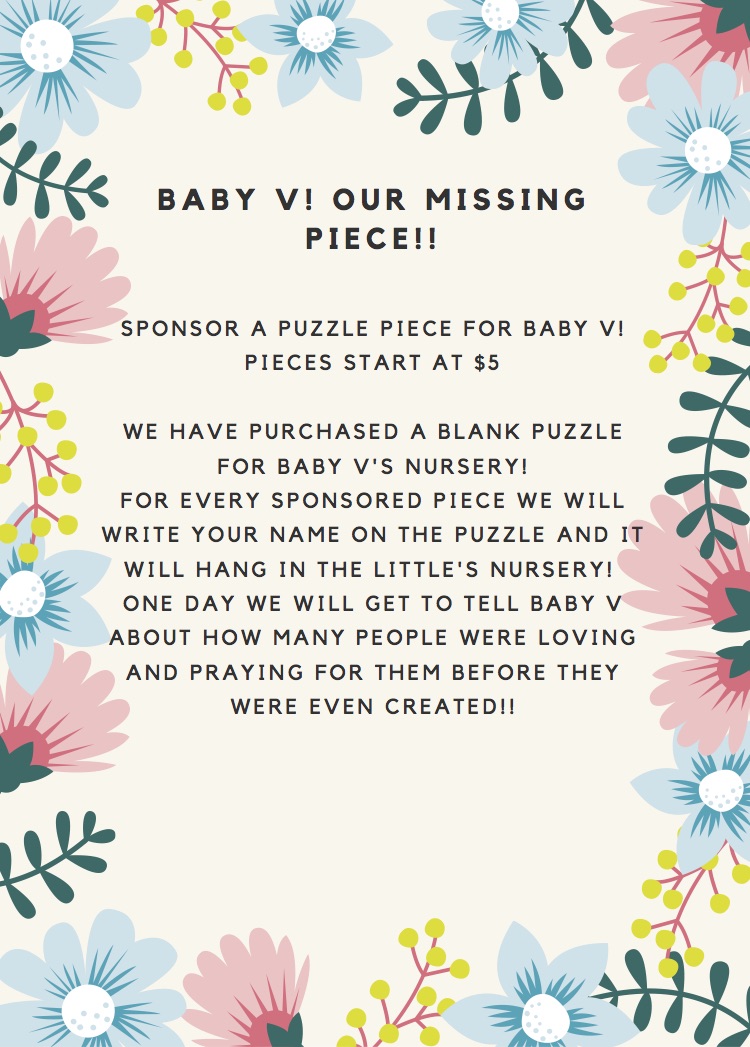 + Read More
Be the first to leave a comment on this campaign.