Aylesbury; the Right to a Community
£13,774
of £23,000 goal
Raised by
309
people in 34 months
We need funds to ensure that an important victory for residents of council estates across the country is not lost. These are residents whose estates face the threat of regeneration, regenerations that will see their homes lost and demolished.

In September 2016 leaseholders fighting one such regeneration, of the Aylesbury estate, South London, won a landmark decision, when their local authority, Southwark Council, was refused the compulsory purchase order it needed to demolish their homes. However, that decision was quashed after Southwark took High Court action and the leaseholders now face a second gruelling public inquiry.

The original decision was given by Sajid Javid , Secretary of State for the Department of Communities and Local Government, after a seven day public inquiry. Mr Javid held that Southwark had, amongst other things, breached of the leaseholders' human rights and failed to fulfil its duty towards people from black and ethnic minority backgrounds. When Southwark mounted its legal challenge, he pledged to defend it 'robustly', but unfortunately he did not do so, preferring to quash his own decision and announcing a second public inquiry, due to begin in October.

The Aylesbury leaseholders and their supporters have raised over £9000 to date, spent supporting the Secretary of State decision and in defence of their own homes. A request to the Secretary of State to reimburse these costs and allow the leaseholders to employ the legal help it needs for the second public inquiry has been refused.

We are therefore now appealing for funds pay to for a barrister to represent the objectors at the second public inquiry and associated legal costs.

By making a contribution you would be helping the fight against the privatisation of council estates and the displacement and destruction of local communities.
The Aylesbury leaseholders' success in resisting Southwark's attempts to throw them out of their homes has given hope to many others , both leaseholders and tenants - not just on the Aylesbury but on estates everywhere, who face the threat of regeneration.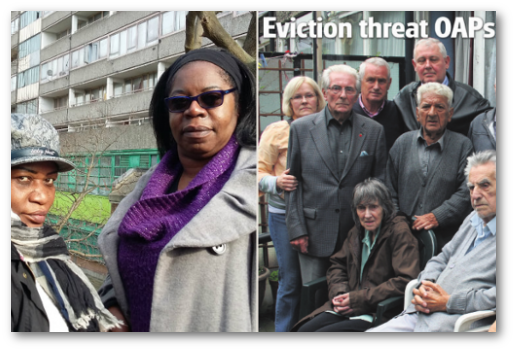 Since 2007 the 35% campaign has been exposing the false promises and double-dealing that underlies estate regeneration and we fully support the leaseholders in their battle to save their homes. We helped organise objectors at the first CPO public inquiry , made our own submissions and advocated on leaseholders' behalf.

We have been joined via the GoFundMe site by over 200 individuals, tenants and resident groups, trade union branches and campaign groups, who recognise that estate regeneration means cut-throat rates of compensation for leaseholders and the destruction of council housing.

A legal opinion says that this decision could herald a new 'right to a community' for council estate residents,  a right that is sorely needed. Any contribution that you can make to this fund, small or large, will help both the Aylesbury leaseholders and be a step towards making the 'right to a community' a reality.

Jerry Flynn
35% Campaign - www.35percent.org

Links:
Aylesbury Leaseholders Group

Guardian: 'Government blocks plan to force out London estate residents'

BBC: 'Aylesbury estate: Government blocks compulsory purchase order'

Architects Journal: 'Aylesbury estate CPO ruling - what went wrong?'

The Guardian: 'What the Aylesbury estate ruling means for the future of regeneration'
Reuters: 'Staying put in run-down London estate, residents resist demolition'


Legal opinions:
Ashurst: 'Power to the People? - the implications of the refusal to confirm the Aylesbury estate CPO'

Herbert Smith Freehills: 'A new "Right to a Community"? Decision by the Secretary of State not to confirm the CPO for the Aylesbury estate'

Hodge, Jones & Allen: 'CPO on Aylesbury estate in Southwark blocked by Government'
+ Read More
Be the first to leave a comment on this campaign.