African Restoration Village - Ghana
$4,670
of $7,000 goal
Raised by
38
people in 4 months
The Restoration Village has been established as a sustainable alternative lifestyle community for those desiring to relocate to Africa. Phase I of the project which was to secure and clear the land has been completed. To date we currently have a long term lease (50 years) for 125 acres of virgin African land located at the furthest point south of the Volta River, referred to as The South Tongu Region in the Akplort District, Ghana West Africa. It's neighboring Village is Sogakope.
Phase II of the project is the organic agricultural development phase. The organic agriculture component is the cornerstones of the Restoration Village Project. As healthy living is a core value, this is the source of the nutrition for the inhabitants of the village and also to be developed as one of the main profit-centers as produce will be sold on the market. 
Over the past year, the organic, chemical-free farming was initiated with soil testing and preparation, the planting of tree crops and experimentation with a variety of field crops to determine those most suitable for the region and environment.
 To date some 500 fruit trees have been planted, including plantain, banana and papaya. Also, the vigorous testing of field crops including, beets, carrots, tomatoes, bell peppers, cabbage, sweet yellow corn, leafy greens, broccoli and cauliflower has been done.
Phase III of the project will consist of infrastructure to support the housing that will be developed in the areas surrounding the Village of Sogakpe.
Our Accomplishments!
A committee was established in 2010 to focus on bringing our vision to life. With the help of community fundraising we have purchased a 100hp/4wd tractor and other valuable farming and construction equipment. We also have a two story security & storage building in its final stage of construction. Several local produce retailers in Ghana have already contacted us to discuss purchasing our organic, chemical-free produce products.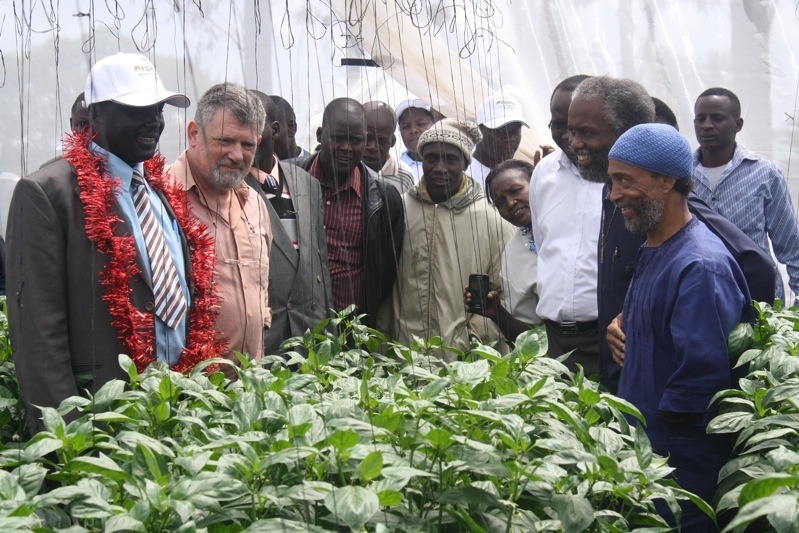 How you can help!
We are currently raising $7,000 to expand our organic agricultural development efforts. Your donation will assist us in acquiring the necessary mechanical equipment for continued field preparation, seeds, seedlings, natural pesticides, and labor costs for this season's crop.
"We have a duty to humanity to help and save our people near and far"
We thank you in advance for your support and look forward to experiencing the Restoration Village with you!!!
"All donations will be administered by the African Restoration Development Agency Inc. (ARDA) a registered 501c3 Non-Profit Corporation"
+ Read More