Spring Ridge Commons - Community
$1,272
of $2,000 goal
Raised by
18
people in 19 months
Spring Ridge Commons
 is Canada`s oldest public food forest and Victoria's largest public permaculture garden or community multi-layer food forest , located on a 1/2 acre city lot in Fernwood at the corner of Chambers and Gladstone. (Location Address is 1200 Gladstone Avenue. )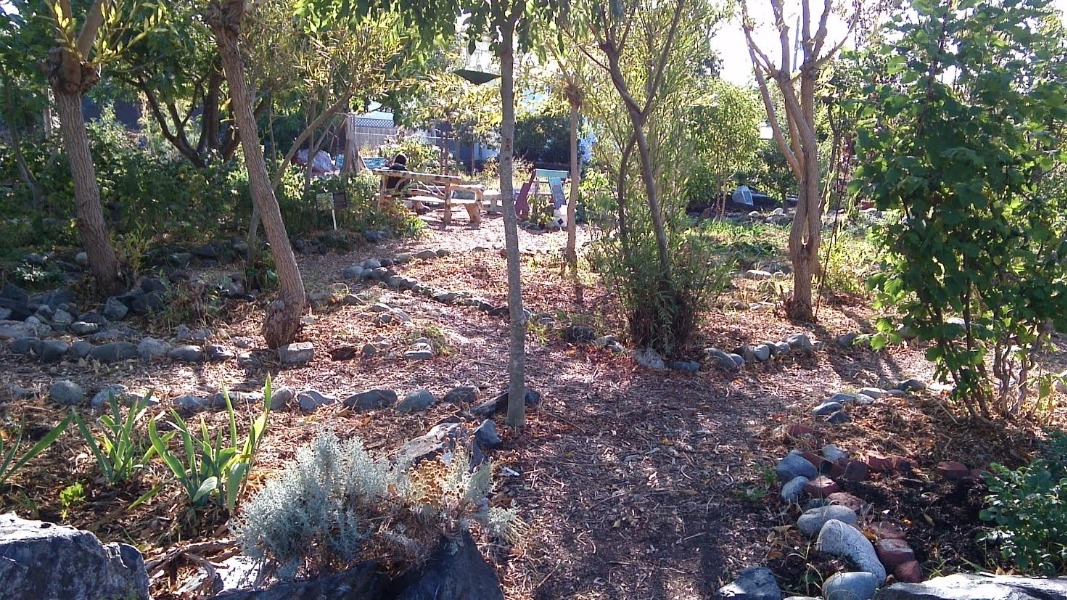 Photo:  August 2015
This premier site for small scale urban permaculture has been visited by over 20,000 people over the last 15+ years of being a living laboratory for food, medicine and functional plants. Spring Ridge Commons serves as a source of free food, a learning environment, a community space and most importantly a place of beauty, nature and solitude.
As a community urban food forest /  permaculture garden, Spring Ridge Commons has progressed tremendously from its days as a gravel site:
Current Situation:
 The Commons is needing lots of TLC at this time and on-site effort is needed to tidy up several area of the Commons and begin dealing with some major on-site challenges (couch grass and other invasive plants).   We would also like to make more progress in the north east section of the Commons by completing the community mural and by beautifying and designing the area by the mural.
While much work has already be done in the Commons, more work is needing to be done ...... From time to time, we have groups (Victoria Green Team, UVic Geography Class and UVic Summer Camp kids) which are great because a lot of awesome work gets done.  However,   we need more people to volunteer at our weekly Bee in the Garden  (although we do get a lot of people joining us for tea and conversation) and/ or at other times
.  


 Current Financial Situation:
 Water used on site is paid for by the Fernwood NRG;   Leaf mulch and wood chips are dropped by from time to time by the City of Victoria Parks (+Others).   There are no funds for other things so volunteers have had to pay for things out of their own pocket, request donations of items (i.e. hose, $ for signage for Garry Oak Meadow + Native Plant Garden), and receive donation of items and services (i.e.  a beautiful driftwood bench appeared in the Commons, wheel barrow, consultations).   
More info about Spring Ridge Commons:Web:
http://springridgecommons.ca
Facebook:
https://www.facebook.com/springridge.commons?fref=ts
 Twitter:
https://twitter.com/SpringRCommons
Donations to the garden would be greatly appreciated.  Feel free to drop off a donation to Bee in the Garden on Sunday afternoons from 1:30 p.m. to 3:30 p.m.   
Your contributions will help Spring Ridge Commons be a vibrant and beautiful community urban food forest / permaculture garden which everyone who visits will be able to enjoy and learn from.
With Gratitude,
Linda Chan
Coordinator, Spring Ridge Commons
+ Read More
Help spread the word!
 18 total shares
Be the first to leave a comment on this campaign.